Allen Solly is a reputed Indian clothing brand; the clothing company is a part of the prestigious Aditya Birla Group and has impressed the masses with the classic style of apparel. Aditya Birla Group has a range of clothing brands but Allen Solly is for the creed looking for something contemporary and very much stylish.
Allen Solly as a brand has leveraged the modern generation with options that never existed. The availability of option ensures that people are able to dress the way they always wanted to.
About Allen Solly
Industry: Clothing
Founded: 1744 by William Hollin and Co Ltd.
Founders: William Hollin and Co Ltd.
Headquarters: India
Area served: India
Current CEO: Anil S Kumar
Number of employees: Over 50,000
Major products: Men's, women's, and kids' shirts, t-shirts, jeans, trousers, blazers, suits, sweaters, accessories, and footwear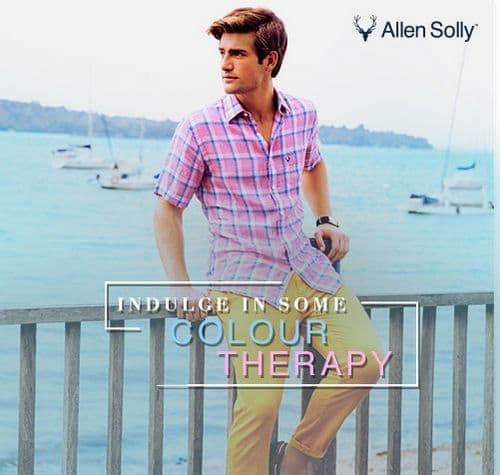 Here's the range of apparel Allen Solly specializes in:
Denims
Kids apparel
Classic shirts
Formal and Non-formal t-shirts
Products in the Marketing Mix of Allen Solly
Allen Solly not only aims to dress people better but also allow them to experiment with their looks. The fresh range of clothing has helped the developing India come across as stylish and really presentable. The extreme passion with which they are building their brand has helped the contemporary Indian generation to develop a style that is incomparable and quite classy.
Allen Solly has taken over the whole of India and its sub-continent; the brand is conspicuous wherever you go in India and around. The quality apparel and unique range are the basic reasons behind the enormous popularity.
Some of the clothing that is actually winning the hearts of the people is:
Shirts
Suits and blazers
Sweatshirts
Suits and blouses
Bermudas
Winter wear
Cardigans
Capris
Place in the Marketing Mix of Allen Solly
Aditya Birla Group is a known name in India and its sub-continent hence the brand expansion is quite easier and comes naturally to Allen Solly. Allen Solly follows a unique model of brand expansion and values outlets and mixed stores equally. The apparels can be located in Malls as well as Retail Stores. The extreme passion with which the business is built is addictive and very much congenital; it rubs off people and inspires them to do better and better in life.
The brand has more than 200 outlets in India itself and with the plans of International Expansion; the number is going to increase very soon. The impeccable branding and the impressive clothing products are what attract most customers to the retail outlets of Allen Solly. With the rise of Ecommerce, you will also find Allen solly clothes being sold online in huge quantities.
Price in the Marketing Mix of Allen Solly
Like any other contemporary, Allen Solly also aims to bring the best of dressing option for Indian audience at affordable price. Though the enterprise follows a unique discounting algorithm and attracts audience but the quality service and products are here to stay.
A normal Indian citizen can really cash on to his style options with the limited amount of money in his or her pocket by visiting Allen Solly. Be it the size, Small, Medium, Large or Xtra-large Allen Solly has something for people of all shapes and sizes.
The price range is also very soothing, people can buy impressive T-shirts at an initial price of 500 INR and shirts for somewhere around 900-1200INR.
Price of Jeans, cardigans, jackets and Bermudas varies on the basis of quality; material they are made up of and according to the size as well.
Promotions in the Marketing Mix of Allen Solly
Indrani Dasgupta, a known name from the Indian Television Industry has embraced the position of Allen Solly girl for quite a time. The simple idea that Allen Solly enrolls such glamorous personality for creating brand awareness says a lot about the promotional campaigns the enterprise believes in.
Allen Solly has always tried to maintain a positive and classy image by enrolling impressive personalities as brand ambassadors. The exquisite use of available resources has helped the enterprise reach its target and also create a positive image.
With the ads and all the marketing campaigns running, one thing we can say about Allen Solly is that, it is here to stay and help India dress better on every occasion.
Liked this post? Check out the complete series on Marketing Mix