Chivas Regal is a Scottish brand that manufactures and distributes blended scotch whisky. The company is associated with food and beverage industry and is produced by Chivas brothers and hence its name. It is a subsidiary of its parent company Pernod Ricard and was introduced in the market in the year 1801. Chivas is one of the oldest operations of Highland Distillery and is the undisputed leader in providing 12 years and above Scotch whisky. Some of its main competitors are as follows-
About Chivas
Type: Blended Scotch whisky
Industry: Beverages
Founded: 1801
Founder: John and James Chivas
Headquarters: Aberdeen, Scotland
Area served: Worldwide
Key people: Davide Campari-Zannini, CEO Pernod Ricard
Number of employees: Over 18,000
Product in the Marketing Mix Of Chivas :
Whiskies from Chivas Regal are blended in a distinctive style of mellow-honeyed flavour with a hint of heather providing it with a unique taste. Company's first product was Royal Glen Dee, blended-Scotch whisky and it was followed by Royal Strathythan in the year 1860.
Chivas Regal was launched for the US market in the early 1900s. In the year 1909, Chivas Regal 25-year-old was introduced which was original-luxury-Scotch. Chivas-Regal line of products includes the following-
Chivas Regal Extra

The Chivas Brother's Blend

Chivas Regal 12 Year Old

Chivas Regal 25 Year Old

Chivas Regal 18 Year Old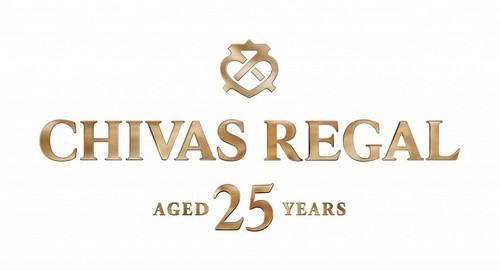 Place in the Marketing Mix Of Chivas :
Chivas Regal has a brand presence that is spread over nearly seventy countries. Its place of origin is in Keith, Moray in Scotland at Strathisla distillery. During the early 1900s, the brand decided to foray in the United States and created a special whisky for its entry and by 1909; it had captured most of the beverage market through Chivas Regal 25-year-old. Later it decided to venture into new places and had several tie-ups for distribution of its products.
In Asia Pacific and Europe it is one of the leading suppliers of Scotch whisky and between years 2002-08, its sales increased by 61%. It is also one of the primary drinks available in China. Products of this renowned brand are easily available at leading bars and shops. The company has also adopted a direct approach to reaching out to its customers. Selected people from affluent class are hand-picked and presented with its bottles.
Price in the Marketing Mix Of Chivas :
Chivas targets the successful individuals from upper and upper-middle class. Its customers are Premium-Scotch drinkers, for who taste matters instead of money. Chivas has kept an open pricing policy for its product. Its pricing policy depends on several factors. One of the most important is the prices of its competitors. As it wants to maintain its position in beverage industry it has kept the prices at par with similar products from other brands. Another vital aspect that determines its pricing policy is the place.
As imported products have to go through local duties, customs duties and other taxes, the company has kept its options open. It has a team that goes through various factors and after complete evaluation sets up the most reasonable pricing policy for that region.  Although Chivas Regal is a premium brand but its prices are affordable and reasonable for people who are avid whisky drinkers.
Promotions in the Marketing Mix Of Chivas :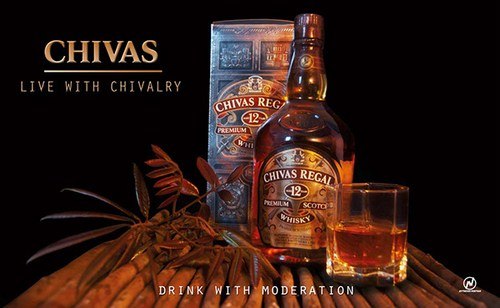 Marketing policy of Chivas includes advertising its products through all the available mediums. All its ads have a distinctive sophistication and style. Glamour and whisky go hand in hand and hence its advertisements and commercials have projected its product as a well-deserving reward for the chivalrous gentleman. In the film The Spook Who Sat by the Door, Characters were shown to drink Chivas Regal. It was first of its kind as a promotional strategy and this film was released in the year 1973. In the year 2008, an ad campaign was launched with slogan Live with Chivalry and it went on to become its tagline.
It's Chivas Regal whiskies have won numerous accolades at international spirit competitions. Chivas as a brand believes in sponsorship deals and has sponsored several lifestyle events and musical concerts. It sponsored Diamond-Jubilee tour of Frank Sinatra in the year 1990. Advertisement campaigns of the brand have been aired on television and shown in print media improving its image and creating a positive response for its product.
Liked this post? Check out the complete series on Marketing Mix