Benetton Group is a global fashion apparel brand with a base in Ponzano Veneto Italy. Its name has been taken from the Benetton family who founded the brand company in the year 1965. Luciano Benetton, the oldest child of the four siblings saw a market for colourful clothes in 1963 when he was a salesman in Treviso. Benetton Group was formed in 1965, while the first store came up in 1966 in Belluno.
Three years later, a store was opened in Paris. Today, the company has a network of about 5,000 stores in the international market and has an employee base of at least 7,000 workers. Benetton has three brands namely Playlife, Sisley and the United Colors of Benetton. With more than 80% of revenues coming from UCB, it is not wrong to say that Benetton Group is UCB
Competitors
Uniqlo
Inditex SA (MCE: ITX)
Zara
Gap
Hennes & Mauritz-b- (H &M B)
About United Colors of Benetton (UCB)
Type: Fashion brand
Industry: Clothing, accessories, eyewear, and perfume
Founded: 1965
Founder: Luciano Benetton
Headquarters: Ponzano Veneto and Italy
Area served: Worldwide
Key people: Luciano Benetton (Chairman) and Alessandro Benetton (CEO)
Number of employees: 6,000
Product in the Marketing Mix of UCB – United Colors of Benetton :
The company started as a fashion apparel company and that remains its core business line. It mainly sales clothing but also deals with other products and accessories that will improve someone's fashion definition. Below are the main products that UCB deals in.
Bags
Clothing
Shoes
Accessories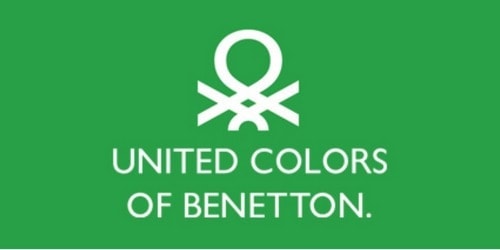 Price in the Marketing Mix of UCB – United Colors of Benetton :
The company has an array of products and accessories within its brands hence a wide range of pricing strategies are employed. The most important strategy though is the use of acceptable pricing on its products. Some of the brands that target the youth will ideally be quite affordable whereas some products are known to attract a premium pricing. Discounts are common hence attracting more customers.
Place in the Marketing Mix of UCB – United Colors of Benetton :
The company has its headquarters in Treviso Italy. This is just the heart of the fashion apparel company. It has however been able to spread its presence to over 120 countries across all the continents. The company has got more than 6,000 stores that sell its three brands namely the United Colors of Benetton, Playlife, and Sisley.  Benetton's international expansion strategy mainly began in 1979 after which we find the company rapidly growing across the world.
Promotions in the Marketing Mix of UCB – United Colors of Benetton :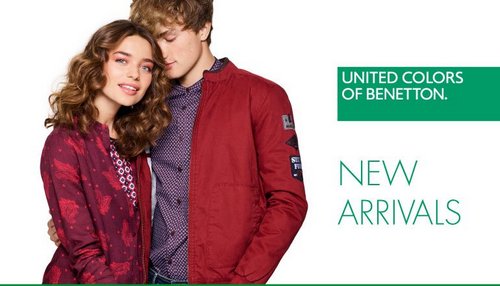 UCB is very fond of promoting a number of sporting events as well as for the provocative of its original "United Colors" campaign for publicity. The "United Colors" publicity campaign was coined when photographer Oliviero Toscani received the carte blanche from Benetton management. Toscani directed the creation of advertisements that were characterised by striking images that weren't related to the products marketed by the company. Such billboard-sized graphic advertisements included depictions of an array of shocking subjects such as the deathbed scene of an AIDS man. Though some of these adverts were controversial, association with Benetton with Toscani has been credited for the increased promotion of the brand awareness.
An autumn 2011 communication campaign by Benetton to invite citizens and world leaders to combat the "Culture of hatred" led to the creation of the UNHATE foundation. This was and still is a social responsibility strategy with Benetton always doing its best to try and create the UNHATE culture in humanity.
Benetton has been involved in a series of sports sponsorships. For instance, UCB entered the Formula One in 1993 as a Tyrrell sponsor. In 194, it sponsored Alfa Romeo whereas, in 1985, the company sponsored both Toleman and Alfa. The company also started the Benetton Formula LTD towards the end of 1985 with the team seeing great success between 1990 and 1997. Benetton is also credited for sponsoring a local rugby team A.S. Rugby Treviso. This amateur rugby team later became Benetton Rugby team, which is a formidable force in Italian rugby with 11 league titles under its belt.
Liked this post? Check out the complete series on Marketing Mix