Croma was established by a subsidiary company of Tata Sons titled Infiniti Retail Limited. It is of Indian origin and is associated with the electronic retail industry. Croma is actually a retail chain dealing in durables and consumer electronics. A company was founded in the year 2006 and changed the concept of a retail market in India. It faces competition from several rival companies and some of them are as follows-
Next Retail India
Reliance Digital
Vijay Sales
About Croma
Type: Consumer electronics retailer
Industry: Retail
Founded: 2006
Founders: Rakesh Jhunjhunwala and Ajit Joshi
Headquarters: Mumbai, India
Area served: India
Current CEO: Avijit Mitra
Number of employees: Over 10,000
Major products: Consumer electronics, including televisions, refrigerators, washing machines, air conditioners, smartphones, laptops, and tablets
Product in the Marketing Mix of Croma :
Croma has a wide variety in its product kitty and it includes six thousand products in nearly eight divisions. Retail outlets have a world-class ambience and its product offerings are growing day by day and these include
Computing

Home Appliance

Entertainment

Kitchen Appliance

Gaming

Photography

Accessories
Some of the best brands in the industry are linked with Croma stores and are able to provide an exciting experience for shopping what one actually wants. These are Samsung, HP, HTC, Microsoft, Logitech, Cannon, Casio, Sony, Godrej, Hitachi, Dios and L.G. Croma outlet offers a diversified merchandise range to its interested customers. Croma Life Accessories is the company's personalised brand and offer unique and innovative products.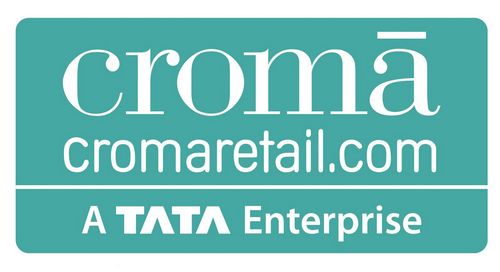 Place in the Marketing Mix of Croma :
Croma has become a very popular brand name and has successfully expanded its retail chain to include Croma Kiosks, Croma Zip Stores and online store. Croma stores are efficiently run by its owner company Infiniti Retail through headquarter base in Mumbai in India. The brand has ventured into consumer market through its network which is spread over twenty-five cities and one hundred and one retail outlets. In Maharashtra, one can find a Croma outlet in cities like Aurangabad, Kolhapur, Nasik, Pune, and Mumbai and in Gujarat, these are located in Vadodara, Surat, Rajkot and Ahmedabad. Some other important cities to have Croma outlets are Hyderabad in Telangana, Chennai in Tamil Nadu, Chandigarh, Amritsar, Bangalore, Delhi and Mysore. Online store of this brand occupies 11% of e-commerce Indian industries.
Distribution channel of Croma includes direct selling and it has a well-trained and knowledgeable staff to offer personalised and sound advice to all its customers. Online outlets of Croma stores have proved a boon for customers as they can go through every desired item and make a choice without travelling to a store.
Price in the Marketing Mix of Croma :
Croma outlets have been endearing to provide a wide merchandise range that will be able to meet personal requirements and budget of every individual. The company has kept its pricing policy reasonable so that it will be able to penetrate consumer markets and to create a loyal base of its own. It provides discounts and incentives periodically and several attractive offers on bulk buying as this increases sales. Croma has put its onus on larger sales volume as it realises that it will create greater revenues. Discount pricing policy along with its penetration pricing policy has helped the brand to become one of the most sought-after retail stores in India.
Promotion in the Marketing Mix of Croma :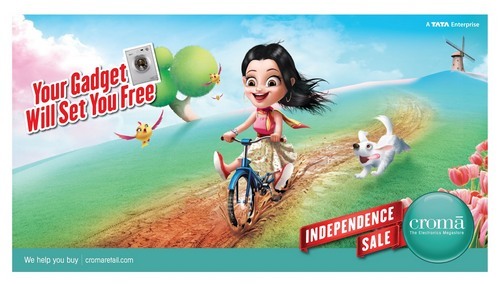 The company has been determined to make Croma a brand name that is associated with trust and reliability. In order to do so, it has undertaken several schemes that would prove beneficial to its customers. It has opened a call centre that provides information and help to any customer 24*7. Croma has been making conscious efforts towards providing hassle-free and easy shopping experience and for this, they have appointed trained employees that offer every kind of help. It has been the recipient of Most Admired Retailer trophy for six consecutive years from Indian Retail Forum. In the year 2014, the month of December Online Shopping Festival was organised and Croma participated as part of its promotional activity.
Discounts and incentives were offered to customers by its website to create brand awareness. Croma is a one-stop store that offers numerous products and its commercials and advertisements enable all its brands to have free publicity. It is a win-win situation for Croma and other brands.
Liked this post? Check out the complete series on Marketing Mix