J.C. Bamford Excavators Limited is simply referred to as JCB. It is a private company of British origins that is associated with Heavy Equipment industry. It is ranked at the third position in the world market in terms of manufacturing construction equipment. The company was founded in the year 1945 by its founder Joseph Cyril Bamford and the ownership continues to run in the family. In India and UK, people use the term JCB as a generic description for excavators and mechanical diggers. Following are some of the competitors of JCB-
Ingersoll-Rand
Komatsu
Caterpillar
About General Electric
Type: Multinational engineering company
Industry: Construction equipment
Founded: 23 October 1945
Founder: Joseph Cyril Bamford
Headquarters: Rocester, Staffordshire, United Kingdom
Area served: Worldwide
Key people: Lord Bamford (Chairman) and Graeme Macdonald (CEO)
Number of employees: 54,000
Product in the Marketing Mix Of JCB :
JCB is a world-recognised corporation that deals in manufacturing of equipment for the following industries-
Agriculture
Construction
Demolition
Solid-Waste handling
Irrigation
Port
Mining
Real Estate
Railways
Roads
Rental
Material-Handling Solution
Power Generation
It manufactures nearly three hundred varieties of machines and its product portfolio includes several items and their variants like-
Tracked Excavators includes JS205LC, JS120 and JS140
Wheeled Loaders includes 3DXL, 432ZX and 455ZX
Telescopic Handlers has items like 530-70 and 540-170
Super Loader is the perfect blend of performance, versatility and value.
Tractors from JCB includes proper suspension and travels with sufficient speed on roads
Military Vehicles are used for excavation and load-handling and include item like JCB HMEE
JCB Phones include smartphone and feature phone with JCB license
JCB Vibromax is a German company acquired by JCB and produces compaction equipment
JCB Dieselmax is a Land-Speed-Record vehicle with diesel power
Compactors like VMI 15 and VMT 860
Backhoe Loaders are more fuel efficient and include items like 4DX, 3DX Super, 3DX Xtra, 3DX and 2DX
Generators caters to every power-generation need with its diverse range of products
Skid-Steer Loaders are used for landscaping and construction purpose

Place in the Marketing Mix Of JCB :
JCB is a multinational company with its headquarters base at Rocester in Staffordshire. It started its work from Uttoxeter in Staffordshire and later shifted to Rochester. The company conducts its operations via twenty-two factories that have been spread across continents including South America, North America, Europe and Asia and one hundred and fifty countries like India, China, Germany, Brazil, United Kingdom and the United States.
Its factories in India are in Faridabad, Pune and Jaipur, US factories are in Georgia and Pooler, Brazilian in Sorocaba, Chinese in Pudong and UK factories in Cheadle, Rugeley, Uttoxeter, Foston and Wrexham. It has a strong distribution channel that includes services of nearly fifteen hundred franchised dealers that serve through innovative technology to meet specific and local demands of industry.
Price in the Marketing Mix Of JCB :
Operations in India account for 17.5% of the total revenues for UK based JCB Company. It faces stiff competition from rival companies in terms of prices. JCB has adopted a competitive pricing strategy and kept its price range at same levels of its rival companies. It does not want to lose its competitive advantage because its brand has high recall and it offers quality products if compared to its competitors. JCB has adopted several policies that help the company to invest in assembly and manufacturing plants in other countries. It results in cutting down costs to a very high margin and thus company can now be competitive and also earn high revenues.
Promotions in the Marketing Mix Of JCB :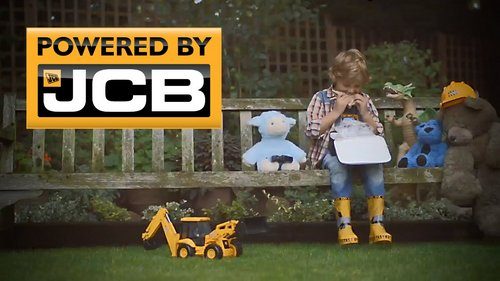 JCB recognises the worth of advertising and hence has organised several promotional activities and events for marketing its products and thus creating brand awareness. The company relies heavily on print media and has advertised via trade publications. The company has been the recipient of several photography awards for its exclusive advertisements.
JCB has a display team that tours several agricultural and other shows. They display videos to make the people understand various manoeuvres for supporting vehicles. The company has a subsidiary that offers insurance to customers against purchases. These are an all-risks policy with options like employer's liability, public liability and road-risk coverage. JCB Academy is a secondary School sponsored by JCB.
Liked this post? Check out the complete series on Marketing Mix