Minute Maid is associated with the beverage industry and is actually a line of fruit juice and soft drinks. It was founded in the year 1945 and is a subsidiary of its parent company The Coca-Cola Company. Minute Maid is projected as a complete brand with a winning formula of the qualitative product, strong distribution, affordable prices and great marketing. It faces competition from following companies-
Tropicana
Delmonte Juice
Onjus
About Minute Maid
Type: Beverage company
Industry: Food and beverage
Founded: 1945
Founder: J. E. and Robert Robertson
Headquarters: Sugar Land, Texas, United States
Area served: Worldwide
Key people: James Quincey (Chairman) and Brian Smith (CEO)
Number of employees: Over 10,000
Product in the Marketing Mix Of Minute Maid :
Minute Maid is the largest marketer in the world of drinks and fruit juices. It is sold under its own brand name in most countries except in Norway and Central Europe where it is sold under brand names Fruitopia and Cappy respectively. It became the first company in the world to offer orange juice in concentrated form. Minute Maid is 100% fruit juice with no added sugar, no preservatives, no artificial additives and nor is carbonated. All its variants are 100% blends of fruit juices. Diversified product portfolio of this fruit-based beverage brand includes more than one hundred varieties and flavours and some of them in consumer market currently are as follows-
Minute Maid Orange-Mango Nectar Blend
Minute Maid Guava Nectar
Minute Maid Calcium Enriched Orange Peach
Minute Maid Calcium Enriched Orange
Minute Maid Calcium Enriched Breakfast blend
Minute Maid White Grape
Minute Maid Apple Juice
Minute Maid Mango Juice
Minute Maid Mixed Fruit
Minute Maid Nimbu Fresh
Minute Maid Frozen Concentrated Orange Juice
Minute Maid Concentrated Limeade
Minute Maid concentrated Lemonade
Minute Maid Premium Lemonade
Minute Maid Light Lemonade
Minute Maid tropical Blend
Minute Maid Berry Blend
Minute Maid Pulpy Orange
Place in the Marketing Mix Of Minute Maid :
Minute Maid is a well-known company with product presence in several global countries like India, Norway, Brazil, Canada, China, France, Iceland, Indonesia, Japan, Malaysia, Mexico, Netherlands, Russia, Spain, Vietnam and United States. Its headquarters were shifted from Houston to Texas in the United States in the year 2009, February 16th.
Minute Maid has put special emphasis on its distribution policy so that its products are available in every nook and corner for mass market consumption. Its channel includes the traditional network of distributor, wholesaler, retailer so as to reach the consumer via discount stores, food stores, grocery market, corner shops, café, hotels, restaurants, airport cafes, stalls at railway stations and malls.
Price in the  Marketing Mix Of Minute Maid : 
Minute Maid has targeted middle and lower income people as its target customer. It is actually a drink for the mass market. Pricing is also greatly dependent on geographical segments as prices in two places may vary. Minute Maid faces stiff competition from several brands and has maintained a competitive pricing strategy that keeps its product prices marginally closer to the prices set up by its competitors.
It has maintained reasonable and affordable rates so that it can penetrate in further markets related to both urban and rural sector of any country by adopting penetration policy. Minute Maid has a diversified product portfolio that offers all its products at pocket-friendly rates to gain maximum volumes and greater revenues.
Promotions in the Marketing Mix Of Minute Maid :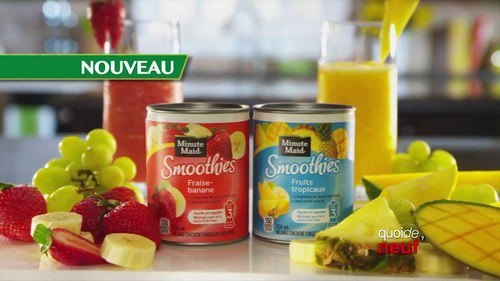 Minute Maid is known for its excellent advertising and branding plans. It has adopted an aggressive promotional policy to create brand awareness about its products. Minute Maid adopted extensive sampling of some new variants to create product visibility. It has launched several ad campaigns highlighting it as healthy refreshment with several variants to suit individual needs.
It has taken help of traditional marketing channels and advertisers via newspaper ads, in popular channels of television during prime time, regional stations of radio as it has once again gained immense popularity and in several magazines that have a wider reach. Minute Maid has also started advertising on social media via Twitter, Facebook, YouTube and Instagram. It has roped in several famous personalities to market its products at international and domestic levels. For instance, Eason Chan, a popular singer from Hong Kong and Ella Chen, Taiwan Singer has been roped in as its brand ambassador.
Liked this post? Check out the complete series on Marketing Mix