Definition: A Product Development Strategy is a systematic plan that outlines how a company can create new products or improve existing ones, ensuring they meet market demands and enhance the company's competitive advantage.
In today's fast-paced business environment, having a well-defined Product Development Strategy is more essential than ever. It serves as a roadmap, guiding companies through the intricate process of bringing a new product to market or refining an existing one. With the right approach, companies can foresee market trends, stay in tune with customer needs, and maintain a competitive edge.
This strategy emphasizes understanding customer needs, innovative design, efficient production processes, effective marketing, and diligent quality assurance. It's integral to business growth and maintaining relevance in fast-changing markets.
What is a Product Development Strategy?
A Product Development Strategy outlines the approach a company should take when creating new products or improving existing products. This plan combines market research, customer feedback surveys, and product testing to ensure that the new product meets customer needs and is competitive in the existing market.
An example of a product development strategy is a company that has identified a need for an innovative product in the market. Through market research, they would analyze customer preferences and existing competition to develop a product tailored to meet customer needs better than competitors. The strategy can also include plans for funding, design, production processes, marketing campaigns, and quality control systems.
Why is Product Development Strategy Important?
Product Development Strategy is the linchpin that holds together all the efforts involved in the product creation process. Here are a few reasons why a complete product development strategy is crucial –
1. Customer-focused approach: This strategy ensures the production of products that align with the needs and desires of the target market. The result is a higher degree of customer satisfaction and customer loyalty.
2. Higher success rate: A well-planned product development strategy reduces the risk of product failure, as it is based on thorough research and analysis of market demand and competition.
3. Fosters Innovation: It encourages creativity and innovation by pushing teams to think outside the box and come up with unique solutions to meet customer needs.
4. Increased Efficiency: A strategy allows for better resource allocation, optimizing time and financial investments, thus enhancing overall operational efficiency.
5. Market Positioning: It helps in creating a distinct brand image and positioning the product effectively in the market.
In essence, a Product Development Strategy serves as a compass, guiding organizations in the right direction, ensuring their efforts are focused, and their resources are used efficiently. It helps in improving an existing product as per the change in the market demand, plus it ensures the new product development process is more personalized to the requirements of the target audience.
What are the Stages of Product Development?
1) Ideation Process
As the first stage of product development, it's important to have an effective ideation process. This involves coming up with creative and innovative ideas for products that fit your business's objectives. It is also important to consider customer needs, industry trends, competitive pressures, and technological opportunities when brainstorming product ideas.
2) Screen the Best Ideas
Once your team has a list of product ideas, it's time to narrow down the best ones. This means conducting research and analysis on each idea, looking at potential market opportunities, customer needs, and costs associated with developing and commercializing each one.
3) Product Concept Development (and Testing)
Once you have identified the most promising product ideas, it's time to develop those concepts further. This stage involves creating a detailed description of the product, outlining the features and benefits, as well as any technical requirements or design specifications needed for production. It is also important to conduct some market testing during this stage to get feedback from potential customers.
4) Develop a Marketing Strategy
Developing a marketing strategy for your product is essential to ensure that it reaches the right audiences and achieves commercial success. This involves creating a plan outlining how you will promote your product, who you will target, and what tactics you will use to reach them.
5) Business Potential of Proposed Product
Once the marketing strategy is complete, it's time to assess the business potential of the proposed product. This involves evaluating the market opportunity, understanding customer needs,s and conducting a cost-benefit analysis to determine if it is worth investing in the development and launch of your product.
6) Product Development Process
Once you have determined that there is a strong business case for launching your product, the next step is to develop a process for bringing it to market. This involves creating a timeline outlining each step in the development and launch process, as well as any milestones that need to be achieved along the way.
7) Market Testing
Before launching your product, it is important to conduct market testing to gather feedback from potential customers. This can take the form of focus groups, surveys, or even beta tests of the product itself. The goal is to assess how well the product meets customer needs and identify any areas where it could be improved.
8) Commercialization
Once the product is ready for launch, it's time to start thinking about commercializing it. This involves identifying potential channels for distribution, setting pricing, and any other terms that are necessary to get the product in front of customers. It also means developing a strategy for marketing and promotion to maximize sales. Finally, you will need to establish metrics for tracking the success of your product and making sure it meets its financial goals.
9) Product Maintenance & Improvement
Finally, once a product has been launched, ongoing maintenance and improvement is necessary to ensure that it remains relevant to customers. This involves monitoring customer feedback and adjusting the product accordingly, as well as rolling out new features or updates regularly to keep it competitive. It is also important to track customer usage and identify areas where product changes could drive greater customer engagement or satisfaction.
Through the development of a comprehensive product development strategy, you can ensure that your product meets its goals and objectives – ensuring success in the marketplace. By leveraging market testing, commercialization strategies, and ongoing maintenance & improvement activities, you can maximize the potential of your product and ensure its longevity.
5 Types of Product Development Strategies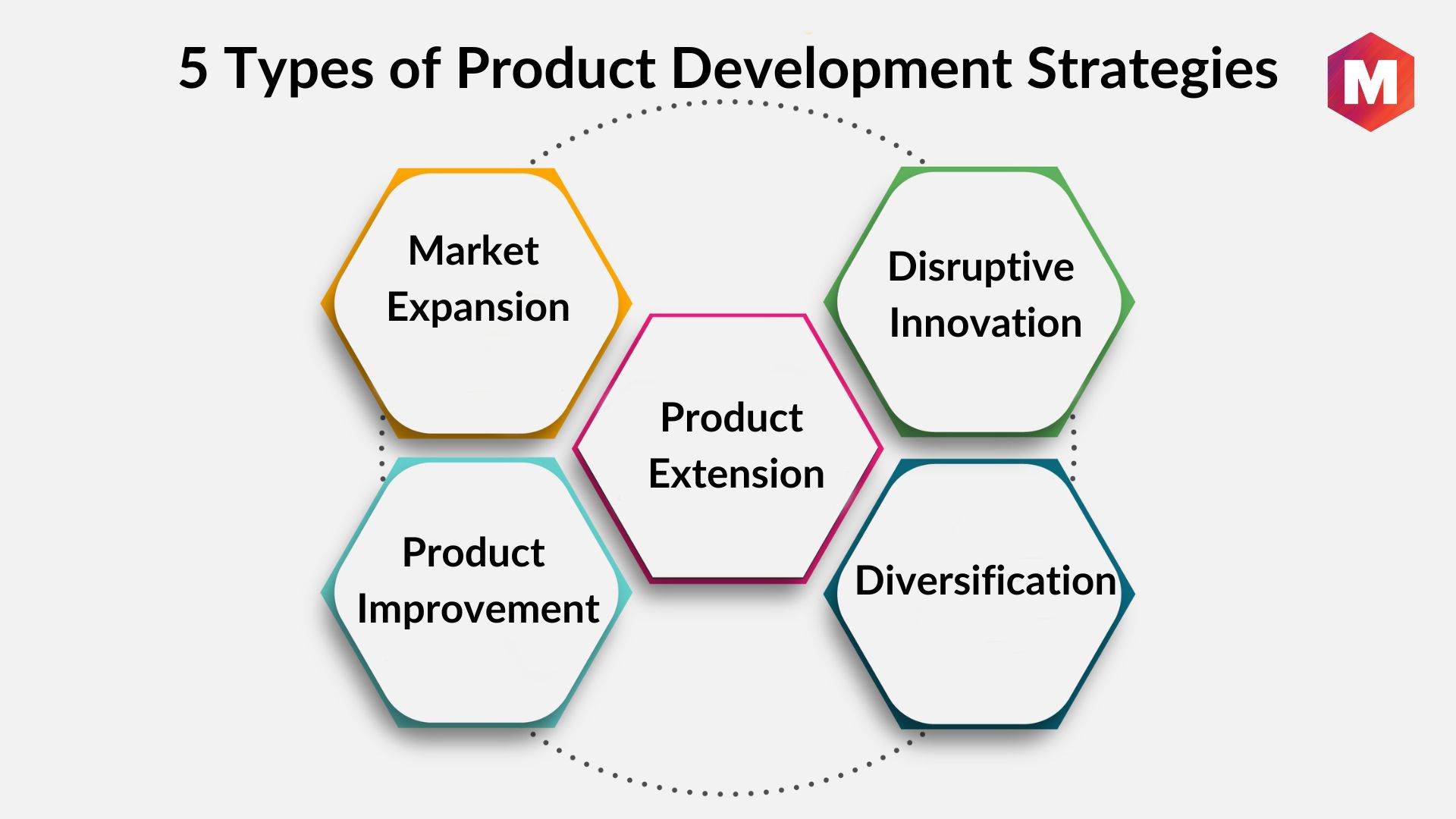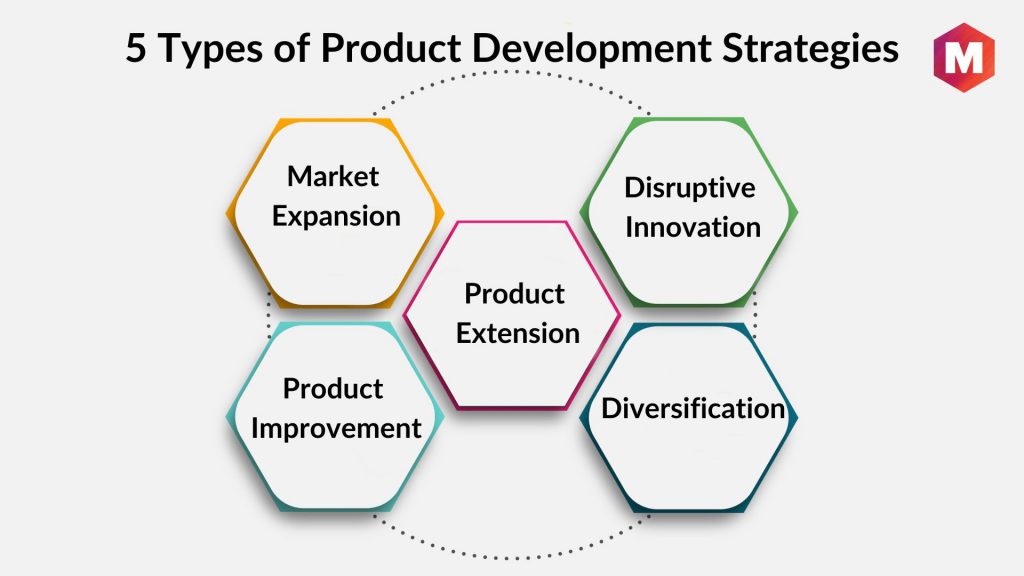 For businesses of all sizes and industries, I have compiled a list of five effective product development strategies –
1) Market Expansion
This is one of the most commonly used product development strategies and involves introducing a new product to an existing market. The aim here is to capitalize on the customer base already in place by providing them with something they didn't have before or enhancing what they already have.
2) Product Improvement
Companies can also use product improvement as a strategy for developing new products. This involves taking an existing product and making improvements to it to increase its value, such as by adding new features or providing better customer service.
3) Product Extension
Product extension is a strategy that allows companies to tap into the potential of their current products without having to invest too much time and effort into creating something entirely new. It involves taking an existing product and expanding it into a new version or offering additional services related to the product.
4) Disruptive Innovation
This is a strategy that involves introducing something entirely new to the market, something that may disrupt the way things are done. This type of product development strategy aims to create a completely different customer experience than what currently exists and to open up new opportunities for companies.
5) Diversification
Companies may also choose to diversify their product range by offering different types of products in multiple markets. This will allow them to tap into different customer bases as well as capitalize on untapped potential in other areas.
No matter what product development strategy you choose, it's essential to have a well-defined brand voice and a solid roadmap for success. This will ensure that your goals are met and that your products stand out in the competitive market.
What are the Product Development Strategies?
When it comes to product development strategies, businesses have multiple paths they can take to stay competitive and relevant in the marketplace. Let's delve into eight effective strategies:
1) Modify Existing Products
By updating or modifying existing products, businesses can appeal to changing customer needs and preferences. It's an effective way to increase customer satisfaction without overhauling the entire product. A new feature, updated design, or improved functionality can make an existing product seem fresh and exciting.
2) Change Up Your Ideas
Innovation is key in the fast-paced world of business. Adapting or changing up your ideas ensures that your products stay relevant and desirable. With market trends constantly shifting, infusing fresh ideas into your product development strategy helps you stand out.
3) Offer Product Trials
Trials give potential customers a taste of what you have to offer, increasing the likelihood of them making a purchase. It allows consumers to try before they buy, reducing purchase hesitations and building trust in your products.
4) Increase the Value of Your Product
By adding value to your product, you can justify a higher price point and improve profitability. This can be achieved by enhancing product quality, incorporating new features, or improving after-sales service.
5) Customization and Specialization
Offering customized or specialized products caters to specific customer needs, making your product more appealing. It also differentiates your product in a crowded market.
6) Create Additional Products and Product Lines
Expanding your product range or creating new product lines can attract a wider audience, thus increasing your market share. This strategy should be used cautiously, ensuring the new products align with your brand image and customer expectations.
7) Focus on Package Deals
By bundling products together into package deals, you can increase the perceived value and encourage customers to spend more. This strategy also promotes the purchase of complementary products.
8) Find New Market Spaces
Entering new markets or finding new use cases for your product can significantly increase your customer base. Before adopting this strategy, thorough market research is essential to understand customer needs and competition in the new market space.
Benefits of Product Development Strategy
A successful product development strategy is at the heart of any thriving business. It's the framework that guides the journey of a new product from its initial ideation through its launch into the market. Some of the notable benefits of a business strategy for effective product development are-
1. Innovation Drive: A strong product development strategy fosters a culture of innovation. It encourages the team to push boundaries, explore new ideas, and continually improve the product offering.
2. Competitive Advantage: It helps to gain a competitive edge in the marketplace. With a unique, value-driven product, a company can differentiate itself from the competition.
3. Customer Satisfaction: By aligning the product with customer needs and expectations, a development strategy ensures high levels of customer satisfaction which, in turn, boosts brand loyalty.
4. .Risk Management: It helps mitigate risks associated with new product launches. By conducting thorough market research, testing, and feedback collection, potential issues can be identified and addressed early on.
5. Streamlined Process: A well-defined strategy creates a streamlined, efficient process for the development team, saving time and resources.
6. Market Expansion: A successful product development strategy can also lead to market development, penetrating new customer segments or geographical regions with improved or innovative products.
Examples of Product Development Strategy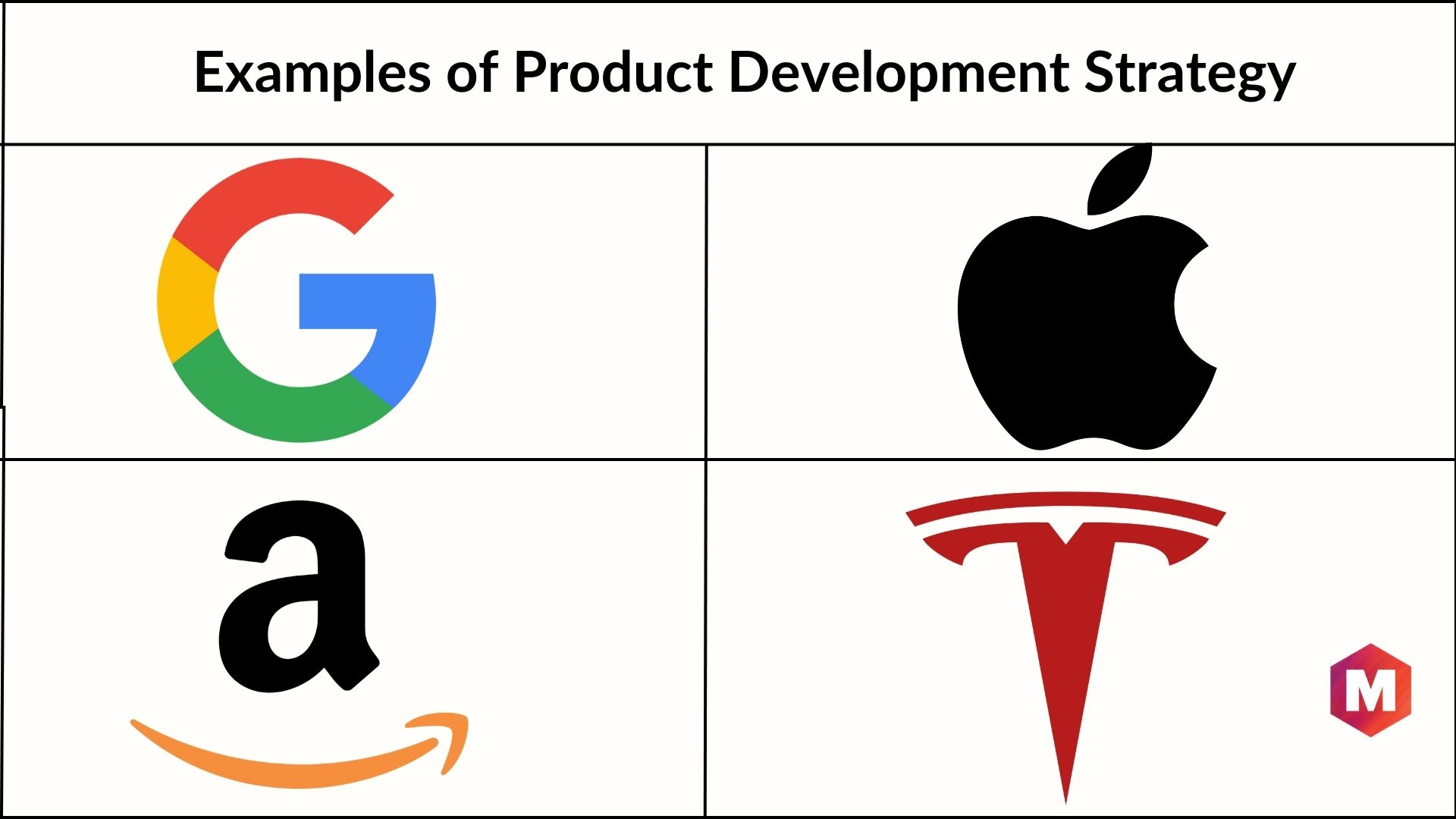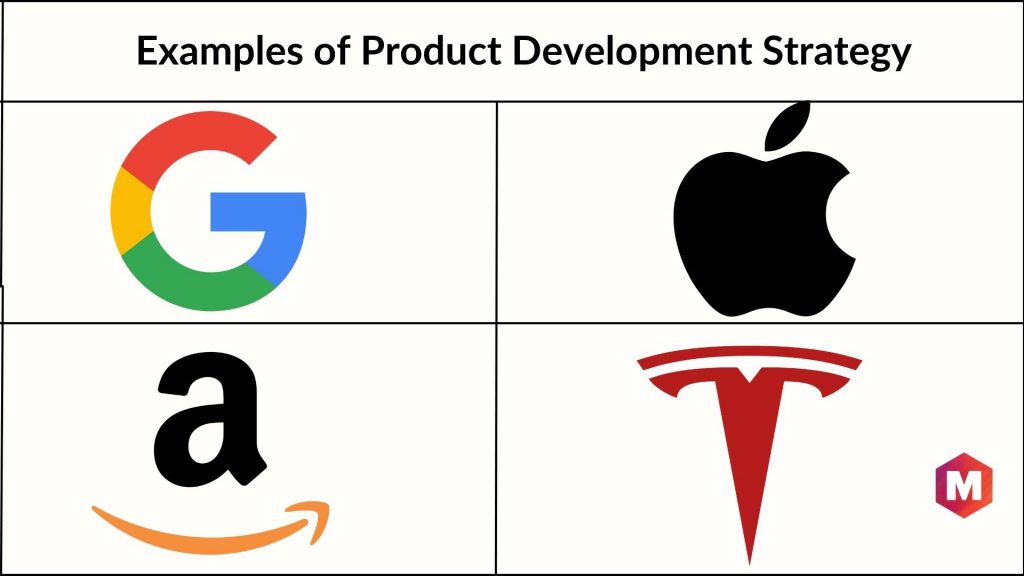 1) Google
Google exemplifies innovation-driven product development. Known for their "20% time" policy, employees are encouraged to spend one day a week working on side projects, fostering an environment of creativity and innovation. This approach has resulted in some of Google's most successful products, including Gmail, Google Maps, and AdSense.
2) Apple
Apple's product development strategy is focused on customer experience and high-quality design. By keeping its product line relatively small and making each product the best in its class, Apple has managed to consistently deliver superior customer satisfaction. The iPhone, iPad, and Mac are all results of this customer-centric strategy.
3) Amazon
Amazon's strategy is all about scalability and diversification. Their product development strategy also involves a market development strategy. They constantly test new ideas, measuring their success by customer response rather than immediate profitability. This approach has led to the development of an extensive product portfolio, including Kindle, Amazon Web Services, and Amazon Fresh.
4) Tesla
Tesla's strategy is driven by a mission to accelerate the world's transition to sustainable energy. Their product development is marked by bold innovation and high risk-taking. Tesla's new product development strategies are geared towards combating climate change through cutting-edge technology. Its product development is driven by a commitment to staying ahead of the curve, with an eye toward sustainability. From electric cars and solar energy products to autonomous driving and battery storage technology, Tesla pushes the boundaries of what's possible in terms of green tech.
Measure your Product Development Strategy
To measure the effectiveness of your product development strategy, various metrics and key performance indicators (KPIs) should be considered.
A comprehensive evaluation of your product development strategy should ideally include the following metrics –
1. Product Quality: This can be measured by the number of defects identified in the product during the development stage or after the product has been released to the market.
2. Time to Market: This measures the time it takes from the idea generation to the product being available in the market. A shorter time to market can provide a competitive advantage.
3. Return on Investment (ROI): This is a critical financial metric that calculates the profitability of the product. It compares the revenue generated by the product to the costs incurred during its development.
4. Customer Satisfaction: This can be assessed through customer reviews, ratings, and feedback. High levels of customer satisfaction could indicate a successful product development strategy.
5. Market Penetration: This refers to the product's market share in a particular category. Higher market penetration means the product is performing well against its competitors.
6. Product Usage: This measures how often and how long customers use the product. It can provide insights into the product's relevance and utility to the customer.
7. Product Satisfaction (PSAT) Score: The PSAT score is a measure of customer sentiment towards the product. It gives an overall view of how well your product development strategy is performing and can be used to make improvements.
FAQs
What is the difference between proactive and reactive strategies?
Proactive strategies involve planning and anticipation of future events, while reactive strategies respond to unforeseen circumstances. Proactive strategies focus on creating long-term value, while reactive strategies are more focused on short-term gains. Proactive product development strategies emphasize the user experience and aim for continual enhancement and improvement. Reactive product development strategies are designed to quickly address customer needs and solve problems.
What is the difference between a product development strategy and a product development process?
Product development strategies set the direction for product development activities and provide a framework for decision making. The product development process is a series of steps that need to be taken to achieve the goals of the product development strategy. Product development strategies focus on customer needs, competitive landscape, technological advancements, and innovation opportunities while product processes focus on the tasks needed to develop a successful product.
Liked this post? Check out the complete series on Strategy