What is Employee Empowerment?
Employee Empowerment is the process of providing employees with the tools and resources they need to get their work done effectively. For example, this could mean providing employees with access to the latest technology, training, and development opportunities or giving them greater decision-making authority.
It involves offering them more autonomy and responsibility over their work, allowing them to make more decisions about how it should be done. Employee empowerment can positively affect employee engagement, motivation, and creativity. When employees are allowed to make decisions, they feel more empowered and in control of their work. This can lead to increased job satisfaction and improved performance.
Definition
Employee empowerment is defined as a process in which employees are given the authority and freedom to make decisions within their job roles. This allows them to be more involved in decision-making and developing their position.
Empowered employees can have multiple benefits for a company. It can improve employee engagement, strengthen job performance, and create a culture of confidence. Companies that empower employees foster better relationships between senior leadership, team members, and direct reports.
Description
Employee empowerment is an essential part of any organization's success. It empowers employees to take ownership of their role, be creative in finding solutions, and ultimately lead to a more engaging experience.
Employee Development Programs are designed to empower employees and foster creativity and engagement. They provide the tools and resources necessary for employees to build their unique skill sets, which can be applied to their specific roles.
Creating an empowered company culture requires a commitment from both employees and leadership. Leaders should strive to develop a culture of trust and collaboration with their employees. They should also encourage employees to take ownership of their roles, provide them with growth opportunities, and involve them in decision-making.
Employees, in turn, should take advantage of these opportunities to become more knowledgeable and confident in their roles. They should also be willing to take the initiative and use their creativity in problem-solving.
Empowering employees is to create a culture that encourages employees to take the initiative and be creative. Employers can increase employee engagement and motivation by allowing them to have more autonomy over their work. This can improve job satisfaction, increase productivity, and better customer service.
How Employee Empowerment Works?
Employee empowerment starts with a clear understanding of what it is and how it works. Employers must identify areas where employees need to take more initiative and be more involved in decision-making.
Once this is determined, employers can provide employees with the tools they need to make decisions on their own. This could include training, access to technology, or mentorship opportunities.
Employers should also ensure that employees clearly understand their roles and responsibilities. Employees can better understand how their work contributes to the organization's overall success by providing them with clear job descriptions and expectations.
Finally, employers should provide recognition and rewards for those who demonstrate initiative in their work. This could include verbal or written recognition or financial incentives such as bonuses or promotions.
Types Of Employee Empowerment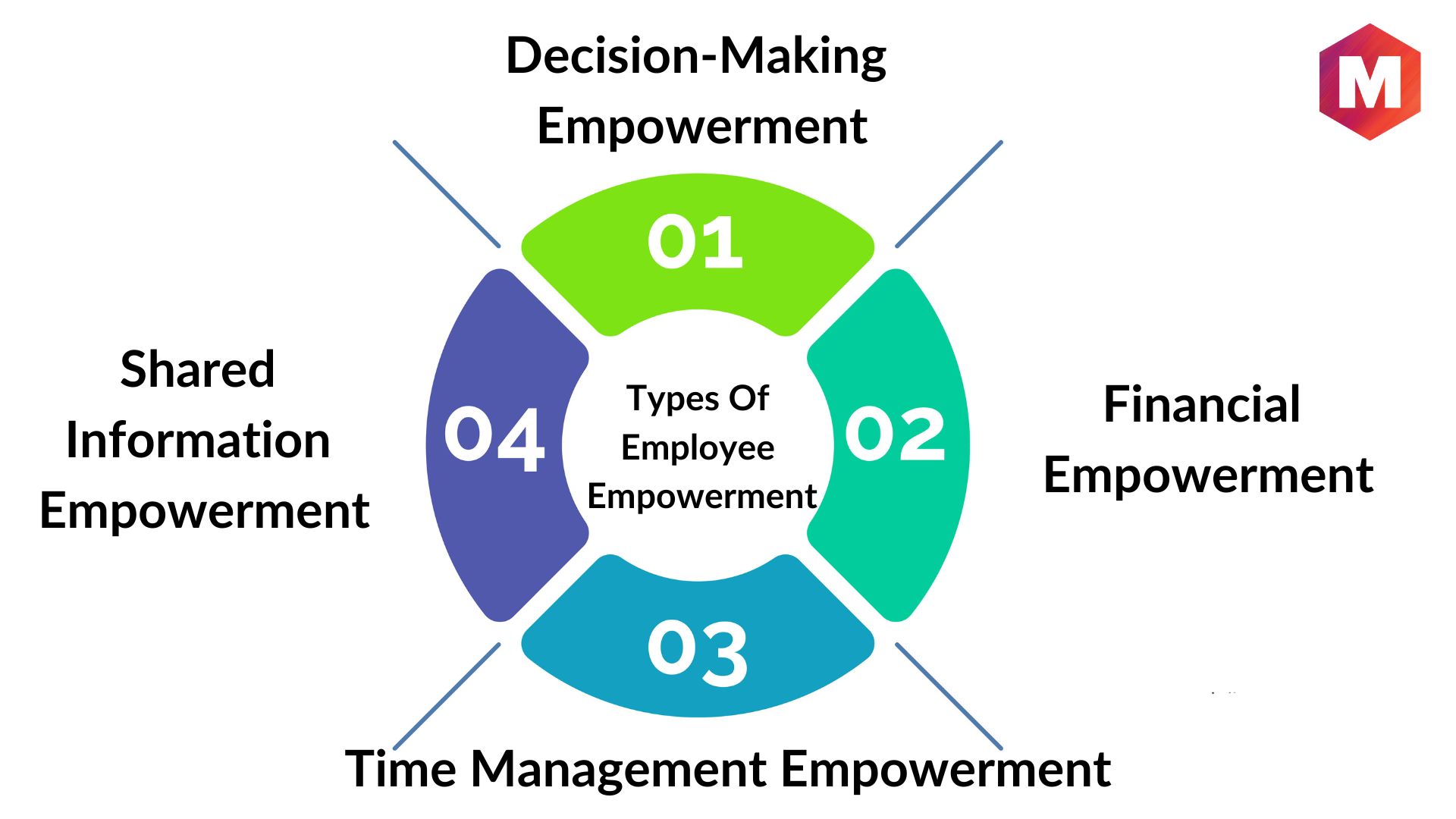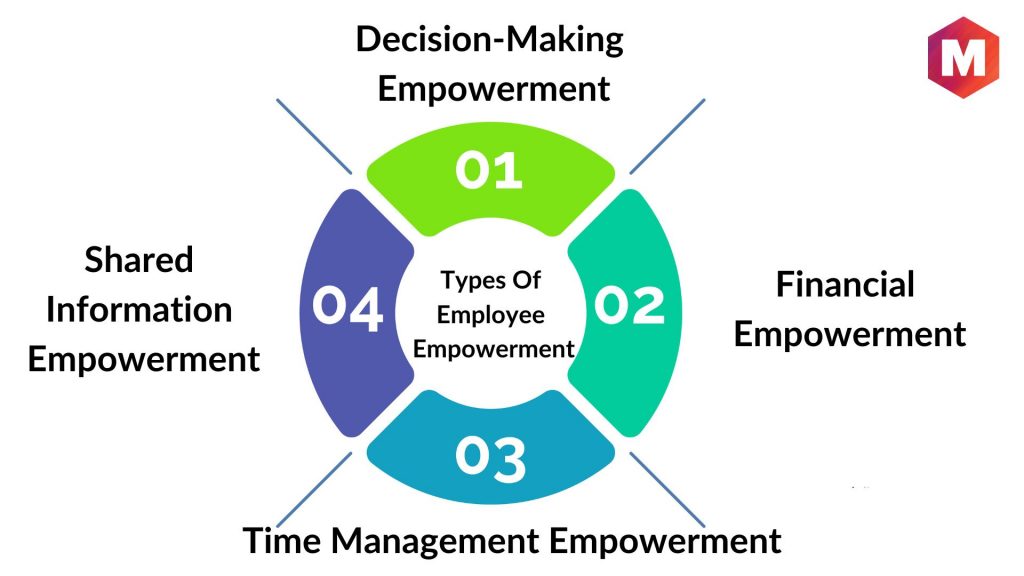 a. Decision-making empowerment
Decision-making empowerment involves giving employees the freedom to make decisions about their work. This could include determining how tasks should be completed, choosing which methods or tools to use, or deciding which processes should be followed.
b. Financial Empowerment
Financial Empowerment gives employees a greater say in how their salaries and bonuses are structured. This could involve giving them input on pay raises and promotions or allowing them to negotiate their salaries.
c. Time management empowerment
Time management empowerment gives employees more control over how they allocate their time at work. For example, employers can provide flexible working hours, allow employees to take breaks when needed, or allow them to manage their workloads independently.
d. Shared information empowerment
Shared information empowerment encourages sharing of ideas and information between employees. This can include providing access to resources, setting up open communication channels, or allowing employees to collaborate on projects.
Blueprint of an Employee-Empowered Structure of a Company
a. Customers
Customers are the main source of revenue and feedback. Empowerment starts with a clear understanding of customer needs and goals so that employees can better understand how their work contributes to the organization's success.
b. Employees
Employees are the backbone of any organization, and empowering them is essential for success. Employees should be given the tools and resources they need to make decisions on their own. They should also be rewarded for their initiative and hard work.
c. Supervisors
Supervisors play an important role in Empowerment by providing employees with mentorship, guidance, and direction. They can help ensure that employees have the necessary resources to complete tasks successfully and understand how their work contributes to the organization's overall success.
d. Middle Managers
Middle managers are responsible for ensuring that Empowerment is successful in their departments. They should assess employee performance, provide feedback, and offer incentives for those who demonstrate initiative.
e. Vice Presidents
Vice presidents are responsible for setting policy and developing strategies to ensure. Empowerment is successful throughout the organization. They should identify areas of improvement, develop goals to reach those improvements, and monitor progress toward those goals.
f. CEO
The CEO is ultimately responsible for developing a culture of Empowerment in the organization. They should set clear goals, lead by example, and ensure that Empowerment is supported throughout the organization.
Benefits of Employee Empowerment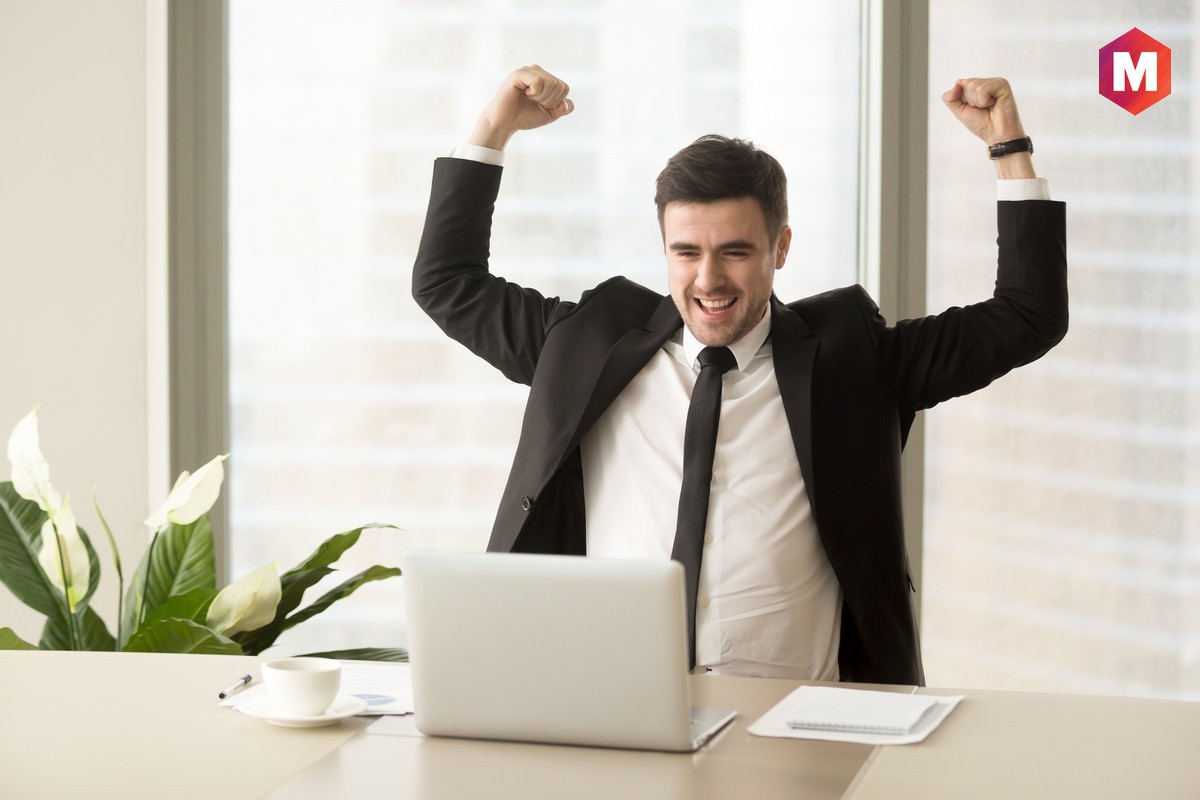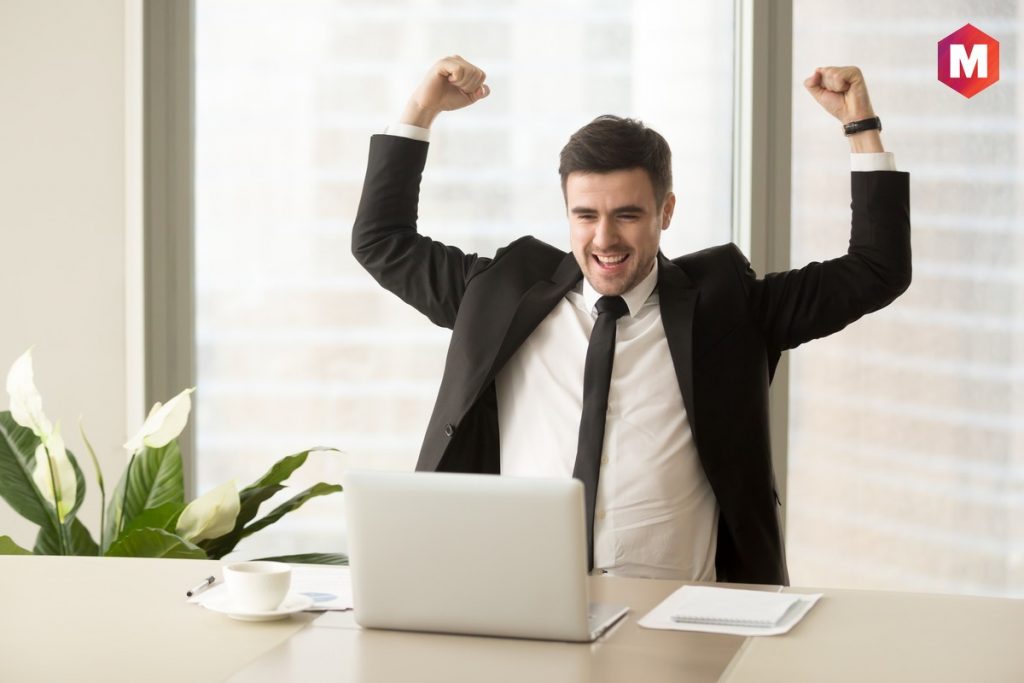 Empowerment has many benefits for both employers and employees. It can lead to increased job satisfaction, morale, productivity, and overall performance.
It also encourages employees to be enthusiastic and creative in their work, which can lead to increased innovation. Additionally, it can lead to improved customer service and relationships with customers. Let's have a detailed look at its key benefits-
Motivated employees: It encourages employees to take the initiative and ownership of their work, leading to increased motivation. They feel that they have a purpose in the organization, which can lead to improved job satisfaction.
Improved creativity: It encourages employees to think outside the box and develop solutions that may not have been previously considered. This can lead to increased innovation, creativity, and better problem-solving.
Greater trust in leadership: It leads to trust between employees and leaders. Employees feel that their opinions are valued and respected, which is essential for any successful organization.
Quicker turnarounds: It helps organizations achieve faster turnaround times on projects because employees take the initiative and have the responsibility to complete tasks quickly.
Improved accountability leads to increased employee responsibility, which can help reduce errors and mistakes. It also allows for more accurate tracking of progress on projects because each employee is responsible for their work.
Increased productivity: When employees are empowered, they are more productive because they have the resources and authority to make decisions on their own. They also do a stronger job performance. This can lead to increased efficiency in completing tasks and projects.
Enhanced customer service: It leads to improved customer service because employees feel valued and appreciated by their employers. They will want to go above and beyond for customers, resulting in a better customer experience overall.
Better collaboration: It encourages collaboration among colleagues as they work together towards common goals. It also makes it easier for employees to communicate with each other and come up with solutions quickly.
Positive impact on job satisfaction: It leads to higher job satisfaction because employees feel that they can make an impact at work, which is essential for any successful organization.
More leadership potential can also lead to more leadership potential among employees.
Empowering leaders will allow them to take the initiative and responsibility for their work, which can lead to increased opportunities for promotion.
Easy Steps for Empowering Employees
Outline achievable expectations and goals to set yourself up for success: It starts with setting expectations and plans that are realistic and achievable. This will help ensure that employees know what is expected of them and can work towards meeting those goals.
Delegate tasks and show that you trust your employees: It requires trust in the workforce and delegating tasks to employees. Show your team that you trust them by delegating decisions, duties, and projects without micromanaging.
Give employees autonomy: It isn't just about giving employees tasks and expecting them to do them; it's also about giving them the freedom to make decisions and use their judgment.
Connect tasks to overarching goals: Connect daily work to the organization's overall mission or strategy. This will help employees understand how their work fits into the bigger picture and why it is meaningful.
Provide resources and organizational support: It requires employees with the resources and administrative support they need to succeed. This means giving employees access to training programs, tools, and other materials to help them do their job more effectively.
Being open to new perspectives requires being open to different ideas and perspectives. Encourage your team to think creatively and bring fresh ideas to the table.
Use democratic leadership: It also requires a democratic approach to decision-making where everyone has an equal say in the process. This will promote collaboration among colleagues and ensure everyone's voice is heard when it comes time for decisions or changes in policy or procedure.
Acknowledge good work: Employee empowerment then requires recognizing and rewarding good work. A simple thank you or a pat on the back can go a long way in instilling pride and motivation among employees.
Make Employee Empowerment Part of your Culture: The process of Empowerment should be an integral part of your organization's culture and vision for growth. This means that it should be embedded into all aspects of the workplace, from hiring to onboarding to training programs and beyond.
By taking these steps, organizations can create an environment where employees feel empowered to make decisions, think creatively, and drive results.
Employee empowerment is essential for any successful organization, so empowering your workforce should be a top priority!
How is Employee Empowerment different from Employee Autonomy?
Employee empowerment gives employees the freedom and autonomy to make decisions based on their judgment. In contrast, employee autonomy is the act of allowing employees to work independently with minimal supervision.
Employee autonomy can be a part of employee empowerment, but it should not be confused with empowering your workforce. Employee empowerment requires resources, support, trust, and recognition to enable employees to take the initiative and create meaningful change in their organization.
Conclusion!
Employee empowerment is a critical component of any successful organization. When employers empower their employees, it lets them control their work, contribute to decision-making, and participate in team development.
Empowering employees positively impacts the organization by creating engaged, creative, and innovative teams that can drive the company forward. It also gives employees a sense of ownership in their work and improves their experience.
The key to successful employee empowerment is consistent trust-building conversations and decision-making responsibilities. Leaders must be open to building mutual trust with their employees for them to be truly empowered. This can only be achieved through collaboration, communication, and mutual respect between leaders and employees.
Liked this post? Check out the complete series on Human resources