Reliance Fresh is a division of Reliance Retail, which in itself is a subsidiary of its owner company Reliance Industries of India. As the name suggests it is of Indian origins and is associated with the food industry. Reliance Fresh was founded in the year 2006, 29th October by its parent company to reach out to consumers directly without undue interference from middlemen. Some of its competitors are as follows
Metro AG
Carrefour
Tesco
Wal-Mart
About Reliance Fresh
Type: Supermarket chain
Industry: Retail
Founded: 2006, India
Founders: Mukesh Ambani
Headquarters: Navi Mumbai, India
Area served: India
Current CEO: Damodar Mall
Number of employees: Over 270,000
Major products: Fresh produce, meat, seafood, bakery items, packaged foods, household goods, electronics, clothing
Product in the Marketing Mix Of Reliance Fresh :
Reliance Fresh is a convenience store that deals in grocery products. It is built in an area of nearly 3000-4000 square feet and serves a nearby area of approximately 2-3 km.
All its outlets have been properly planned so that every section is spacious and consumers can easily find required items.  Reliance Fresh is an organised retail-outlet that caters to thousands of vendors and farmers and innumerable customers. It has adopted a backwards integration strategy and has built a value chain that starts from a farmer or a producer and ends by reaching a consumer. Its product portfolio includes
Dairy products
Bars
Fresh Juice
Groceries
Staples
Vegetables
Fresh Fruits
Beverages
Fresh and frozen products
Confectionery and Desserts
Health Food and Breakfast items
Sauces and Condiments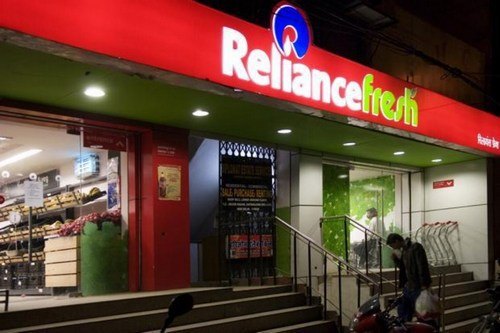 Place in the Marketing Mix Of Reliance Fresh :
Reliance Fresh has a Pan-India presence that has spread to more than ninety-three cities and towns in India. Its headquarters base is at Mumbai in Maharashtra. The brand serves its customers with help of 1,691 outlets of Reliance Fresh that are located close to residential areas in the commercial complex to gain maximum customer presence.
It started operations with its first store in Hyderabad and with time has located others in Ahmedabad, Amritsar, Bangalore, Bhopal, Udaipur, Noida, Chennai, Cuttack, New Delhi, Nagpur, Mumbai, Kolkata, Warangal, Vadodara, Pune and Bikaner. It has a strong distribution network and it includes a Farm to Fork model. A farmer sells its products to Collection Centre and from there it reaches Processing and Distribution Centre and then to a Reliance Fresh outlet. A consumer can easily buy to its heart's content from here. The company has encouraged direct dealings so that farmers can benefit from this scheme.
Price in the Marketing Mix Of Reliance Fresh :
Reliance Fresh has been projected as a neighbourhood supermarket that is a one-stop shop for fresh produces. It has tried to remove the services of middlemen so that the product cost automatically comes down. This will ultimately prove beneficial to both producer and consumer. Reliance Fresh has put its onus in offering best possible and fresh products to consumers directly at low prices. It has adopted a reasonable pricing policy that is affordable and pocket-friendly to attract a large number of consumers. It has implemented a promotional pricing policy to encourage bulk sales and increase its revenue figures.
Promotion in the Marketing Mix Of Reliance Fresh :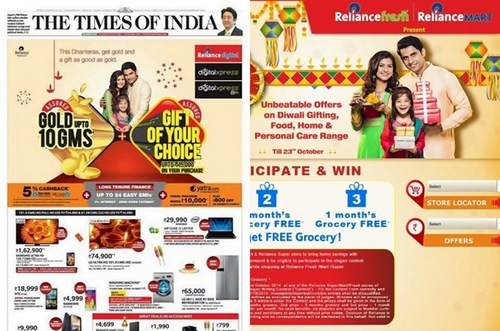 Reliance Fresh has adopted several marketing policies to increase its brand awareness in the consumer market. It has taken help of print and electronic media to launch ad campaigns that are shown on television, bus shelters and hoardings placed at strategic places to garner maximum brand visibility. Reliance Fresh has adopted digital marketing and sends SMS to its regular and potential customers informing them about new deals and discounts. It realises the advantages of good marketing and customer participation and hence has launched membership cards called Reliance One. This will help in customer loyalty, as they will try to buy repeatedly to gain better benefits.
Reliance Fresh has selected weekend Saturday and Sunday as discount days because working people generally keep themselves free on these days to complete their shopping. Reliance Fresh has an apt tagline Aapka fresh aapke pados me. Reliance has always participated in philanthropic activities and Reliance Fresh has taken a leaf out of its owner company. It recruits people from a underprivileged section of society and as part of corporate responsibility has decided to train students from schools run by NGOs and from corporation schools.
Liked this post? Check out the complete series on Marketing Mix