JEEP is an American origin brand that is currently a division company of FCA US LLC, which in turn is a subsidiary of its parent company Fiat Chrysler Automobiles. It was founded in the year 1941 and came under the umbrella of its parent company in the year 1987. Jeep is associated with the automobile industry and deals with several vehicles. Some of its main rival companies are as follows-
Mini Pajero
Suzuki Gypsy
Toyota Rav4
About JEEP
Type: Automobile
Industry: Automotive
Founded: 1941
Founder: Ford Motor Company
Headquarters: United States
Area served: Worldwide
Key people: Christian Meunier (President) and Scott Manley (CEO)
Number of employees: 25,000
Product in the Marketing Mix Of JEEP :                      
Jeep is a very popular brand and started its operations by working for the military. It produced the oldest SUVs that were a four-wheel drive for US army and its allies during Second World War. The company manufactured a civilian model in the year 1945 for the first time. Jeep is an international brand and includes off-road and sport-utility vehicles in its current product kit. At present brand has five models with eight vehicles that include-
Jeep Cherokee KL- It is a mid-size SUV that was produced in the year 2013. This sport-utility vehicle has been ranked at top position as the affordable compact car in the US.
Jeep Compass – It is a sport-utility compact vehicle and was first produced in the year 2006. It is the first crossover SUV from Jeep.
Jeep Grand Cherokee – It is a mid-size SUV with unibody chassis. This luxury sport-utility vehicle was first produced in the year 1992 and still occupies a good market share.
Jeep Wrangler – It is mid-size and compact and is available in its third generation. This off-road vehicle is a four-wheel drive and was first produced in the year 1986-87.
Jeep Renegade BU- It is a sport-utility subcompact vehicle produced in the year 2014. This crossover SUV offers seating arrangement for five passengers and has features like USB inputs, voice command and touch-screen interface

Place in the Marketing Mix Of JEEP :
Brand Jeep has a widespread product network that includes operations in several countries. It has its headquarters base at Toledo in Ohio. Originally its products were sold only in the United States but with time it started its overseas operations to other places like South Africa, Asia, Europe and most of Americas. Besides the United States, it has manufacturing facilities in countries like China, Brazil and Japan. In order to meet European demand, it built a plant in Italy in the year 2015.
For Jeep, Cherokee company has a manufacturing facility at Toledo in Ohio. Assembly plant for Jeep Compass was at Belvidere in Illinois, where it had also produced Dodge Neon. Jeep has a spread its distribution network far and wide so that its products are easily available to its customers. It has taken help of franchised dealers that helps the vehicles to reach its target points quite easily.
Price in the Marketing Mix Of JEEP :
Jeep is one of the oldest and admired brands in the automotive industry. The company manufactures some of the most fashionable luxury vehicles. It faces competition from other brands and hence has adopted a competitive pricing policy. This helps it in keeping its price range at par with rival companies so that they seem affordable and pocket-friendly to its customers. Jeep believes in its brand value and has been able to hold its own in such a competitive consumer market through its loyal customers.
Promotion mix in the Marketing Mix Of JEEP :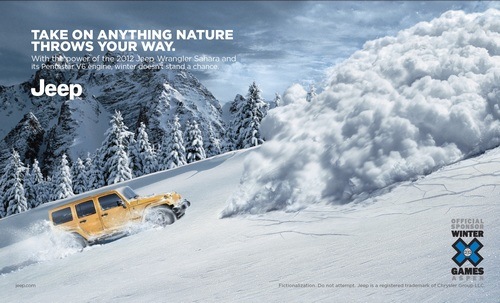 Jeep has a descriptive tagline" Fun and Freedom since 1941" and its attitude is easily recognised through its ad campaigns. The brand has adopted an aggressive marketing policy that has resulted in some of the best advertisements. The company started advertising Jeep in magazines and newspapers during and after Second World War as a dependable vehicle with several ads flaunting its heroic exploits in war and slogans like "Are you Jeep Planning too".
Currently brand advertisers via newspapers, magazines, internet and television channels. Jeep has also been a participant of several events and sports programs. It signed a shirt sponsorship deal in the year 2012 with a football club in Italy "Juventus" worth 45 million dollars and became sponsors of "AEK Athens F. C." in the year 2014.
Liked this post? Check out these detailed articles on
Topic of Marketing Mix of Brands
Alternatively, check out the Marketing91 Academy, which provides you access to 10+ marketing courses and 100s of Case studies.