Rasna is associated with food and beverage industry and deals with several related products. It is of Indian origin and was introduced in consumer markets in the year 1976. Brand Rasna is one of the most popular brands and is owned by its parent company Pioma Industries. By the year 2009 Rasna had gained 93% of market share in the concentrated soft-drink sector.  It is ranked at number one position as most trusted brand in beverage industry of India. Some of its competitors are as follows-
About Rasna
Type: Consumer goods company
Industry: Food and beverage
Founded: 1976
Founder: Late Mr. Phiroja Khambatta
Headquarters: Ahmedabad, Gujarat, India
Area served: India and over 50 countries
Key people: Mr. Areez Khambatta, Chairman
Number of employees: Over 2,000
Product in the Marketing Mix Of Rasna :
Rasna is associated with marketing, manufacturing and exporting of instant drink powders, soft-drink concentrates, ready-to-eat snacks, ready-to-eat curries, chutneys, pickles, pasta, gravies, instant teas, fruit cordials and fruit jams.
Rasna has used global standard technology for its packaging in pilfer-proof and moisture resistant packs like jars, glass bottles, sachets, PP bottles, tins, flow packs and stand-up pouch. It has a diversified product portfolio and some of its items available in consumer market are
Rasna Fruit fun Litchi
Rasna Fruit fun Nagpur Orange
Rasna Fruitful Cool Khus
Rasna Fresh fun Jaljira
Rasna Fruit fun Shikanji Nimbupani
Rasna Fruit Plus Real Fruit
Rasna Fruit Plus Mixed Fruit
Rasna Rush Mango
Rasna Rush Orange
Rasna Fruit Plus Florida Orange
Rasna Mango Super Squash
Rasna Orange Super Squash
Rasna Juicy Mango
Rasna VitOs Choco-Filled Snack
Rasna Ice Tea Apple
Rasna Ice Tea Lemon
Rasna Body Fuel
Rasna Shake Up Kesar Badam
Rasna Shake Up Shahi Gulab
Rasna Rose Syrup
Rasna Kala Khatta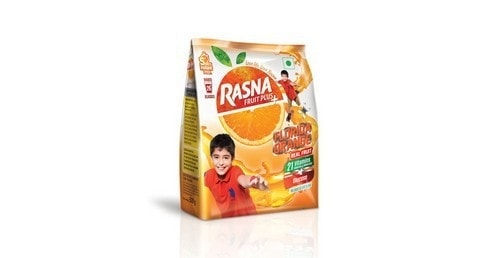 Place in the Marketing Mix Of Rasna :
Rasna has a Pan-India presence as it is available in every nook and corner of India. It has one manufacturing plant in Himachal Pradesh and five in Gujarat. Rasna has its headquarters base at Ahmedabad in Gujarat.  It has opened manufacturing facilities outside India in international countries like Egypt, Saudi Arabia, Dubai and Bangladesh.
Rasna has expanded its product presence to several global countries like Haiti, Sudan, Qatar, Tanzania, Bahrain, Myanmar, Vietnam, Singapore, Australia, Bangladesh, Maldives, Malaysia, Nigeria, Pakistan, Nepal, Jordan, Yemen and Oman. Brand Rasna has advanced R&D facilities for monitoring its products in the market and creating new flavours and products. It has a strong distribution network that includes services of 35 depots, 2500 stockists and  5 branch offices to reach nearly 1.8 million retail outlets so that consumer can easily make a purchase from corner shops, supermarkets, hypermarkets, convenience stores, discount stores and grocery outlets.
Price in the Marketing Mix Of Rasna :
By the end of the fiscal year, 2011 Rasna had estimated turnover of 3.5 billion rupees and became one of the most recognised brands in India. The company caters to masses and has targeted everyone from high class to middle and lower class section of society from both urban and rural sector. It wanted to penetrate at every nook and corner of the country and hence adopted a penetration pricing policy. All its products are very reasonably priced so that anyone can easily make a purchase. Rasna has also implemented a promotional pricing policy by offering free drinks and other incentives to increase its sales figures and revenues.
Promotion in the Marketing Mix Of Rasna :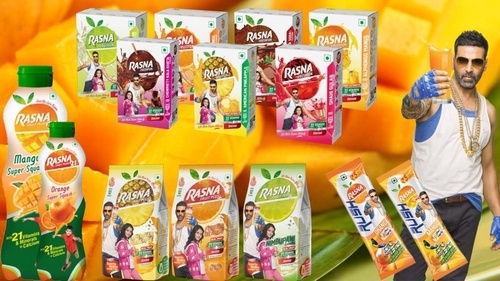 Rasna has adopted every available means at its disposal to market its products via both ATL and BTL methods. Its most preferred medium is television as it offers instant recognition. Rasna has launched ad campaigns on national television since the year 1980. Its most popular tagline is I Love You Rasna and was first uttered by actress Ankita Jhaveri.
The company markets its products via radio, newspapers, magazines, billboards, sides and backs of vehicles, Facebook, Twitter, YouTube, in-store promotions and promotional gatherings at malls and schools. Rasna is aware of the impact of star power and has regularly roped in several famous personalities as its brand ambassadors for celebrity endorsements like Genelia D' Souza, Virendra Sehwag, Kapil Dev, Paresh Rawal, Anupam Kher, Hrithik Roshan, Karisma Kapoor and Akshay Kumar.
Liked this post? Check out the complete series on Marketing Mix