Compaq Computer Corporation was a public company that was associated with computers and dealt with both software and hardware. It was popularly known as Compaq and was founded in the year 1982 by Bill Murto, Jim Harris and Rod Canion. The company became a subsidiary of its parent company HP in the year 2002 and retained its brand name for lower-end-systems. In the year 2013 HP Company decided to discontinue this brand and therefore came the end of an era. Some of its competitors during its time were
Product in the Marketing Mix of Compaq :
Compaq was a popular brand that developed, supported and sold services and products related to computers. It had various firsts to its name and hence introduced IBM PC Compatible computers in the market for the first time. In the year 1982, the first product of Compaq was launched and it was Compaq Portable.
It was a huge commercial success and in its first year, the brand was able to sell 53,000 units garnering sales revenues of nearly 111 million dollars. In the year 1984, Compaq Deskpro came in the markets and it later started its own line of computers. In the year 1989, SystemPro server was introduced and it helped Compaq in gaining a huge market share. During the 1990s it was the biggest producer of PC systems in the market. Some of the vital products of Compaq in its product kitty are as follows-
Desktops

Servers

Notebooks

Software

Telecom equipment

Place in the Marketing Mix of Compaq :
Compaq was a renowned brand and had a huge customer base. Most of its services were centred on countries like Argentina, United Kingdom and the United States. Headquarter base of the company before its takeover by HP was at Harris County in Texas. After its acquisition, the place became HP's largest facility in the United States. Compaq had a distinctive distribution channel. It sold its products through dealers and this was because it wanted to keep away from potential competition that would result from distribution channel of direct sales.
This move resulted in loyalty amongst the company's resellers. Compaq offered a heavy discount and leeway to its dealers and as they had an added incentive to market and sell its products, a company went on to reach new heights. PC chassis for brand Compaq were produced in a manufacturing plant in Shenzhen in China to reduce costs as it provided cheap labour. In its later year's company linked its supply chain from dealer to supplier through a complex software for better results.
Price in the Marketing Mix of Compaq :
Compaq had a unique marketing strategy. Instead of focussing on price and revenues it decided to concentrate more on its various offerings. It wanted to differentiate its products and hence created features like better graphics, portability and qualitative performance levels. It maintained a competitive pricing policy so that its prices were nearly same as those of its rival companies. As its products were of much superior quality at same price levels it had larger sales figures and ultimately greater revenues. Compaq also maintained a penetration pricing policy as it wanted to create new markets for its products and its partnership with another renowned brand Intel resulted in taking a lead in markets.
Promotion in the Marketing Mix of Compaq :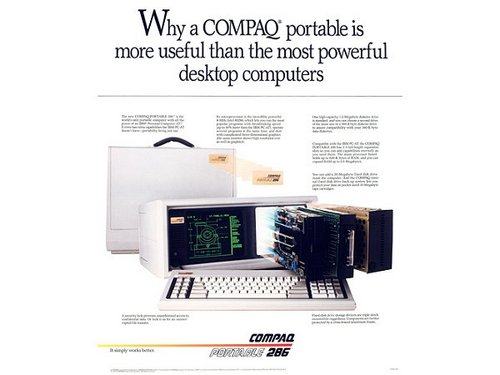 Promotion of a product is very vital for the survival of a company and Compaq has always realised that its marketing strategies must be of top quality to survive in this market. The brand created a special marketing team for its promotional activities so that awareness of the brand and its several services and products remained in limelight. Products were actively advertised through all possible means and it included commercials in television, ads in magazines and newspapers.
Personal selling through exhibitions and trade fairs was encouraged and it created positive visibility for the brand. Compaq was a sponsor for Williams Formula One Team and even after its merger it's parent company HP decided to continue with this sponsorship deal. The company also had a website for providing relevant information about its several services and products.