Hugo Boss is commonly referred to as Boss and is a popular fashion house. It is of German origins and is associated with FMCG sector. The company was founded in the year 1924 by its founder Hugo Boss. The company deals in developing and marketing of high-end fashion products for men, women and recently for children as well. Hugo Boss boasts of superior products and the brand has a passion and dedication for providing finest fabrics and highest quality with an emphasis on minute details. Some of its rivals are as follows-
Calvin Klein
Gucci
Ralph Lauren
Louis Vuitton
About Hugo Boss
Type: Fashion brand and fashion house
Industry: Luxury goods
Founded: 1924
Founder: Hugo Ferdinand Boss
Headquarters: Metzingen, Germany
Area served: Worldwide
Key people: Daniel Grieder (CEO) and Thomas Schafer (Chairman)
Number of employees: 14000
Product in the Marketing Mix Of Hugo Boss :
Hugo Boss is a global fashion brand that deals in a wide range of products. It also has licensing agreements with other companies for producing products with Hugo Boss brand name like cell phones with Huawei, HTC and Samsung, Children's clothing with Children Worldwide Fashion SAS, skincare and fragrances with Procter & Gamble Prestige and Shiseido, watches with Movado and eyewear and sunglasses with Safilo. Hugo Boss has its own clothing line comprising dual core brands of Hugo and Boss and its range varies from evening wear to sportswear to casual wear. Some of them are as follows-
Hugo – European influence is prominent in this clothing line which is available as men's wear since the year 1993 and women's wear since the year 1998
Boss – It is available as men's wear since the year 1970 and women's wear since the year 2000 and includes a combination of classic with modern and trendy look
Boss Green – It was previously named Boss Sport and its men's wear was available from the year 2003 and women's wear since the year 2010. It is active clothing range in golf-style
Boss Orange – Bohemian style is prominent in this clothing line and it became available as men's wear since the year 1999 and women's wear since the year 2005. In the year 2010, it was relaunched as denim-based for casual wear

Place in the Marketing Mix Of Hugo Boss :
Hugo Boss started its operations from a small town Metzingen in Germany. With time its manufacturing operations spread to several locations like Cleveland in the United States, Izmir in Turkey, Radom in Poland and Morrovalle in Italy. Currently, its products are available in most countries of the world like New York, Berlin, Tokyo and London.
It has a strong distribution channel that includes services of company owned premises. Its operations are conducted through an estimated one hundred and twenty-two outlets, five hundred and thirty-one shops and three hundred and eighty-eight stores. Hugo Boss is involved in the development of several sub-brands that are easily available in fashion outlets and departmental stores. These can also be purchased through its official portal as well as other shopping platforms.
Price in the Marketing Mix Of Hugo Boss :
Hugo Boss is a leader in the luxury segment and offers premium products to its customers. Patrons who choose to wear products from Hugo Boss are both envied and admired in equal measures. Company realises that it is offering something extra to its customers and they are willing to go the additional mile and pay for it. Hence brand has adopted a premium pricing policy for its high-end product as its target customers are high profile and rich people who can easily afford its prices.
Promotions in the Marketing Mix Of Hugo Boss :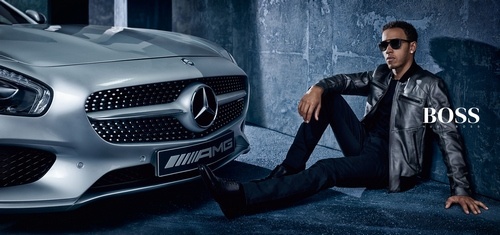 Hugo Boss has very high brand awareness as it caters to the whim of selected few. It realises the power of right advertisement and has adopted several global campaigns embodying its true character and essence. The company has ensured the services of leading photographers and best art directors so that they can come up with best possible advertisements and campaigns.
Hugo Boss has taken help of print media via catalogue, posters and fashion magazines. To remain in public eye the brand offers press conferences and interviews providing the latest information to its loyal clients. The company has also been a sponsor for various events like Formula One, Sailing and Golf. It is involved in social causes and has a partnership with Cancer Foundation and UNICEF.
Liked this post? Check out the complete series on Marketing Mix