Bingo is one of the major food brands in India and markets its products under the flagship of its parent company ITC.  It is a popular brand of Chips and was introduced in the consumer market in the year 2007 by its owner company. Some of the main competitors of this brand are as follows –
Frito Lay Group

Kurkure

Lays

Uncle Chips

Haldiram Group
About Bingo
Type: Snack food company
Industry: Food and Beverages
Founded: March 2007
Founders: ITC Limited
Headquarters: Kolkata, West Bengal, India
Area served: India
Current CEO: Sanjiv Puri
Number of employees: 10,000+
Major products: Potato chips, tortilla chips, finger snacks, namkeens
Product in the Marketing Mix Of Bingo :
Products from brand Bingo are available in mainly two varieties and in different flavours, sizes and shapes. These are Finger Snacks and Potato Chips and in all have four sub-brands and several variants which are as follows-
Bingo Yumitos Premium Salted

Bingo Yumitos Red chilli Bijli

Bingo Yumitos International Cream and Onions

Bingo Yumitos Masala Remix

Bingo Yumitos Fiery Red Tomato

Bingo Yumitos Juicy Tomato Ketchup

Bingo Yumitos Original Style- Chilli Sprinkled

Bingo Yumitos Oye Pudina

Bingo Yumitos Original Style- Salt Sprinkled

Bingo Mad Angles Masala Madness

Bingo Mad Angles Tomato Madness

Bingo Mad Angles Chaat Masti

Bingo Mad Angles Achaari Masti

Bingo Tedhe Medhe Mast Masala Tadka

Bingo Tedhe Medhe Achaari Masti

Bingo Tangles Masala Tangle

Bingo Tangles Tomato Tangles

Bingo Tangles Salted Tangle

Bingo Tangles Cheese Tangle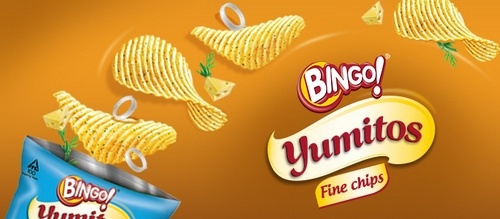 Place in the Marketing Mix Of Bingo :
Bingo has made sure that it makes new inroads in both rural and urban markets and hence has made its products easily available at every possible store across the country.  As it is a subsidiary of a bigger brand like ITC, its distribution channels are far and wide. The brand has tried to adopt a micro-distribution policy to gain better reachability. Hence it is possible to buy a pack of Bingo even in the remotest part of rural India.
Bingo has a good supplier base and its suppliers provide raw materials like spices, potatoes and other ingredients at lower costs. Distribution channel of a company is based on tried and tested policy of manufacturer to dealer and lastly to consumers through several possible mediums like grocery stores, discount outlets, convenience stores and supermarkets. The company has provided incentives to its dealers and retailers so that they encourage product sales.
Price in the Marketing Mix Of Bingo :
Brand Bingo was launched with the express purpose of capturing at least 25% of the market share in first few years. Brand adopted an aggressive pricing policy to attract new customers and currently it has been able to capture 16% of snacks market. In order to compete successfully with its competitor's company has allotted minimum prices for its products at Rs 5, 20 and 10. To add a competitive edge as mostly every company offers the same price range, Bingo has added more weight to its product packet.
A ten rupees packet offers 45 grammes of product compared to its rival company which offers same quantity at rupees 15.  Its pricing strategy has been successful because of consistent lower prices and providing more value for money. In order to gain new consumer base and create more sales brand also offers odd discounting schemes like 33% extra with a pack.  
Promotion in the Marketing Mix Of Bingo :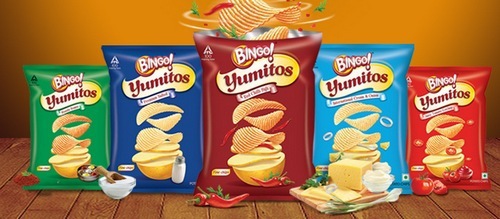 Bingo has become a popular brand and has decided to adopt an aggressive policy for marketing its products. It wants to penetrate the competitive market of snack foods and for this, it has decided to introduce innovative campaign policies and catchy advertisements. The brand has advertised its commercials through every possible means at its disposal. Ads are aired on radio, television and displayed on newspapers, billboards and magazines.
During the first six months, the company booked nearly 1000 hoardings, 20 spots on radio and 10-15 spots on most channels every day. It spent nearly 100 crores as the promotional policy during that time. Bingo also gave special emphasis on packaging and made it eye-catching so that it can attract the attention of its customers. It also provides added incentives like 33% extra with every pack and these odd numbers helps in creating positive brand awareness.
Liked this post? Check out the complete series on Marketing Mix