Durex brand is associated with personal care and FMCG sector. It is a contraceptive brand made for males by SSL International of United Kingdom and was introduced in the market in the year 1915. Currently, this trademark is owned by Reckitt Benckiser since the year 2010. Durex is the most popular and used contraceptive in modern times and is just not for avoiding unplanned pregnancy but is a means for pleasure. The company has targeted people above 18 years as its potential customers. Some of its chief competitors are as follows-
Trojan
KS
Moods
Kohinoor
Shields
About Durex
Type: Condom brand
Industry: Sexual health
Founded: 1929
Founder: London Rubber Company
Headquarters: London, England
Area served: Worldwide
Key people:Bart Becht (Chairman) and Svend Tveskæg Current (CEO)
Number of employees: 10,000
Product in the Marketing Mix of Durex :
Durex products belong to specific preferences and requirements and are focussed on few essential elements like fun, comfort and pleasure focussed. The lubricated condom was first introduced by the company in the year 1950 and it has come a long way from that point.
It has also launched flavoured and coloured condoms. Durex range includes nine variants of latex condoms like Ramses and Sheik and non-latex like Avanti Range. Its product range includes the following-
Condoms- Durex occupies the first position in the world for condoms. Every single piece is made of quality raw materials and is tested electronically. Its variants are-
Lubricants- Durex offers massage gels and lubricants to provide heightened pleasure. Options are available in different flavour of lubes and its variants are-
Durex Play Massage Gel Sensual
Durex Play Massage Gel Stimulating
Durex Play Lube Strawberry
Vibrators- To provide sensual pleasure Durex have launched various sex toys and the vibrator is one of the most popular and in-demand devices. Other products are-

Place in the Marketing Mix of Durex :
Durex has a strong consumer base and its products are available in nearly one hundred and forty countries.  It has seventeen factories for manufacturing purposes and is able to produce more than four billion condoms every year. It is the top-most contraceptive brand in nearly forty countries like France and ranks at 2nd position in the United States.
Durex occupies 22% of the market share and this is because of its excellent distribution policy. Durex products are easily available through numerous channels like convenience stores, megastores, gas stations, adult stores, corner shops, chemist stores, supermarkets, discount stores, retail stores and online shopping portals. It has an official website for providing product information.
Price in the Marketing Mix of Durex :
Sales of Durex condoms have been spectacular over the years and have helped the brand in garnering great revenues. This is because of it is qualitative and diversified product range and company's pricing policies. Every product has a different customer base as the young generation goes for economic prices, young adults desire comfort and are willing to spend a little more and middle-age group, who wants the best are willing to shed extra bucks for desired results. Durex has kept all this in mind and has adopted pricing policies that suit every pocket and becomes affordable and reasonable for its user.
Promotions in the Marketing Mix of Durex :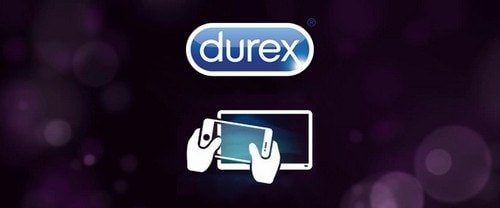 Durex is a brand that is recognised as more fun, innovative and qualitative. It was first to adopt Seal of Quality and set a global standard in quality and also was first condom brand to advertise globally.  It has a fitting tagline Feeling is everything; for a hundred million reasons.
The company has taken steps for an aggressive promotional policy that highlights its features, provides related information and is highly sexual for viewing. Advertisements and commercials on television, radio, newspaper, magazines have helped in creating high visibility and positive brand awareness.
Durex has also roped in social media to advertise its products through Instagram, Twitter and Facebook. Indian actor Ranveer Singh and Sunny Leone have been roped in to act in a Durex commercial. The brand has also been part of various events. Durex was not the official sponsor of Summer Olympics held in the year 2012, but it provided nearly 150,000 condoms free to more than ten thousand athletes participating in the games.
Liked this post? Check out the complete series on Marketing Mix