Tang Juice as the name suggests is associated with beverage industry. It was formulated for the first time in the year 1957 by William A Mitchel, a food scientist at General Foods Corporation. Tang Juice was marketed in the year 1959 in its powdered form. Currently, it is a subsidiary brand of its parent company Mondelez International. Tang is a global leader in powdered drink mix category. It faces competition from the following
Rasna
Thanda Orange
Energile
Sunsip
Limo pani
About Tang Juice
Type: Beverage company
Industry: Food and beverage
Founded: 1957
Founders: William A. Mitchell and William Bruce James
Headquarters: Deerfield, Illinois, United States
Area served: Worldwide
Current CEO: Vince Gruber
Number of employees: 1,000+
Major products: Tang powdered drink mix, Tang fruit snacks, Tang gummies
Product in the Marketing Mix Of Tang Juice :
Tang Juice is a beverage with fruit flavours and great taste. It is sold in both ready-to-drink and powdered form and both have the same taste. It does not contain caffeine contents and is also available in sugar-free version since the year 1985.
In the year 2007 new variant of Tang was introduced with artificial sweeteners. Tang offers a real drink with high nutrition content of vitamin C and minerals like zinc and iron. Some of its popular variants are based on local preferences and tastes. Tang Juice is available in 14-ounce and 7-ounce glass jars. Its variants in different parts of world are as follows
Orange
Strawberry
Peach
Tangerine
Lime
Mango
Orange Pineapple
Orange kiwi
Orange Strawberry
Grape
Tropical Passionfruit
Cashew
Guava
Orange banana
Wild Berry
Tangerine strawberry
Multifruit
Horchata
Jamaica Hibiscus
Orange Grapefruit, Lemon
Pink Grapefruit
Sweet Orange
Apple
Pineapple
Pear
Orange Peach
Lemon and Pepper
Orange Mango Strawberry
Lemon and mint
Coconut
Pina Colada
Soursop
Tamarind
Honey Lemon
Watermelon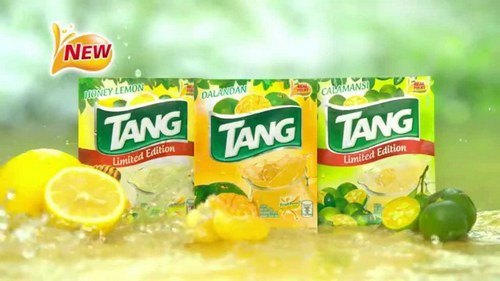 Place in the Marketing Mix Of Tang Juice :
Tang Juice started its operations from American soil in the year 1957 and was launched in the overseas market at Venezuela in the year 1959. It has spread its product presence to emerging markets in Middle-East, China, Asia and Central and Eastern European countries. It is easily available in nearly thirty-five countries of the world like Mexico, India, France, China, Saudi Arabia, Romania, Egypt-Turkey, Philippines, Argentina, Vietnam, Indonesia and Brazil.
Tang Juice has manufacturing facilities in France and Mexico and its facility in India was opened in the year 2011. The brand has a strong and widespread distribution network and it also takes help of its parent company to distribute items far and wide. Channel includes services of manufacturers, retailers to reach consumers via discount stores, convenience stores, hyper markets, super markets, grocery stores and corner shops.
Price in the Marketing Mix Of Tang Juice :
Tang Juice is popular refreshment because of great taste and affordable rates. It is a billion dollar brand that has found acceptance amongst common masses in the consumer market. At the end of the financial year, 2015 Tang Juice had estimated revenues of 900 million dollars with 25% of the total revenues being earned by its orange flavour.
The brand has adopted a reasonable pricing policy under smart pricing system because its production cost is invariably lower than bottled drinks. Tang Juice has kept product prices inexpensive and within reach and as it wants to penetrate in further markets it has adopted penetration policy by maintaining pocket-friendly rates.
Promotion in the Marketing Mix Of Tang Juice :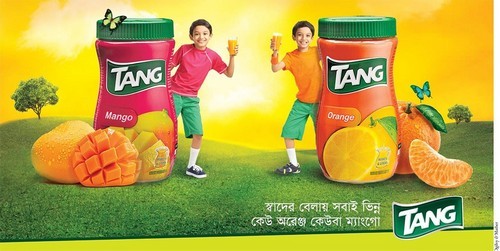 Tang Juice is a product for masses and the company has adopted aggressive and intensive brand campaign to create positive visibility in the consumer market. Its ads are shown via newspapers, magazines, billboards, television, radio, in-school events like sports day and children's day and summer campaigns at malls and theatres. Tang also advertises via social media platforms in Twitter, YouTube and Facebook page.
During NASA's Mercury Flight by John Glen and subsequent Gemini missions, Tang has been the preferred drink mix shipped with them. Since the year 1962, it became associated with space programs and sponsored First American manned flight in television in the year 1968. In the year 1995 brand launched its spokescharacter Orangutan in a bold and aggressive marketing campaign. The company started a campaign titled Tang Lactaea in Brazil and Tang Fresh in Argentina in the year 2015.
Liked this post? Check out the complete series on Marketing Mix