Mitsubishi is a group of companies that is associated with numerous industries. It is a private company of Japanese origin and serves a world-wide area. Company is descended from a unified company Mitsubishi zaibatsu that was in existence from years 1870 till 1947.
Currently it is a Conglomerate whose main companies are Mitsubishi Heavy Industries, dealing in diversified manufacturing, Mitsubishi Corporation, dealing in general trading and Bank of Tokyo-Mitsubishi UF J, dealing in banking. All its companies share legacy, trademark and brand of Mitsubishi but are still independent and not under each other's control. Some competitors of Mitsubishi are as follows
Mitsui & Co Ltd
Itochu Corporation
Marubeni Corporation
About Mitsubishi
Type: Multinational conglomerate
Industry: Diversified
Founded: 1870
Founder: Yatar? Iwasaki
Headquarters: Tokyo, Japan
Area served: Worldwide
Key people:Haruki Mitarai (Chairman) and Takaya Kondo (CEO)
Number of employees: 370,000
Product in the Marketing mix of Mitsubishi
Mitsubishi first started its shipping operations as its core business and diversified in related fields. It entered coal-mining for its ship's fuel and bought a shipyard. Later it bought an iron mill for supplying iron and stepped in marine insurance to provide for its ships. All these resources were later expanded and utilized in manufacturing of aircraft and its related equipments. Overseas experience resulted in entering in trading business. Company diversified in organizations like banking, warehousing, insurance and further segments like real estate, oil, aircraft, electric equipment, steel glass and paper.
Mitsubishi is acknowledged as a multinational company that had a major hand in modernization of Japanese industry. It also is associated with automobile manufacturing, nuclear power, chemicals and power generation. Company specializes in imaging and optics and has stepped in new ventures like computers, semiconductors, data communications, ocean development, aviation and space development.  In resources segment, Mitsubishi has decided to focus its investments in natural gas, copper and metallurgical coal whereas in Non-resources department it has decided to increase size of its current portfolio.
Place in the Marketing mix of Mitsubishi
Mitsubishi Group constitutes of forty companies that have individual identities without a parent company. Each of these companies have substantial amount of shares of other company but does not run interference in its running. Twenty nine of its members participate in a traditional meeting called Friday Conference to discuss various policies and problems. Mitsubishi is a global giant with operations in numerous countries and it has set up manufacturing plants and proper distribution policies all across the world.
Company has placed special emphasis on its distribution channels and dealerships as it realises the impact of fast and efficient services on product sales. Its policy is continuously under scrutiny to meet consumer demands successfully. Technology plays an important role in its distribution policy of consumer products which comprises of manufacturers, wholesalers and retailers along with proper warehouses and transportation facilities.
Price in the Marketing mix of Mitsubishi
Economic condition of a place and its market trends are important factors that influence pricing policies of Mitsubishi. It has management teams that keep an eye on its competitor's prices and products along with customer's capability of spending a fixed amount. It has numerous products in its portfolio and has kept different pricing strategies for them. Consumer products have a competitive pricing policy as their prices are also dependent on base prices set up by competitors. Some of their products like luxury vehicles have a premium pricing and products like semiconductors and computers have value-added pricing policies.
Mitsubishi has always kept its options open and hence its pricing policies are flexible. In case of less demand and lower product sales it offers discounts and schemes to generate revenues.
Promotions in the Marketing mix of Mitsubishi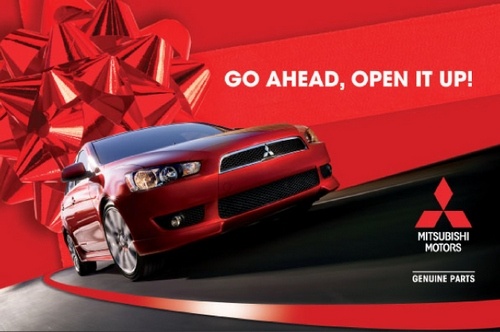 Mitsubishi has launched its various products in market with proper promotional activities so as to create a better brand awareness. As the company is a conglomerate with varied product portfolio hence its marketing strategy for different products may vary. One common thing related to all its companies is that every one of them realises the importance of marketing. It keeps a monitoring system on quarterly and sometimes monthly basis that ensures effective operations and upgrading of activities according to demands. Mitsubishi uses numerous advertising techniques and tools to promote its products.
Commercials are telecast on television and are broadcast on radio. Company also uses print media through newspapers, magazines and hoardings. As people prefer online marketing, commercial activities along with numerous discounts and other schemes are projected at various online shopping sites and also at official sites of company. Company also provides opportunities and incentives to its employees as they are an important part of its organization.
Liked this post? Check out the complete series on Marketing Mix