Mountain Dew currently referred and styled as Mtn Dew is of American origins. It is a soft drink and is associated with beverage industry. Mountain Dew was introduced in the year 1940 by Ally and Barney Hartman. In the year 1964, production rights and brand Mountain Dew was acquired by PepsiCo from Tip Corporation. It occupies 6.7% of US market share related to carbonated soft-drinks. Some of its competitors in global consumer market are as follows –
Mello Yello
Surge
Sun Drop
7Up
Limca
Sprite
Canada Dry
About Mountain Dew
Type: Soft drink
Industry: Beverages
Founded: 1940
Founders: Barney and Ally Hartman
Headquarters: Purchase, New York, United States
Area served: Worldwide
Key people: Vivek Ramaswamy CEO
Number of employees: Over 274,000
Product in the Marketing Mix Of Mountain Dew :
Mountain Dew is a very popular soft drink with main ingredients being carbonated water, orange juice, fructose, caffeine, added flavours and yellow 5. It does not have alcohol content and is available in several variants, colours and flavours. It is accessible in pet bottles, cans and glass bottles in different sizes of 2L, 1.25L, 1L, 500ml and 250ml. Some of the current Mountain Dew flavours and variants in its diversified product portfolio are as follows-
Original Mountain Dew
Throwback Mountain Dew
Kickstart Water Melon Mountain Dew
Kickstart Blueberry Pomegranate Mountain Dew
Baja Blast Mountain Dew
Kickstart Blood Orange Mountain Dew
Sangrita Blast Mountain Dew
Voltage Mountain Dew
Kickstart Pineapple, Orange-Mango Mountain Dew
Electric Apple Mountain Dew
Diet Mountain Dew
Kickstart Midnight Grape Mountain Dew
Caffeine-Free Diet Mountain Dew
Kickstart Strawberry Kiwi Mountain Dew
Diet Code Red Mountain Dew
Kickstart Limeade Mountain Dew
Caffeine-Free Mountain Dew
Code Red Mountain Dew
Live Wire Mountain Dew
Diet Mountain Dew
White Out Mountain Dew
Kickstart Fruit Punch Mountain Dew
Black Label Mountain Dew
Game Fuel Citrus Cherry Mountain Dew
Kickstart Black Cherry Mountain Dew
Pitch Black Mountain Dew
Kickstart Orange Citrus Mountain Dew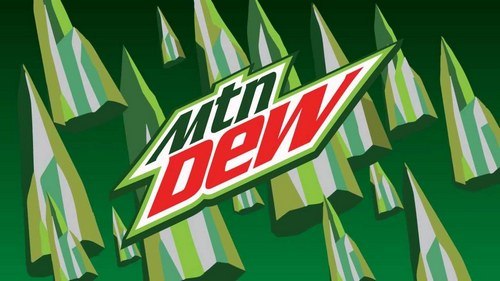 Place in the Marketing Mix Of Mountain Dew :
Mountain Dew has acquired an international presence as its products are available in most countries of the world like United States, India, Canada, United Kingdom, Philippines, Singapore, Australia, New Zealand, Germany and Malaysia. It is continuously improving itself because of its R&D facilities that have a latest technological advantage for improvisation. Mountain Dew has a strong and widespread distribution network because of its owner PepsiCo. It includes services of a distributor, retailer, wholesaler to reach consumer via corner shops, discount stores, cafes, restaurants, fast-food centres, hotels, convenience stores, supermarkets and hypermarkets.
Price in the Marketing Mix Of Mountain Dew :
Mountain Dew has adopted a customization strategy as expectations vary from region to region. Moreover, pricing is heavily dependent on competitors pricing if it has several rival brands in the market. The brand wants to improve its market share and survive successfully in this cut-throat industry. Mountain Dew has adopted a competitive pricing policy and has kept its prices in close proximity to the product prices of its competitors. It has also adopted a promotional marketing policy and offers freebies and incentives to garner further sales at periodic intervals like product packages, clothing accessories and games.
Promotion in the Marketing Mix Of Mountain Dew :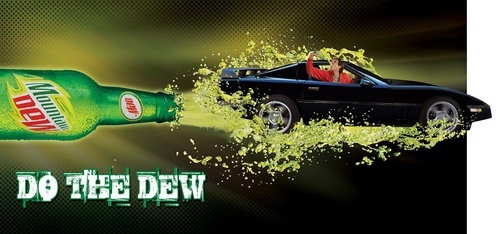 Mountain Dew has projected itself as a cool drink for outdoorsy, fun-loving and younger generation. It has paid special emphasis on packaging, labels, designing and built-in-grip. Good Old Mountain Dew is its popular tune and has been recorded by artists like Willie Nelson and Grandpa Jones. This jingle has been used in several ad campaigns. Gimme Dat is sung by Christian Rapper KJ-52 and is all about the singer's fascination for Mountain Dew.
It has been associated with several games and events as part of its promotional strategy like ESPN Games in the year 2005. The company has roped in celebrities from sporting events like racing car, mountain bikers and skaters to act in its campaigns because it realises the impact of star power on the mindset of common masses.  Indian actors Salman Khan and Hrithik Roshan along with Indian Wrestler Sushil Kumar have been appointed as its brand ambassadors so as to increase its brand awareness.
Liked this post? Check out the complete series on Marketing Mix