India is one of the biggest stationary markets in the world as its rate of growth is exceptional. This is because of rising literacy rate and increasing the purchasing power of consumers. Cello pen is an Indian company and was founded in the year 1995. It started its operations with a single model titled Clear Pen. Brand Cello captured the market with German and Swiss tips ink. It offered quality writing, clear flow and highest standard of writing tool was born. In the year 2015, the month of December it was bought over by global company BIC. Some of the main competitors of cello pen in market are as follows-
GM Pens
Linc
Jineshwar (Montex)
ADD
Product in the Marketing Mix Of Cello Pens :
The cell has a broad portfolio of excellent products. The brand has a great reputation in both national and international market for offering a wide range of products, foreign technology and state-of-art components. Cello pens are smear free and free smooth while writing. Latest technology, well-trained employees, quality raw materials and continuous improvement make these pens the best in business. Its product portfolio includes-
Ball pen like Butter Flow, Executive, Papersoft, Crown

Metal pen like Mezzo, Radiance, Silvertip

Gel pen like Aqua, Gelo, Sports

Markers Hi-Lighters like Evermark, White Mate

Stationary like Sharper, Compass Box, Glue Stick, Eraser, Scale

Pencil like Colour Pencil, Wooden Pencil, Mechanical pencil,

Fountain pen like Disney Fountain Liqui

Exam series like Max Riter, Techno Tip, Pinpoint

Signature series like Advance, Writer, Victor

Retractable like Voyager, Retro, Sapphire

Gift set like Icon Gift Set , Genius & Power Gift Set

Accessories like Refills, Lead Box, Marker Ink

Disney like Classic, Club Close, Star

Calculator like Desktop Series, Scientific Series, Pocket Series

Place in the Marketing Mix Of Cello Pens :
Cello pen is one of the largest distributor and manufacturers of writing instrument in India. It is also the biggest supplier and exporter of products like refills, gel pens and ball pens.  The brand started its operations with a very low-profile but with time has grown leaps and bounds to become the indisputable leader. It has a widespread distribution network both at domestic and international levels. Its products are exported to countries like Far East, Middle East, Gulf, Europe and Africa.
During its beginning years, the company produced nearly twenty lac pens every month and from there it has now expanded to nearly five hundred lac pen every month. Factory of Cello pens is spread over 1, 00,000 square feet area and has nearly three thousand workers working under it. Its marketing network includes 1900 distributors, 40 super-stockiest and a capable sales team comprising of three hundred persons who are professionally trained. The company has two manufacturing plants in Haridwar and Daman in India. Cello pens are easily accessible from a small shop to the prestigious showroom.
Price in the Marketing Mix Of Cello Pens :
Brand Cello has managed to satisfy its customers in every nook and corner of India. It is acknowledged as a superior brand in both rural and urban markets. It also has corporate houses as its loyal customers. This has been possible because of first-rate products at reasonable prices. The company has kept a very reasonable pricing policy for its products. It has put its onus on higher sales figures and for this, they have cut down the profit margin. Higher the sales higher the revenues earned have been their pricing strategy.
Promotions in the Marketing Mix Of Cello Pens :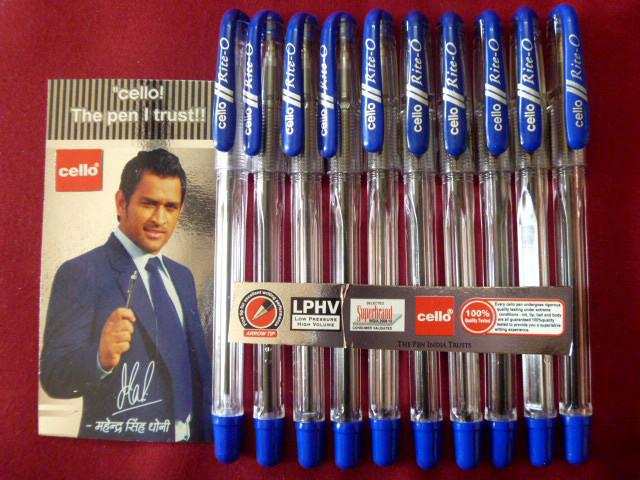 From its inception, Cello has realised the power of good promotional activity. It has marketed its products through various advertising options. Inspired thinking has helped the brand in creating some of its best commercials that are explanatory and self-defining.  Ads are run in newspaper and magazines highlighting its best features. Its campaigns have emphasised quite categorically on its image of the uncompromising quality product.
Commercials are aired on television showing customer satisfaction. In one of the ads, children are shown to be working at a better speed with these pens during exam times. Insightful marketing has made this brand an all-time favourite with younger generation and professionals alike.
Liked this post? Check out these detailed articles on
Topic of Marketing Mix of Brands
Alternatively, check out the Marketing91 Academy, which provides you access to 10+ marketing courses and 100s of Case studies.