Muthoot Finance limited is associated with metal industry and financial services. It is a public limited company of Indian origins and currently is considered as largest financial organisation related to gold in global arena. It was incorporated as a private company in year 1997 and came to be known as Muthoot Finance Private Limited.
It is subsidiary of its parent company Muthoot Group and was founded in year 1939 by its founder M George Muthoot. Muthoot Finance has been licensed to act as Non-Banking Financial Company by Reserve Bank of India.  Some of its competitors are as follows-
Bajaj Holdings and Investments Limited
L&T Finance
Sundaram Finance limited
About Muthoot Finance
Type: Non-banking financial company (NBFC)
Industry: Financial services
Founded: 1939, Kerala, India
Founder: Mathai George Muthoot
Headquarters: Kochi, Kerala, India
Area served: India, UK, US, UAE
Key people: George Jacob Muthoot – Chairman and Managing Director and Pavan K. Gupta Chief Executive Officer (CEO)
Number of employees: Over 25,554
Product in the Marketing Mix Of Muthoot Finance 
Muthoot Finance is a financial corporation with a diversified product portfolio related to gold and financial services. It includes-
Financial Services
Wealth Management services
Securities
Healthcare
Education
Gold Coin
Gold coins offered with instalments on monthly basis without charging extra interest
Investment risk is minimum
Investment return is greater
24carat/999 purity
Insurance
Pension plan
Smart Kid
Health plan
Money back
Travel services
Lowest fare for domestic and international airlines
Visa services
Affordable tour packages
Customized services related to travel insurance
Housing Finance
Home Loans at reasonable rates
Foreign Exchange
Competitive rates for exchange
Sale and purchase of major currencies
Encashment of travellers cheque
Money Transfer
Global transfer
Instant Cash
Gold Loan
Safe custody for gold ornaments
Best customer service with minimum response time
In-house evaluation of gold
Minimal documentation
Pre-payment option
Quick Loan Disbursal
Cashless
Online Payments
Prepaid Visa Card
Instant Cash
Digital
WEBPAY Facility
iMuthoot APP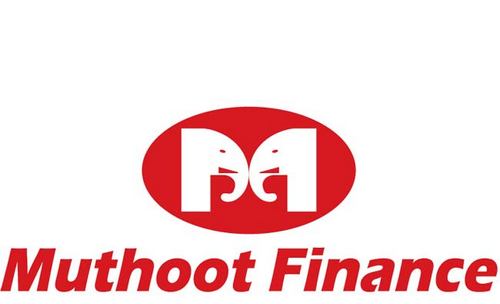 Place in the Marketing Mix Of Muthoot Finance :
Muthoot Finance is an Indian company that started its operations from Kerala and has its headquarters base located at Kochi in Kerala.  It has extended its operations to international market to include the places like United States, United Kingdom and United Arab Emirates.
Pan-India presence of Muthoot Finance has spread to most of the states and union territories including 1,240 talukas, 364 districts and 1,072 cities. It has an extensive distribution network that includes 4,400 branches established at several strategic places all over India. Its regional sales offices and efficient and trained workforce helps in easy handling of services and maintains a perfect balance between the products and services of company and its clients via affordable rates.
Price in the Marketing Mix Of Muthoot Finance :
Muthoot Finance has targeted salaried individuals, SME business proprietors, traders, farmers, vendors and small business entities as its potential customers. Its revenues for the financial year 2012 were estimated at 23,000 crore rupees. Its business related to Gold Loan accounts for 99% of its total income.
Muthoot Finance has adopted a reasonable pricing policy and kept its rates affordable and inexpensive along with flexible payment options so that people can easily avail themselves of its services and products. It wanted to penetrate into new markets and has implemented a penetration policy to gain maximum market share.
Promotion in the Marketing Mix Of Muthoot Finance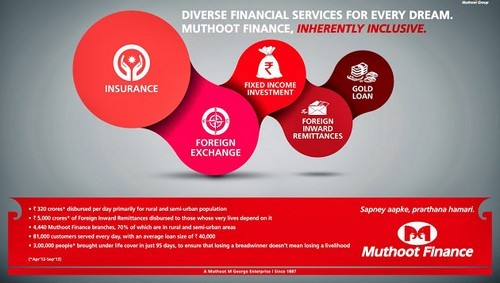 Muthoot Finance has gained recognition in both domestic and global arena because of its promotional strategies. It has launched informative ad campaigns that are shown via electronic and print media in several popular channels, radio, local and highly popular newspapers, magazines, billboards at most populated places and sides and backs of vehicles to gain maximum brand recognition.
Its ads can be viewed on social media platforms via its own website, YouTube, Facebook and Twitter. It has been the recipient of numerous awards and accolades in recognition of its works like In year 2013, Skoch Financial Inclusion Award, Most Trusted Finance Brand in India in year 2012, Best Rural Outreach in year 2012 and Golden Peacock Award "HR Excellence for 2013". Muthoot Finance is a believer in philanthropic activities and conducts several CSR activities via Muthoot M George Foundation. It includes tree plantation, scholarships, eco-friendliness and initiatives in the field of health and education.
Liked this post? Check out the complete series on Marketing Mix