Faber-Castell is a joint stock company and is associated with the stationary industry. It was established in the year 1761 by its founder Kaspar Faber and is one of the oldest and largest manufacturers of writing instruments in the global market. It has targeted both kids and professionals as its customers and caters to them through a diversified product range at affordable prices. Some of its main competitors in this field are as follows-
Crayola LLC
Dixon Ticonderoga Company
Newell Rubbermaid Inc
About Faber Castell
Type: Manufacturer of writing instruments
Industry: Manufacturing
Founded: 1761
Founder: Kaspar Faber
Headquarters: Stein, Germany
Area served: Worldwide
Key people: Count Anton Wolfgang von Faber-Castell (Chairman) and Stefan von Faber-Castell (CEO)
Number of employees: 7,400
Product in the Marketing Mix Of Faber Castell :
Faber-Castell has a wide variety of innovative products like writing instruments and art materials for both professional use and children in several categories. Some of them are as follows-
Luxury pens include ballpoint pens and fountain pens
Pens include fountain pens, refills and ballpoint pens
Technical drawing category includes refills and mechanical pencils
Kids, graphic and school arts include connector pens, papers, oil pastels, modelling dough, crayons, markers, brushes, watercolours and pencils
Graphics and professional art section include sharpeners, erasers, charcoals, pastels and pencils
Faber-Castell has been a leading manufacturer of slide rules like 2/83N in the global market. It has also included several other products like geometry box, drawing books, glue sticks, mathematical set, scissors and coloured metallic pencils in its product portfolio.

Place in the Marketing Mix Of Faber Castell :
Faber-Castell has spread its operations in the global market through twenty sales units and fourteen factories. Its products are easily available in more than one hundred and twenty countries around the world and the company has nearly seven thousand employees to help in its operations. Headquarters base of the company is in Stein, Germany and its manufacturing plants are in countries like Austria, India, Brazil, Colombia, Peru, Costa Rica, Germany, Indonesia, China and Malaysia. Its branches are located in Vienna, Paris, London and New York. It has a strong distribution network that includes both retailing and wholesaling options of distribution.
It helps in easy availability of products in almost everywhere including corner shops, convenient stores, supermarkets, discount stores, art shops and hypermarkets. In India, Faber Castell started operating in the year 1998 and has extended its reach to both traditional and modern trade channels in both urban and rural sector. It has a strong distribution channel that includes five hundred distributors and nine branches for efficient workings and quick availability in almost every store.
Price in the Marketing Mix Of Faber Castell :
Faber-Castell has launched both premium and non-premium products and hence has kept a pricing policy to go well with both types of products. It has adopted a value-added pricing policy that makes its products suitable to meet demands of every section in society. In order to make further inroads, it has adopted a penetration policy that will deal with its competitors and consumer market effectively through reasonable price rates. Its rates are marginally closer to the rates quoted by its competitors and its high-end products help to make the choice easier for customers as they keep purchasing qualitative products at affordable rates.
Promotion in the Marketing Mix Of Faber Castell :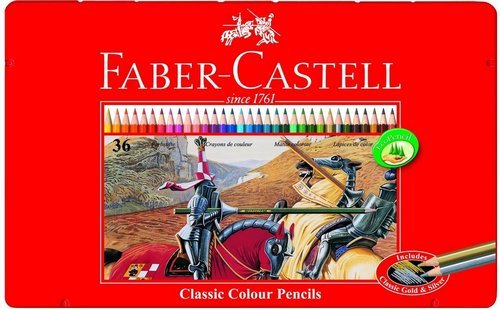 Faber-Castell is one of the oldest manufacturing brands in the industry and has been the recipient of several medals, awards and exhibition certificates over the years. Creativity and innovation has been the company's mantra and it reflects in its products and in all its advertising campaigns It has a diversified advertising policy that includes promotional activities through several available options especially mediums like television and radio. As children are an important customer base several advertising campaigns have been telecast on kid's channels to increase brand visibility amongst kids.
The company has also put the special ones on packaging and design to attract the kid's section of society. Ads are displayed in print media through newspapers, magazines and billboards. Faber-Castell has been part of various events to create maximum visibility. It has launched art contests at Inter-school levels to encourage participation in arts and drawings. The company has also taken help of social networking sites like Facebook and Tweeter to market its products.
Liked this post? Check out the complete series on Marketing Mix