Taco Bell is an American origin company founded in the year 1962 21st March by its founder Glen Bell. It is an eating joint associated with the fast-food industry. Taco Bell is a subsidiary brand of its parent company Yum Brands, Inc. It faces competition from numerous companies like
About Taco Bell
Type: Fast food restaurant
Industry: Food and beverage
Founded: March 21, 1962
Founder: Glen Bell
Headquarters: Irvine, California, United States
Area served: Over 7,000 restaurants Worldwide
Key people: Mark King (CEO), Ankush Tuli – (Managing Director)
Number of employees: Over 350,000 Worldwide
Product in the Marketing Mix Of Taco Bell :
At its onset brand started its operations by selling old hot dogs, then hamburgers and later tacos. Currently, Taco Bell is a restaurant chain dealing in fast-food serving a variety of Mexican dishes like tacos, quesadillas, gordita, chalupas, desserts, beverages, burritos and nachos. Its product portfolio includes dishes like
Fiery Doritos Locos Tacos Supreme
Grilled Steak soft Taco
Double Decker Taco
Fiery Doritos Locos tacos
Mexican Pizza
Chalupa Supreme
Spicy Tostada
Black Beans and Rice
Power Menu Burrito-Veggie
Grande Scrambler Combo
Gordita Supreme
Chipotle Chicken Loaded Griller
Beefy Nacho Griller
Doubledilla-Steak with Chips & Salsa
Bean Burrito
Crunchy Taco Supreme
Cheese Quesadilla
Nachos Bellgrande
Chips and Pico De Gallo
Chips and Guacamole
7-Layer Burrito
Beefy 5-Layer Burrito
Cool Ranch Doritos Locos Tacos
Nachos Supreme
Smothered Burrito
Nacho Cheese Doritos Locos Tacos Supreme
Naked Chicken Chalupa Box
Mexican Pizza Combo
Crunchwrap Supreme Combo
Grilled Breakfast Burrito Fiesta Potato
Sausage Flatbread Quesadilla
Breakfast quesadilla Combo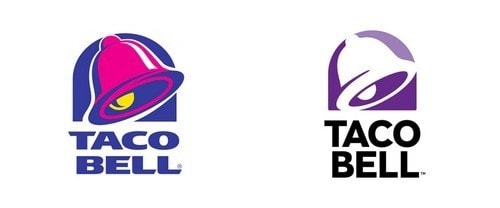 Place in the Marketing Mix Of Taco Bell :
Taco Bell started its operations from American soil and established its headquarters base at Irvine in California. It spread its presence in most parts of United States like California, Ohio, North Carolina and San Francisco. It extended its operations in overseas market to include places like Canada, Cyprus, Australia, Chile, India, Spain, UAE, United Kingdom, Iceland, Greece, Philippines, Mexico, Japan, Singapore, Saudi Arabia, Russia and Poland.
Taco Bell serves nearly two billion customers on annual basis and this has been because of nearly seven thousand restaurants attached with its brand name. More than 80% are operated and owned by the company whereas the rest via licensees and franchisees agreements. Taco Bell is served by a capable workforce of nearly 175,000 employees for direct and indirect dealings with company.
Price in the Marketing Mix Of Taco Bell :
At the end of the fiscal year 2015, estimated revenues of Taco Bell were 1.988 billion dollars. It has targeted every section of society as its potential customer and that includes all age-group because it has products within variable prices for everyone.
Taco Bell offers a healthy menu with high nutrition content. It has adopted a reasonable pricing policy to attract masses so that its food items seem affordable to every buyer. Taco Bell also serves value-added items under Value-menu category as part of its economic pricing system. It helps to increase its customer share by offering them inexpensive items. Taco has implemented several promotional pricing policies to increase its sales volume by offering coupons and discounts as incentives.
Promotion in the Marketing Mix Of Taco Bell :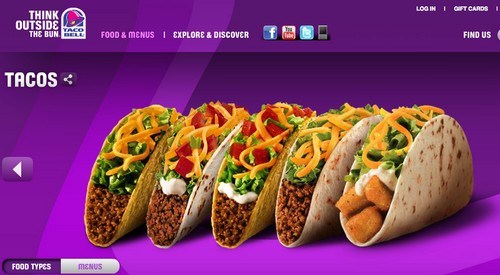 Taco Bell is a popular brand with high recall and loyalty. It has implemented numerous marketing campaigns to promote its brand and products in the consumer market. Taco Bell has launched advertisements in print and electronic media via newspapers, billboards, television, theatres and magazines and also via social media platforms like Facebook, Twitter and YouTube. In the year 2004 franchisee of Taco Bell gained naming rights and renamed Boise State Pavilion to Taco Bell Arena. In a tie-up with soft-drink Company Mountain Dew, Taco Bell stores earned exclusive rights to sell Baja Blast, a variant of Mountain Dew.
In the year 2009 brand forayed in movie theatre advertising for the first time via music-video commercial. In the year 2009, it became a fast-food partner of NBA and according to the deal signed NBA allowed Taco Bell to advertise on ESPN, TNT, ABC and NBA-themed promotions. As part of its promotional campaign brand launched Dollar Cravings, a value-menu with eleven items priced at one dollar.
Liked this post? Check out the complete series on Marketing Mix