DTDC is of Indian origins and is associated with cargo and courier services. It belongs to logistics and transport industry and has been able to deliver even to the remotest part of India. The brand has targeted both individuals and companies as its customer base. It was founded in the year 1990 by its founder Subhasish Chakraborty, who serves the company in the capacity of managing director and chairman.  Bengaluru is the headquarters base of this largest courier network.  Some of the important rival companies are as follows-
About DTDC
Type: Courier company
Industry: Logistics
Founded: 1990
Founder: Naresh Pahwa
Headquarters: Bangalore, India
Area served: Worldwide
Key people: Naresh Pahwa (Chairman) and Deepak Kapoor (CEO)
Number of employees: 25,000+
Product in the Marketing Mix of DTDC :
DTDC is dedicated to providing its customers' best possible products and services. It offers freight management services at international levels, supply-chain solutions, express services of premium quality and domestic services. Some of its vital products and services are as follows-
Products:
DTDC Lite

DTDC Priority

DTDC Blue

DTDC International

DTDC express-Cargo
Express Services-
International Non-Document Express Services is designed for air-delivery of parcels globally through swift custom-clearance-channels.

International Document Express Services is designed to air-delivery of documents that are time-sensitive
Cargo Services-
Airport-to-Airport includes delivery of large commercial shipments from airport at origin to destination airport

The door to Airport includes delivery of large commercial shipments from either economy or express mode to destination airport

Door To Door includes delivery of large commercial shipments door to door from origin to destination.

Place in the Marketing Mix of DTDC :
DTDC has become a renowned company with good service delivery. Its network has spread to three thousand and seven hundred locations in India and that includes both urban and rural areas like Hyderabad, Mumbai, Pune, Kolkata and Delhi.  It has business arrangements and strategic tie-ups with key players at international level to provide its services to more than two hundred and forty locations. This has been possible through a highly-developed network that includes franchisees, representative offices, joint ventures and subsidiary offices. Office at the United Kingdom is responsible for the European market, the American market is handled by offices in Canada and the United States, Asia-Pacific region is served by Singapore office and Middle-Eastern countries are handled by Dubai office.  
DTDC has established itself as one of the best provider of courier services in India.  It has a well-balanced domestic distribution channel that includes channel partners, human resources, salesperson, and a highly developed infrastructure to meet the demands of logistic industry. Further expansion plans are in progress as the company has decided to use the latest technology to set up new standards of services. It delivers nearly ten million parcels every month and its web-best tracking system has proved to be a boon.
Price in the Marketing Mix of DTDC :
DTDC has stepped up the standards of Logistics Company in India by the introduction of Franchisee concept and therefore recording exceptional revenue growths. During its early years, it adopted a skimming pricing policy as it had a significant advantage due to an absence of any significant competitor in this field. DTDC was able to garner maximum revenues through its excellent services. Later it adopted a reasonable pricing policy to retain its customer base and to tackle its competitors by providing clients affordable rates. The company has been successful in penetrating rural markets through its reasonable pricing policy especially set up for these areas.
Promotions in the Marketing Mix of DTDC :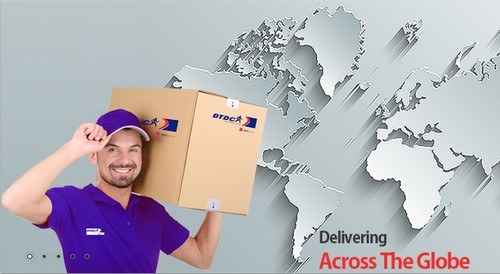 There is few good logistics company in organised sector and DTDC has tried to take advantage of this fact. It has created several promotional policies that have helped it to reach new boundaries. Good customer support through efficient handling of parcels have created positive brand awareness and increased its visibility in the market. During festivals especially Diwali it offers incentives like sending gifts and parcels to near and dear ones at concession rates. Brand believes in the power of print media and has used it to create hoardings and advertise its services in newspapers and through visiting cards. It has also taken help of celebrities to promote its brand. Former cricket and Indian captain Sourav Ganguly has been roped in as a brand ambassador for this logistic company.
Liked this post? Check out the complete series on Marketing Mix