Whirlpool is an American Public limited corporation that deals in the industry related to household appliances. Founded in the year 1911, by "Louis Upton" this Multinational Corporation has its base at Michigan USA.  Whirlpool has spread its wide and organized marketing network in almost one hundred and seventy countries of the world. Some of the companies that are giving it a stiff competition are as follows
About Whirlpool
Type: Multinational manufacturer of home appliances
Industry: Manufacturing
Founded: 1911
Founder: Louis Upton, Frederick and Louis Upton, Emory Upton
Headquarters: Benton Harbor, Michigan, United States
Area served: Worldwide
Key people: Marc Bitzer (Chairman) and Marc Bitzer (CEO)
Number of employees: 78,000
Product in the Marketing mix of Whirlpool
Whirlpool as a brand name is associated with commitment towards its consumers by providing high quality products. The product are designed in such a manner that they are compact in sizes to occupy less space and faster on operation as they are equipped with latest technology.
These qualitative products have energy saving modes for longer and better durability and so at least five hundred and ninety of the products have been eligible for the "Energy Star Label". Whirlpool has various brands working for it like Whirlpool, Roper, Privileg, Maytag, KitchenAid, Inglis, Hotpoint, Estate, Brastemp, Amana, Admiral and Acros. The different products and the product range in its portfolio includes –
Refrigerator – Single door, Multi door, Double door and FDBM
Washing Machines – Semi automatic, fully automatic, fully automatic top load and fully automatic front-load.
Air Conditioners – Window air conditioner and Split air conditioner
Microwave Oven – Solo, Grill and Convection
Water Purifiers – Non-electric water purifier and RO water purifier.
Built in items – Cooker hoods, built in refrigerators, kitchen studio, built-in microwave ovens, built-in coffee machines, stackable dryer, washer, and built-in dishwashers.
Home Power – This includes Neptune series, Silver Plus series, New Silver series, Gold series and Platinum series.
Induction Cooktop – Classic 18A2 and Deluxe 20A2
Besides the eco-friendly products, the company also provides numerous service options to its esteemed customers. All the products have definite warranty and come with at least one-year services free option. The customers can also go for a maintenance contract annually.
The products come with a unique FAQ booklet that provides product related information. For any problem, the company has a customer care helpline where one can call for a technician for solving the problem.  One of the products which is most trusted and which is driving the brand equity of Whirlpool is its Washing machine which is loved and trusted by most customers.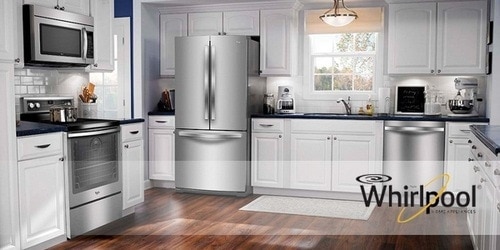 Place in the Marketing mix of Whirlpool
 Whirlpool is one of the largest manufacturers and marketers of home appliances in the world. It has many brands working under it with the help of more than 100,000 employees. The company has numerous important facilities for manufacturing in Marion, Greenville, Findlay, Clyde, Tennessee and Amana.
It has more than seventy research centers in numerous parts of the world for technology and manufacturing purposes. To evolve with changing times it has decided to consolidate its various buildings and has replaced some of the old distribution centers with new facilities that are energy-efficient and better. The company has redoubled its efforts for reducing the air pollution and conservation of energy and thus has restructured the setup of the supply chain to eco-friendly standards.
The supply chain channel of the company has in Europe eleven plants, in North America twenty plants, in Latin Americathree plants and in Asia six plants. The distribution channel consists of warehouses that serve as distribution centers of factories, regions and localities.
The company wanted to create a network that would ensure prompt deliveries to customers and for that, they needed an organized distribution channel. The company has even replaced some of its trucks that worked on internal-combustion to electric units. In India, it has a manufacturing plant in Faridabad and another at Ranjangaon that produces refrigerators.
It has sales offices that have CFA agents who send the products to the direct dealers. All whirlpool products are available at various outlets that belong to the country as well as in other retail shops, malls and big showrooms. Internet has also become an important medium for the purchase and sale of whirlpool products.
Price in the Marketing mix of Whirlpool
Whirlpool has been a brand that has earned the trust of the consumers through its policies and products. Amongst them is their pricing policy. A true pricing policy is supposed to be a gray area that hovers between the maximizing of profits and the costs undertaken without exceeding the market expectations.
In order to come at a definite strategy the company has set up a unit that decides and analyzes the various expenses that incurs during the production and the possession of the goods by the consumer. This knowledge in tandem with the pricing policies of the rival business firms is helpful in determining the actual pricing policy of the brand. Due to its organized distribution channels and resourceful warehouses, the company has been able to cut the costs of its products by quite a margin.
Therefore, it has decided on a competitive pricing policy for some of the products and thus has created a consumer base for its products. The competition from Electrolux and Samsung as well as LG is high but Whirlpool has done enough research to match them scheme by scheme. In products where the sale is not high yet, it is using penetration pricing.
The company has also gone for value-added pricing strategies, as they understand that changing times have resulted in a new breed of customers that realize the importance of branded and high qualitative products.The overall pricing strategy of the products remains the same but some minimum price differences may occur within the different product outlets as they may decide to provide added benefits to the consumers to gain further customers and to enlarge their profits.
It is not possible for a large firm like Whirlpool, which is working in consumer durables and having numerous competitors, to work with one single pricing policy.
Promotions in the Marketing mix of Whirlpool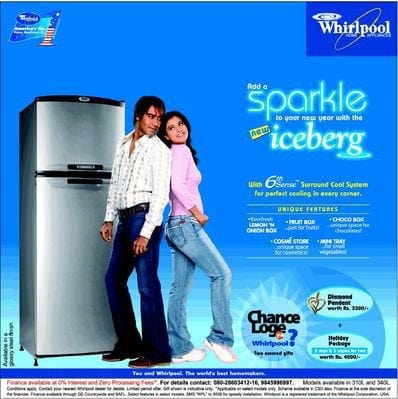 Whirlpool has a very consumer friendly promotional policy reflected in its slogan"Every Home Everywhere". The company is determined to treat every customer with special care and so in order to create and maintain their consumer base, they have decided on the execution of an improved, innovative and visionary promotional strategy.
Their aggressive marketing strategy has led them to sign the famous celebrity couple Ajay Devgan and his wife Kajol as the company's brand ambassador. The actor duo are in the various whirlpool advertisements shown all over the television channels and on radio, magazines, newspapers, hoardings and even on vehicles in the rural areas.
Whirlpool has specifically targeted the females for its products as they realize the importance of homemakers in making decisions about home products.  In order to penetrate in new markets the company has also slashed its product prices as part of various schemes. At important events, the company has organized seminars to promote their products by providing related information.
Liked this post? Check out the complete series on Marketing Mix