Epson is a public company of Japanese origin and is associated with the electronics industry. It was established in the year 1942 and has headquartered base in Suwa, Japan. The company is the largest global manufacturer of imaging and information related equipment and computer printers. Its competitors in market are as follows-
About Epson
Type: Electronics company
Industry: Manufacturing
Founded: 1942
Founders: Saburo Uchida
Headquarters: Suwa, Nagano, Japan
Area served: Worldwide
Current CEO: Yasunori Ogawa
Number of employees: 74,000
Major products: Printers, scanners, projectors, inkjet pens, and dot-matrix printers
Product in the Marketing Mix of Epson :
Epson has a wide range of products in its kitty and some of them are as follows-
Printers- Create large prints and boasts amazing quality, fast speed and reliability. There are three types of printers. Workforce printers for business purpose, Expression printers for usage at home and Eco Tank Supertank printers for both home and business

Accessories and Supplies- Available for Printers, projectors, networking, professional imaging etc.

Smart Eyewear- It is lighter, smaller and more powerful

Sports and Fitness- Products for golf and running

Document Cameras offers amazing picture quality and easy set-up

Home Entertainment includes home-theatre projectors

Displays and Projectors- It has outstanding image quality that inspires collaboration, enhance communication and provides excellent services and reliability

Scanners- Scanners are Mac and Windows compatible and are available for both office and home usage

The point of Sale includes cost-effective and innovative solutions for the efficient running of business.

Professional Imaging

Label Printers- Complete line of solutions in label printing category for commercial business and industrial applications
All-in-One Printers- It is one of the breakthrough products of brand Epson and can print thousands of pages. Ink capacity is very high and its replacement cost very low. Reliability and quality are its main features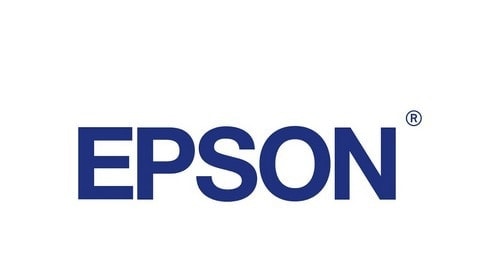 Place in the Marketing Mix of Epson :
Epson started its operations in a storehouse of 2500 square feet with an employee count of twenty-two. In the year 1943, it established its first manufacturing factory at Suwa. Since then it has come a long way and currently its network has spread to different parts of the world like South Africa, UAE, Hungary, Italy, France, Germany, United Kingdom and parts of Europe.
It follows a business to business concept of marketing and supplies products to nearly ninety-seven different companies with help of eighty-one thousand employees. Its product distribution channel includes an executive management team that oversees product development, distribution, marketing and sales of products to respective companies.
Price in the Marketing Mix of Epson :
Epson is a world recognised brand and has adopted a reasonable pricing policy because it functions on Business-to-Business formula. It wants to create huge volumes and hence has kept prices lower and economical so that it seems affordable to its customers.
It has adopted both competitive and penetration policy so that it can capture further markets and also deal successfully with its competitors by keeping prices a bit lower than theirs. Epson has offered several incentives to its customers.
It provides a competitive discount of 15% on switching existing printer of the different manufacturer the with Epson product. If payments are made within fifteen days, the company receives a discount of 10% and if more than six printers are purchased at ago, the brand offers 30% discount.
Promotions in the Marketing Mix of Epson :

Epson believes in advertising its products to gain maximum recognition. It has a successful marketing policy that involves creating informative and attractive ad promotion so that it can create positive brand awareness in the market.
It has launched media campaigns to support its products through electronic media via ads on radio and television. Advertisements are also published in magazines, newspapers, billboards to gain visibility and provide related information. Epson's latest marketing tool includes using social media via Facebook, Webinars, Twitter and LinkedIn.
Epson has taken help of several celebrities to promote its products. For its durable and lightweight GPS watches, the brand has roped in Meb the Keflezighi, marathon champion for endorsing its products. Some of its periodical promotional activities include free delivery in any part of a world, free ink refills the of the cartridge, open competition with a smart phone as a prize a and free membership for two years to its Solution-Partnership Programme.
Liked this post? Check out the complete series on Marketing Mix