Kwality Walls is one of the main producers of frozen desserts. The Indian company 'Kwality' was established in the year 1956. It has the distinction of being the first company who imported machinery in bulk so that ice cream could be produced and sold at a large scale, for commercial benefit. In 1995 Kwality merged with Unilever and created a separate brand name Kwality Walls. Presently it is a subsidiary company of Hindustan Unilever and is a major distributor of ice creams. Most of the products of the brand Kwality Walls are not based on milk but are frozen desserts with vegetable fats.
 The ice cream market has become quite competitive because of the entry of many wonderful brands. Stiff competition from brands like Amul, Mother Dairy, Havmor, Rollick and Vadilal has been a wake-up call for the producers of Kwality Walls. They have now incorporated many new flavors and variety of products to counter attack their competitors and to maintain a long lasting relationship with their consumer base.
About Kwality Walls
Type: Frozen desserts brand
Industry: Consumer goods
Founded: 1956 by Kwality and Wall's
Founders: Kwality and Wall's employees
Headquarters: Mumbai, India
Area served: India, Bangladesh, Bhutan, Brunei, Myanmar, Nepal, Sri Lanka, Thailand, Singapore, and Malaysia
Current CEO: Sanjiv Mehta
Number of employees: Over 10,000
Major products: Ice cream, frozen desserts, and frozen snacks
Products in the Marketing Mix of Kwality walls
In order to entice the customers who were inclined towards traditional sweets the company launched a determined campaign to convert them in to buyers. Kwality Walls has introduced some blockbuster ice creams with new assortment of flavors and ethnic tastes especially for them.
 In 1995, its product ranges 'Feast' was launched that dealt with Frozen Desserts and ice creams and targeted the Youth. Later delicious products like Calypso Punch, Mango Zap and Jaljeera Blast also featured in the Feast Range.
In 1996, Kwality Walls started the mouth watering 'Cornetto', range, targeting the younger generation. This product was romanticized with an apt Tag line – 'Bite bite Main pyaar'. In 2002, it added Strawberry Cornettos, Butterscotch and Chocolate to its portfolio. Two combinations Hawaiian Bliss and Jamaican Magic were included to the range of Super Cornetto.
Another product to join this winner club is 'Almond Praline'. This flavor signifies the Love Season and is a delicious combination of Praline and Pistachio flavors. It has stuffing of Caramel Sauce and has toppings of Almond pieces and Cashew Praline.
In the year 1999, an ice cream called 'Max' came in the market, exclusively targeting the children. Its tag line was 'Masti Kar Befikar' and it encouraged the kids to have a taste. Max123 and Max Cups had the advantage of extra vitamin A, whereas Max Joos and Max Orange had Vitamin C with flavor of fruit juices.
Kwality walls introduced the Indian consumers to the concept of Sundaes in 2001. The Sundae Range included Mango, Chocolate and Strawberry flavor. Later Black Currant Dry Fruit pieces and Black Currant Sauce became an integrated part of the sundaes.
Paddle Poop is Kwality Walls's recent addition for the kids. Its three flavors are Candy Cake Explosion, Grape Jelly and Choco Berry Nova. Also, the premium ranged Kwality walls Magnum is an upgraded version of Feast and has taken the market by storm since the day of its launch.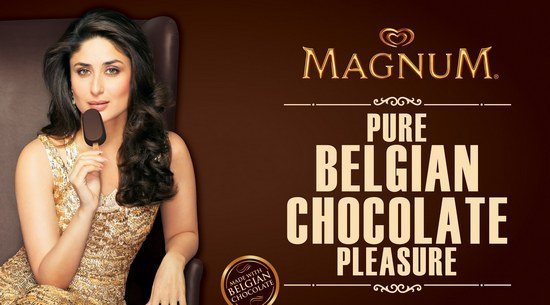 Place in the Marketing Mix of Kwality walls
Ice cream is a perishable food item and hence, special attention and care has to be given to its distribution process. The company's head office is located in Mumbai. Kwality Walls ensures that all its products are accessible to the consumers with the help of a fine network of distributors. Steps have been initiated where a manufacturer can sell directly to the customers through its various exclusive parlors.
Kwality Walls has successfully launched the concept of Dessert Parlors called Swirl's since 2004. It opened its first Swirl Parlor in the NCR region and later many such Swirl outlets have opened at strategic locations like Shopping Centers and Malls where the footfall is very high. This has proved to be a unique and a profitable venture and the consumers have appreciated it. There are at least 500 Swirl Parlors across the world and of these 51 are in India.
Kwality Walls ice creams are sold in many Indian cities like Pune, Mumbai, Bangalore, Kolkata, Delhi, Hyderabad and Chennai. Besides India, Kwality Walls has displayed its Frozen Dessert products in Malaysia, Pakistan, Sri Lanka, Italy, Germany, Turkey, Brazil, Australia and Singapore. In 2013, it stepped in the markets of Bhutan, Nepal, Bangladesh and Brunei and revolutionized the concept of ice creams.
The distribution is generally through C&F agents or to direct company outlets. The C&F agents are carrying and forwarding agents who have minimum margins and are only a storage facility. From this storage facility, material is given to distributors who then distribute it to end retailers. Thus, because the distribution chain is huge, the margins have to be kept high so that the end retailer earns from selling the product to end customers.
Price in the Marketing Mix of Kwality walls
Kwality Walls has penetrated the Indian market with exciting and quality products at very competitive rates. At first, it followed the strategy of Premium pricing but later in order to grasp the maximum consumer value it changed its strategy to value based pricing. In order to sustain the market competition it has introduced a variety of products ranging from minimum cost to reasonable prices to even premium price.
The starting price range is INR 5 for Max Funjoos. High priced products have been presented to the urban consumers who prefer such quality items. These are special items for self-proclaimed foodies and include Carte D'OR Ice Cream in two flavors Divine Chocolate and Crème Brulee, priced at INR 210/750ml. The difference in the pricing suggests that the producers are aware of the customer's demand at different levels and have taken appropriate steps to balance them. They have consciously made noticeable changes in their portfolio and balanced it with appropriate pricing to garner more customers. Thus, the portfolio has in depth product line to cover each different type of segment.
Promotions in the Marketing Mix of Kwality Walls
Kwality Walls has projected itself as a Family brand. It has also targeted the youth and the children to increase the sales. Its famous tag line 'Ho Jaye Dil ka connection' has become very popular. Its packaging is distinctive with a red colored heart logo depicting happiness, smile and satisfaction.
Kwality Walls has taken a number of initiatives to capture the frozen dessert market and these steps have been executed in phases. In the Innovation phase, products like Feast Bar, Softies were made for the impulsive consumer and products like Viennetta, Sundaes, and Vanilla Gold targeted the home segment.
Later on, an in depth study of the Indian market was conducted so that the superior quality products with a softer, creamier and richer look could be launched at the right time. In order to increase the social visibility of the products amongst the customers many offers have been introduced. Super saver packs, one on one free, special discount, added amount of ice cream at the earlier price are some of its innovative schemes.
Capitalizing the social and visible media Kwality Walls has launched some interesting and creative ads. Their brand ambassadors, the famous actors, Yami Gautam and Siddharth Malhotra have made the Cornetto ad immortal. Eating an ice cream have never brought upon an exotic feeling before. Jay Thakkar, the child actor has acted in the Paddle Pop advertisements.
The ad has been made exclusively with children as its policy centers around them. In the latest Kwality walls Magnum ads, the beautiful Kareena Kapoor is the brand ambassador. The strong and versatile range of products of Kwality Walls is testimonial to the fact that this exclusive brand is here to stay and make its own mark in the commercial market.
Liked this post? Check out the complete series on Marketing Mix