Jell-O is a brand in itself and also a registered trademark of its parent company Kraft Foods. It is of American origins and is associated with dessert industry. Jell-O was invented in the year 1897 by its creator Pearle Wait and became famous with taglines like "There's Always Room for Jell-O". Jell-o faces competition from a company like "Royal Gelatin" but it actually has rival in the form of other food varieties like the following-
Product in the Marketing Mix Of Jell-O :
Jell-O became one of the most popular desserts of America. It is available in powder form and ready-to-eat variety with diversified colour and flavour range. Major ingredients of Jell-O are artificial sweetener or sugar, gelatin in powdered form, food colouring and artificial flavours.
It is generally used in several gelatine desserts like puddings, fruit gels and cream pies. First flavours of Jell-O were raspberry, strawberry, lemon and orange.  In the year 1925, a patent was issued by Jell-O for gelatine dessert that was sugarless and became popular as D-Zerta. In the year 1930, a new flavour lime was introduced. Jell-O is available in several flavours of its products that include-
Gelatin
Apricot
Lemon
Watermelon
Grape
Blackberry
Strawberry
Pineapple
Orange
Pudding
Vanilla
Strawberry Crème
Pumpkin Spice
Pistachio
Lemon
Flan
Double Chocolate
Banana Cream
Chocolate Fudge
Rice Pudding

Place in the Marketing Mix Of Jell-O :
Jell-O started its journey from LeRoy in New York and eventually came to be known as the real home of the product. It is an American product and its production continued at LeRoy until the year 1964 when the manufacturing facility was shifted to Dover in Delaware.
Jell-O changed from a hand-packaged dealing company to a highly mechanised facility. The company also has a manufacturing facility at Mason City in Iowa to produce ready-to-eat pudding cups and gelatine dessert. It has a distribution network that has spread extensively so that its product are easily available in consumer market via discount stores, convenient stores, food stores, supermarkets and hypermarkets.
Price in the Marketing Mix Of Jell-O :
Jell-O is a popular product that is easily accessible in the market.  It is used extensively in several desserts and baked products. Its owner company Kraft Foods has adopted a reasonable pricing policy to make the product pocket-friendly. Jell-O faces stiff competition from several private companies and even product items and hence has decided to adopt a competitive pricing policy to face the demands of its competitors.
It also wants to make further inroads by capturing new market share and maintaining previous customer loyalty. It has now decided to maintain a penetration pricing policy that will help it in improving its last performance in the consumer market. All these steps are possible by keeping the prices affordable and reasonable because it will in due course lead to high sales and greater revenues.
Promotion in the Marketing Mix Of Jell-O :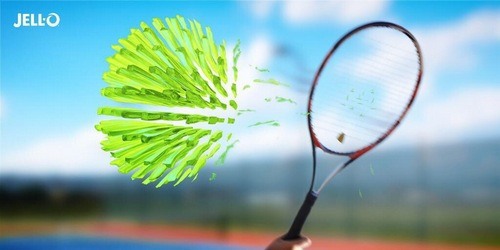 Jell-O is an iconic brand and the company has always emphasised on great advertisement campaigns for product promotion. Its success story is the result of innovative merchandising and smart advertising. During its early years groomed and trained salesman advertised the product in fairs, gatherings, parties and social events. The advertisement has always been a necessary tool for company and with times has included new options from newspapers, magazines and hoardings to radio, television and lately to social media to gain maximum coverage. Kraft Foods have launched a new campaign with tagline Fun Things Up and will highlight pudding and gelatin.
It will be depicting the story of father and son bonding over Jell-O while positioning the Jell-O as a tasty and wholesome product.  A new advertisement portrays endless possibilities with core ingredient Jell-O and this is shown via thirty-five creations of Jell-O.  As part of promotional activities, several recipes are shown via its website to attract new customer base and create further brand visibility. Famous personalities like Bill Cosby, the famous comedian, have been associated with Jell-O making it a popular product.
If you liked this article, we bet that you will love the Marketing91 Academy, which provides you free access to 10+ marketing courses and 100s of Case studies.