Tumblr is a social networking and microblogging that has been in existence since 2007. Founded by David Karp, the company has since 2013 been co-owned by Yahoo! The product provides users with an opportunity to post multimedia as well as other content in short-form blogs.
Bloggers have the option of making their blogs private are leave them public for other users to follow their blogs. Today, the Davisville software consulting company has been able to take a great market share by hosting more than 341 blogs and having in excess of 555 million monthly visitors.
Today, its headquarters are located on the East 21st Street of New York City on the tenth floor of the building and has employed over 400 employees.
About Tumblr
Type: Microblogging and social networking website
Industry: Internet
Founded: February 14, 2007
Founder: David Karp
Headquarters: New York City, U.S.
Area served: Worldwide
Key people: Jeff D'Onofrio (Chairman) Claire Hummel (CEO)
Number of employees: 2,437
Product in the Marketing Mix of Tumblr :
As mentioned above, the company is a social networking and micro-blogging website that allows users to host their blogs on the website thus being able to market their products and ideas. As a Tumblr user, there are a number of things you can do to get the best out of the site. These include:
Tumblr Profile & URL optimisation
Background customization to impress and interest Tumblr crowd
Enable the "Ask Me Anything" option that encourages users to ask you questions
Use captivating photos that will retain followers.
Let your posts be more of infographics than just words
Creation of wisecracking Graphics, GIFS, and Memes purposely for attracting Tumblr followers
Always remember to tag posts
Price in the Marketing Mix of Tumblr :
The company gets its money mainly from adverts as per the words of David Karp, Tumblr's founder. As of July 2016, a default advertisement service was implemented across all the blogs the company hosts. Users have the option of opting out but bearing in mind that the company promises to roll out a revenue sharing program later, many bloggers would not consider opting out of the service.
The average purchase of ad space on Tumblr costs companies six figures. No wonder, the company rakes in tens of millions of dollars as annual revenue.
Place in the Marketing Mix of Tumblr :
The company has been able to market itself mainly through electronic media, more so through the global village (the internet) as this is where its target market is. One of the best ways it has been able to bring itself closer to the potential users and target market of the bloggers is by introducing iOS, Android and windows apps. In 2009, the company acquired Tumblerette, its official iOS app that was created by Garrett Ross and Jeff Rock after which it launched it thereby bring its services even closer to users. Mobelux app for the blackberry platform followed in 2010 with android and windows apps also being released by 2013.
Tumblr targets the small, medium and large businesses thanks to the fact that social media is one of the most important internet marketing aspects that promotes the optimisation of any site. The platform targets everyone but the youth between age 16 and 24 have become its darling the more. More than 50% of its users are persons within the above-mentioned age group.
Promotions in the Marketing Mix of Tumblr :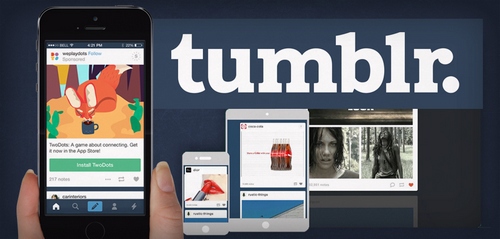 Its main promotion strategy has been to keep the website at par with the always dynamic user needs and technological advancements. This includes the easy access and command execution. This can be seen through the blog management features that include the clear, elegant and easy to use dashboard and the HTML editing provision (allowing you to edit the theme of your blog and use customised domain name). Tags that enable users to easily find a specific topic and the Queuing system that allows the blogger to post several blogs but spread them across a period of time they would want them released are attractive features by themselves.
Liked this post? Check out the complete series on Marketing Mix