Dairy Milk is owned, produced and marketed by Cadbury in the global market and by Hershey Company in the United States.  It is a confectionary and is associated with the food industry.  It was introduced to the consumer market in the year 1905 by Cadbury Company in the United Kingdom and later its products were sold globally because of its immense popularity. Dairy Milk In the year 2014, was ranked as the best chocolate bar in the United Kingdom. Some of its competitors are as follows-
About Dairy Milk
Type: British brand of milk chocolate manufactured by Cadbury
Industry: Food and beverage
Founded: June 1905
Founders: John Cadbury
Headquarters: Bournville, Birmingham, England
Area served: Worldwide
Current CEO: Stuart Rose
Number of employees: 49,000
Major products: Dairy Milk chocolate bars, Dairy Milk biscuits, Dairy Milk drinks
Product in the Marketing Mix of Dairy Milk :
Dairy Milk is the biggest and most accepted chocolate brand in the world. It caters to every age and class of people.
It has positioned itself as something sweet that is necessary for everyone because of its exquisite taste. Dairy Milk Product line started its first bar with the higher consistency of milk chocolate. In the year 1926, Fruit & Nut was launched as part of its line and later in the year 1933, it was followed by Whole Nut. Currently, variants of Dairy Milk includes-
Dairy Milk

Dairy Milk Big Taste Triple Choc Sensation

Dairy Milk Big Taste Toffee Whole Nut

Dairy Milk Turkish

Dairy Milk Big Taste Oreo Crunch

Dairy Milk Bubbly

Dairy Milk with Crunchie Bits

Dairy Milk Freddo

Dairy Milk Roast Almond

Dairy Milk Crackle

Dairy Milk Fruit and Nut – made with almonds and raisins

Dairy Milk Caramel

Dairy Milk Puddles Mint

Dairy Milk Little Bar

Dairy Milk Whole Nut- made with hazelnuts

Dairy Milk Ritz- introduced in the United Kingdom in the year 2014 and includes Salty-Ritz crackers

Place in the Marketing Mix of Dairy Milk :
Cadbury Dairy Milk is a global brand with its products sold in several countries like France, China, Brazil, Russia, Canada, Italy, India, United Kingdom and Pakistan. Manufacturing of different varieties of Dairy Milk takes place in Poland, France and Ireland.
Cadbury started marketing its products in India in the year 1948 and presently owns four sales offices and five manufacturing-offices. Dairy Milk has an intensive policy for distribution of its products and hence has created a capable and efficient transportation chain. The product is easily available in any grocery store, corner stores, convenience store, discount store and supermarket.
Price in the Marketing Mix of Dairy Milk :
Cadbury has several products in the market to meet expectations of its customers. The company believes in providing the best possible product at moderate cost so that it seems affordable to every customer. All the products have value-added pricing strategy and hence are priced differently. Dairy Milk has enjoyed the trust of millions and it is reflected in the company's sales figures.
Huge turnovers have resulted in good profits and lead to its number one position. Qualitative products and reasonable pricing policy have helped Dairy Milk to satisfy new customers and maintain the loyalty of older ones. The company has also adopted a competitive pricing policy and has kept its prices at par with rival companies.
Promotions in the Marketing Mix of Dairy Milk :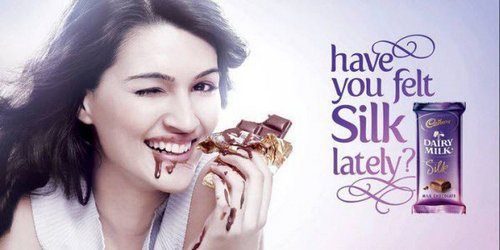 Dairy Milk has a global presence and to maintain its position as number one in consumer market the brand has taken several steps. It has launched various promotional activities that will help in creating further brand awareness. Its purple packaging is iconic and easily distinguishable.  Its commercials are catchy and are aired on television and radio. Ads are also displayed in magazines and newspapers. Social media has also been roped in to promote its products.
Indian actor Amitabh Bachchan has been associated with Dairy Milk for a long time. Kuch Meetha Ho Jaye has been one of the most popular and highlighted slogans of Dairy Milk. Dairy Milk has designed a customer-driven strategy and targeted kids, women and also men as their customers. It is a sweet dish for everyone, is the mantra of this brand.  Dairy Milk has an intimate association with milk and it reflects in most of its slogans and advertisements. In the year 2007, a campaign titled Gorilla was premiered at Big Brother finale and became a success story.
Liked this post? Check out the complete series on Marketing Mix