Godrej is an Indian Public company that was established in the year 1897 and has its headquarters in Mumbai, Maharashtra. Godrej is a family owned and management operated business. It operates in a number of sectors and has a wide range of products under its brand name. Godrej is one of the most trusted brands in Indian market and is an important part of every Indian household. It's amazing past has laid the foundation for its incredible future where trust, quality and Godrej all go hand in hand.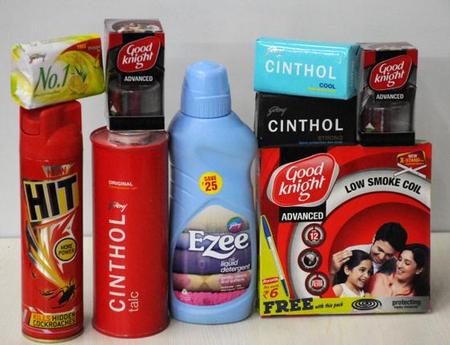 The company faces stiff competition from different other companies but it has led them to uplift their performance and achieve much better results. Some of its competitors are as follows-
About Godrej
Type: Multinational conglomerate
Industry: Consumer goods, real estate, appliances, agriculture, and many other businesses
Founded: 1897
Founders: Ardeshir Godrej, Pirojsha Burjorji Godrej
Headquarters: Mumbai, India
Area served: Global
Current CEO: Nisaba Godrej
Number of employees: Over 28,000
Major products: Locks, furniture, appliances, security solutions, real estate, consumer goods, and more
Products in the Marketing mix of Godrej
Godrej is a multi-dimensional company that deals in various sectors as diverse as agricultural products, security systems, furniture, appliances, consumer products, real estate and industrial engineering. Under its appliances category it deals with items like microwave oven ranges, washing machines, refrigerators, air conditioners etc.
Animal feeds and agrochemicals come under its kitty of agricultural products. It also deals in GP batteries, rechargeable batteries, torches and chargers along with software solutions for IT industry. The company has carved out a special name for itself because of its security systems and safes. In the year 1897, it introduced the first lock in India that was built with the lever technology and later in 1920, became the introducer of the first safe in India.
The company also has the distinction of introducing for the first time soap made from vegetable oils and the first Indian typewriter. They also provide furniture that includes storage products, modular furniture and mattress for residence, offices, labs, educational institutions, shipyard and even hospitals.
Its consumer products include repellent, Goodnight refills, coils, mats, Cinthol soaps, deo, talc, hair color, hair dye, hair oil, baby care products, shaving creams and food items like chocolate syrup, chocolates, food oil etc.  The real estate business deals in townships, residential areas and commercial enterprises. Their construction business includes ready-mix concrete and various construction services. In tooling, they deal with press tools and casting dies.
The popular products of godrej include
Personal care products
Cleaning agents
Furniture
Real estate
Consumer durables and white goods
Security solutions
Godrej Aerospace
Godrej Agrovet
Godrej chemicals
Godrej interio
& many more such products. For the complete list of godrej products, you can visit its excellent website.
Characteristics of Godrej products
Durable products
Well planned brand architecture
Evergreen potential for the products
Place in the Marketing mix of Godrej
Godrej has set up an effective distribution channel to maximize the sales of its products. The focus is also on the easy availability of the products to the consumers. The distribution network is very widely spread to reach both the urban and rural markets quite easily. Its sales team comprises of at least two hundred and fifty staff members spread all over the country in different places. The Godrej group has established a direct link with all its main Indian distributors through an innovative scheme called Sampark.It has an efficient system that collaborates all the information and deals with planning, forecasting and implementation of ideas.
The company also follows the policy of distributing goods through an effective and consistent channel consisting of wholesalers, retailers, outlets and consumers. It has nearly 1,247 distributers with one hundred and forty two agents acting as super stockists. In order to provide ample support to the sales team the company also employs 3,175 sub stockists. Nearly all this distributors and stockists are involved in the enabling of efficient and prompt marketing of the products to help 650,000retailers in India. The goods are available in retail shops, high profile showrooms, malls and even internet. Godrej also has an official website where goods are easily purchased. It also has tie-ups with other shopping sites that result in quick sales.
Price in the Marketing mix of Godrej
Adequate pricing strategies are must for a company because it results in sales and ultimately are helpful in generating profits. In order to survive in this cut throat industry Godrej has decided to keep its pricing policy competitive and individual. It has maintained a strategy of good pricing that helps in market penetration, creating and maintaining the demands in the market and creating monopolies for some of its items. It also paves the way for retaining its existing customers and maintaining a good grip on the market economy. Godrej believes in value added pricing system and therefore uses the pricing strategies to maintain its hold on the consumers. It has adopted its pricing policies according to its products as well as the target audience.
For consumers who are unable to spend easily they have kept a very reasonable pricing system that is easy to purchase for them. Special offers and discounts are provided for many products, like one soap free on the purchase of three soaps, to bring down the selling price so that bulk sales can take place. This ultimately leads in huge volume of sales. For some of its exclusive items the company has adopted a skimming pricing strategy because it does not face stiff competition on these products. This keeps the high-class consumers happy who tend to buy only high-value and branded items.
Promotion in the Marketing mix of Godrej
Godrej has gone for an all-out promotional strategy that is well planned and is executed at the highest level in order to communicate with the consumers. Advertising is a very efficient tool in the Indian market and Godrej has roped in some of the most famous celebrities to become its brand ambassadors. Film stars like Aamir Khan, Hrithik Roshan, Preity Zinta and captain of Indian cricket team Mahendra Singh Dhoni are some of its well-known faces. Advertisements are shown in the print media like the magazines, newspapers and billboards. The most important medium for the advertisements is the television and internet. The catchy tunes, smart one-liners and celebrities are a winsome collection in the Indian market for promoting a product successfully.
Packaging is also an integral part of Godrej's promotional system. It has used various color schemes as well as designs so that all its products look attractive and eye catching. Packaging should be such that it would provide ample protection for maintaining the form of the basic product. Godrej also has given a lot of thought on the labeling of its products. The labels are in at least three different languages so that the consumer can easily identify the product and go through the various information and instruction written on them. This is a very good promotional strategy aimed at connecting with the consumers directly. Promotions is a poor part of the Marketing mix of Godrej and it should improve in the same looking at the competition.
Liked this post? Check out the complete series on Marketing Mix