British Broadcasting Corporation (BBC) is a huge name in the broadcasting arena since the early 20's. The company is a public service broadcaster and is headquartered at Broadcasting House in London.  By public service broadcaster, we mean radio, television, electronic media outlets that run with the sole motto of public service. John Reith founded the company on October 18, 1922.
BBC is the largest broadcaster in the world today and has employee strength of 35, 402 including part-time, flexible, and fixed contract staff. To start with, the company was established as a private company, but a lack of sustainable funds forced it to reorganise itself as a public corporation. Though operating for public service, there are some elements that do operate for profits.
All organisations making use of the news from BBC are required to pay an annual fee. It is also known as BBC World Service outside of home country Britain.
BBC's most prominent competitor is America's Cable News Network (CNN).
About BBC
Type: Public service broadcaster.
Industry: Broadcasting.
Founded: 18 October 1922, London, United Kingdom.
Founders: John Reith, 1st Baron Reith, Government of the United Kingdom.
Headquarters: London, United Kingdom.
Area served: United Kingdom, Isle of Man, Crown Dependencies, and overseas territories.
Current CEO: Tim Davie.
Number of employees: Over 21,000
Major products: Television, radio, and online content.
Product in the Marketing Mix of BBC :
BBC Television

BBC Radio

News Group

Future Media

BBC North Group

Finance and Business

BBC Trust

BBC Studios and Post Production
The divisions run different programs and services within each of the above categories. The television division manages the television channels and programs therein. For example, BBC Natural History and BBC Archives fall under the television division. The Radio division manages BBC Radio including all music related programs.  Future Media division is responsible for digital output like BBC Online, BBC player and technology related research and development activities. BBC North Group is in charge of departments like BBC Sport, CBeebies and CBBC, BBC Radio 5 Live. The division operates from Media City UK.
The Finance and Business division is however made to manage the corporation's finances, business plans and license fee collection. The BBC Trust is also a separate group for managing the operations and departments of the company. BBC Studios and Post Production manage the company's studios which are also leased to outsiders.

Place in the Marketing Mix of BBC :
BBC headquarters is located in London. It houses most of its radio channels and also BBC News., BBC is in the process of making more programs outside London. The BBC North Project is initiated to achieve this goal, and there are plans to have production centres in Cardiff, Belfast, Glasgow, and Great Manchester. BBC Northern Ireland is a division outside of Britain.  It manages two TV channels- BBC one and BBC two. It also manages two radio stations.
BBC Worldwide is a division of BBC. It is the main commercial arm and wholly owned subsidiary of BBC. Many of the popular channels like BBC earth, Cbeebies, BBC Kids to name a few are run by BBC worldwide. The programs are available across the globe from UK, North America, Australia and New Zealand to other global markets like Asia, Central Europe, Middle East and Africa, Northern Europe, Latin America and Western Europe.
Price in the Marketing Mix of BBC :
BBC works on a licensing system. A person must be covered by a license if he watches live TV while it is being broadcast in the UK. Since its inception, BBC's source of funding has been through license fees.  Initially, the fee was for both television and radio but since 1971 it has been modified to include only television. The license fee is fixed at 145.50 pounds until 2017.
BBC is a universal broadcaster committed to public service by providing programs that inform, educate and entertain people yet it also needs to invest money in creativity, innovation, and R&D.  As such, the license fee system is in the overall interest of the public.
For 40 inch per day, every household in the UK has access to 8 network TV channels, 10 national radio services and various online services.
There are commercial services run by BBC that are not under the purview of the license fee and separate from BBC's public services. These profit making segments help to keep the license fee low.
Promotions in the Marketing Mix of BBC :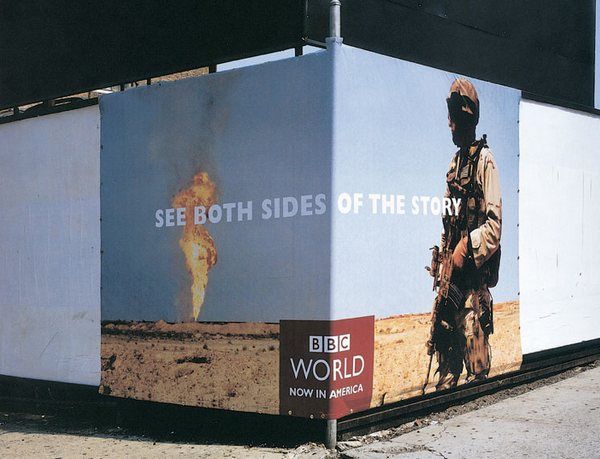 BBC is not allowed to carry out advertising on its public services. This has been done so that the broadcaster is kept independent of commercial interests.
However, BBC world, for example, indulges in online marketing tactics like SEO and data analysis to keep websites like BBC Good Food on top of the game. At the same time, it also invests in majorly creative BTL advertising and some of ATL advertising. Above is a beautiful ad from the campaign – BBC World now in America. This campaign showcased the responsibility of news channel to cover a story from both sides. 
Liked this post? Check out the complete series on Marketing Mix