Quaker Oats Company introduced Cap'n Crunch in the year 1963 as breakfast cereals. It hit the grocery shelves and became an instant hit with masses because of its unique taste and flavour. Cap'n Crunch was actually a character that was created even before the launch of this product. Pamela Low was a flavour and it was her ideas that developed the original flavour with a crunchiness so that it would be appreciated by every genre especially children. Some of its main competitors are as follows-
Rice Krispies
Golden Grahams
About Captain Crunch
Type: Breakfast cereal
Industry: Food and beverage
Founded: 1963
Founder: Quaker Oats Company
Headquarters: Chicago, Illinois, United States
Area served: Worldwide
Key people: John Thomas Draper (Chairman)
Number of employees: Over 5,000+
Product in the Marketing Mix Of Cap'n Crunch
Original Cap'n Crunch was oat cereal with crunchy and tasty sweetened corn. It did not have trans-fat and was also low in fats. A bowl of this cereal was a source of minerals and seven vitamins that are essential for our body. It is a complete and nutritious breakfast and could be served with juice, fresh fruit and low-fat milk. Some of the important variations of this cereal are –
Cap'n Crunch

Chocolatey Crunch

Cap'n Crunch Crunch Berries

Christmas Crunch

Peanut Butter Crunch

Deep Sea Crunch

Choco Crunch

Caramel Popcorn Crunch

Cinnamon Roll Crunch

Sprinkled Donut Crunch

Home Run Crunch

Polar Crunch

Airhead Berries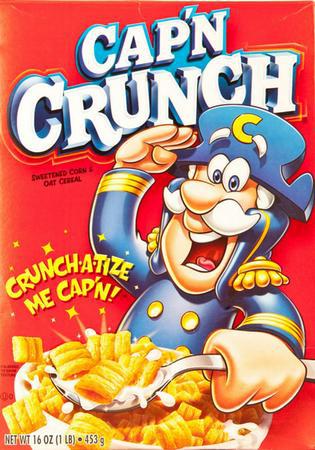 Place in the Marketing Mix Of Cap'n Crunch :
Cap'n Crunch is a cereal and is related to food industry. The company wanted to manufacture and sell their products on a large scale and hence expanded into numerous areas. They had several cereal mills to produce fresh products. Brand Cap'n Crunch was aware of the impact of a good distribution policy and they decided to adopt the tried and tested method of the manufacturer, distributor, and retailer and then direct selling to consumers. Products are now available at every grocery store and supermarkets. Online purchase of this product line has become possible after tie-ups with numerous shopping stores. By the help of a single click of a mouse, one can easily buy the product from any online store.
Price in the Marketing Mix Of Cap'n Crunch :
Quaker's Cap'n Crunch is available in many variations but one thing that they all have in common is its crunchy taste. It is one of the most delicious cereals available in the market and its taste appeals to kids of every age. One serving of this cereal has only 110 calories and one gramme each of dietary fibre and saturated fat. Packs are available in numerous sizes and the brand has maintained a reasonable pricing policy for all its products. Although it is a premium product but its reasonable prices have helped it in earning greater revenues. Discounts and other schemes like toys inside the pack are available on the purchase of Cap'n Crunch and this makes it look more attractive to children who are the main customers of this brand. Prices of its variants vary according to its taste, pack size and cost price.
Promotion mix in the Marketing Mix Of Cap'n Crunch :
The product line is mainly put together around a cartoon mascot that was named Cap'n Crunch because of its crunchiness. He was a typical naval captain from America and his wacky crew was created to add a further dimension to its storyline. Crompton Advertising was roped in for advertising this product and the company hired an animation company to put a face and voice to its mascot. Daws Butler became the voice of Cap'n Crunch. In the year 1963 first commercial featuring Cap'n Crunch was aired on national television and it became an instant hit. Within a time-span of two years, this cereal became the ninth best-seller in America.
Almost all its packs have the world-famous character, Cap'n Crunch. In the 1980s a commercial was aired that had Cap'n Crunch fighting with blobs and doggies that can make the cereal soggy instead of crunchy. In order to breathe new life short videos have been released on social media. Editorial contents are featured on Facebook and Twitter and this has been a huge factor in creating huge brand awareness amongst its consumers.
Liked this post? Check out the complete series on Marketing Mix