Cinemax India is a public company of Indian origin. In simple terms, it is a chain of cinema halls spread all over India. It is a multiplex belonging to the entertainment industry. Earlier it was owned by its parent company Kanika Group but recently has been bought by a subsidiary company of PVR Cinemas called Cine Hospitality Private Ltd. Some of its main competitors in this field are as follows-
Inox
Reliance Big Cinemas
About Cinemax
Type: A satellite television network
Industry: Media and entertainment
Founded: August 1, 1980
Founders: Ted Turner, Charles Dolan, and John Malone
Headquarters: New York, New York, United States
Area served: United States, Latin America, Asia
Current CEO: Christina Sulebakk
Number of employees: 1,000+
Major products: Original action series, documentaries, and special behind-the-scenes
Product in the Marketing Mix Of Cinemax :
Cinemax is a theatre with one or more than one screens. As it belongs to the entertainment industry people come here to watch movies of different languages. The most commonly watched films are in Hindi and then the regional language of that city takes precedence along with an English movie.  The main product of brand is its movies and the services which employees provide. Customers can also buy snacks and beverages at Cinemax.  Digitisation has revolutionised the manner of viewing a movie. Currently, several screens offer digitalised services and brands future expansion plan involves every screen providing 3D experience.
Gaming has become a vital part of entertainment and Cinemax has its personalised gaming brand named Giggles. It has also introduced Lane-Bowling alley called VERSUS. Cinemax creates the best possible infrastructure so that every patron can enjoy his/her experience in theatre. It wants to provide a comfortable cinematic experience. Brand realises that as occupancy increases people will come in greater number for advertisements and this will result in more revenues for the brand.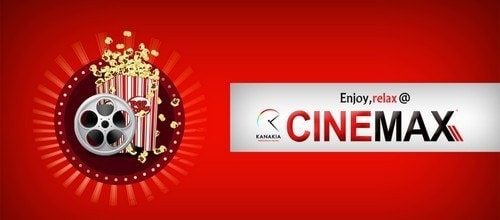 Place in the Marketing Mix Of Cinemax :
Cinemax has its presence spread over numerous cities in India. One can find a Cinemax in thirty-nine cities and has a screen count of nearly one hundred and thirty-eight screens. Some important cities to have this multiplex are Kolkata, Mumbai, Bhopal, Allahabad, Hyderabad, Indore, Bangalore and Nasik. It has plans to expand its chain to various other cities. Its headquarters is based in Gurgaon in the state of Haryana in India. Its gaming-business Giggles are operational at several places like Eternity Mall at Thane and Iscon Mega Mall in Rajkot. It has launched various lane-bowling at Pacific Mall in New Delhi. Locations of every Cinemax outlet has been chosen after due consideration.
Price in the Marketing Mix Of Cinemax :
Occupancy of a theatre decides whether the company is earning a profit or not. Hence it is very important to create a pricing policy that will suit needs of a viewer and also the owner because at the end of the day revenues matter. Brand Cinemax has decided to keep its pricing policy different for every city. Places that have high occupancy rates have a reasonable pricing policy and place that have few viewerships have an economic pricing strategy for the tickets.
The timing of a show is also an important factor that determines ticket prices. A morning show before ten o clock generally has a minimum price whereas shows in evenings are priced higher. Another vital factor that determines prices of a ticket in Cinemax theatre is the quality of released film or its star-power. Generally, a movie with an actor like Salman Khan and Shahrukh Khan attract more people than a movie with Emraan Hashmi. The brand also earns revenues from sales of food and beverage that is available inside the multiplex and from its gaming activities.
Promotion in the Marketing Mix Of Cinemax :
Cinemax is one of the biggest multiplex chains in India and in order to create awareness about its brand it has undertaken several promotional policies. They have decided to open its theatres in large malls where people visit in high numbers. Its locations are chosen with infinite care so that they get maximum exposure. The company has upgraded its internal process system with the latest technology to serve efficiently.
It has also started a performance program for employees, to get the best out of them. Cinemax through its advertisements has been projected as a platform that provides memorable experience along with full entertainment, luxurious seating and quality snacks and drinks.  Its tagline is Enjoy, Relax. It also offers a discount on rates for certain shows to lure customers.
Liked this post? Check out the complete series on Marketing Mix