Film Industry in India associated with Hindi Films is popularly known as Bollywood. It is not a physical place but is referred to denote the whole package. Bollywood is the largest producer of films in India and one of the largest production centres in the world. In terms of employing people and producing films, it has become the biggest industry. In the year 2014, total 1969 films were produced in India and out of these 252 were from Bollywood. Some of its competitors in India are-
Tamil Cinema

Telugu Cinema

Tollywood or Bengali Cinema
About Bollywood
Type: Film industry
Industry: Entertainment
Founded: 1913
Founder: Dadasaheb Phalke
Headquarters: Mumbai, India
Product in the Marketing Mix Of Bollywood :
Bollywood is globally popular because of its movies and the films can be divided in two categories mainstream or commercial cinema and parallel or art cinema. The main product of Bollywood is the full cinema experience it provides its viewers. Most of the films are pure entertainment made for relaxation but many reflect the changing times and current happenings in society.
Curiosity about the product is a unique way of attracting customers and hence even the names of movies reflect its feel, spirit and genre. Besides the films, its other products include its songs which help in creating great revenues for a film. Many brands are also promoted through a film for example in a movie Koi Mil Gaya, the main protagonist was drinking Bournvita, a health drink and this helped the drink in creating further awareness about its brand.

Place in the Marketing Mix Of Bollywood :
Bollywood movies have a worldwide audience and besides India has a huge market in nearly ninety foreign countries.  Indian movies have generated a cross-cultural appeal that has been felt in places like Russia, Africa, Sri Lanka, Pakistan, Nepal, Bangladesh, Afghanistan, Uzbekistan, South Korea, Japan, China, Egypt, Dubai, United Kingdom, United States, Brazil etc. In India, Hindi films are distributed to nearly 22 states, which have innumerable theatres and screens to display its product as it has a mass appeal in every nook and corner. These halls are either single screen or multiplexes with added benefits and comfortable settings.  
Price in the Marketing Mix Of Bollywood :
In India, Bollywood accounts to nearly 43% of the net revenues at the box-office. Movies are made with a budget from few lakhs to billion rupees. As times are changing, movies are being made with more special effects and professional help. Advertising costs are also very high for a movie and this has a huge impact on its cost but most of the movies recover the money quite easily because of the high demand for Hindi movies. Pricing policy of a Bollywood movie is actually value-added as better the movie the more its income.
Prices of a movie ticket are now also dependent on theatres. A single screen theatre where audiences are lower or middle-class section keeps economic prices of its tickets whereas if a movie is shown at a known multiplex, its ticket prices are marginally higher. Low-rates or high at the end of the day prices are at affordable rates so that a viewer can easily come and watch that movie. Better the sales of tickets higher will its revenues be.
Promotions in the Marketing Mix Of Bollywood :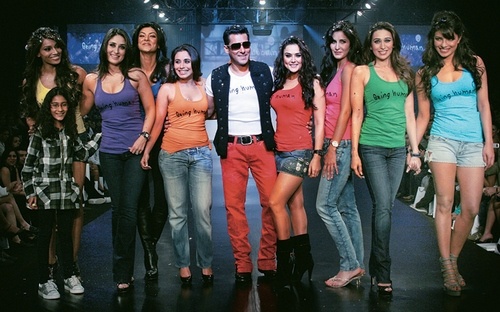 Promotional activities are necessary for Bollywood products as breathing is to a human body. A special team is deployed so that it can undertake the responsibility of marketing that movie. Promotion is a very serious issue for every movie. In earlier times hand painting posters and billboards was an important marketing tool but with times the posters remain but they are computer-prints. Releasing music of the film is also an important aspect of advertising, where singers, music directors and others advertise their product for maximum coverage.
Product placement has also found a place in its marketing strategy along with celebrity endorsement. Stars, director and other prominent artists travel from one place to another to advertise their film. Currently, movie stars popularise their films through several programs on television as the small screen as a wider recognition presence. Publicists have started using the internet as a medium of advertisement by creating their websites and providing trailers, information and juicy tidbits about the movie.  
Liked this post? Check out the complete series on Marketing Mix