Oil of Olay is currently referred to as Olay and is of American origins. It is a personal-care brand associated with FMCG sector. Olay was introduced in the consumer market in the year 1952 by its founder Graham Wulff and product was sold under his company Adams National Industries or ANI. Currently, it is a subsidiary of its parent company Procter & Gamble that manufactures and markets it under brand name Olay. Some of its competitors are as follows-
About Olay
Type: Consumer goods company
Industry: Personal care
Founded: 1952
Founders: Graham Wulff and Jack Lowe
Headquarters: Cincinnati, Ohio, USA
Area served: Worldwide
Current CEO: Srinivasan "Sri" Reddy
Number of employees: Over 10,000
Major products: Skin care products, including moisturizers, cleansers, serums, and anti-aging treatments
Product in the Marketing Mix Of Olay :
Olay was introduced as a pink fluid packaged in a heavy glass bottle. With time it has diversified into several items to meet a varied range of skincare needs depending upon skin type, required product and product line. Some of them are as follows-
Eye Concerns
Under-Eye Wrinkles
Dark Circles
Crow's Feet
Bags under Eyes
Facial Concerns
Sensitive Skin
Dull Skin
Dry Skin
Acne
Anti-Aging
Pores
Sun Protection
Skin Type
Sensitive Skin
Oily Skin
Normal Skin
Dry Skin
Combination Skin
Body Care
In-Shower Body Lotion
Body Wash
Body Lotion
Beauty Bars
Treatments
Primers
Masks
Specialty Treatments
Facial Moisturiser
CC and BB Creams
SPF Protection
Serums
Night Creams
Lightweight Lotions
Daily Moisturizer
Facial Cleansers
Foaming Cleansers
Facial Toners
Towelettes and Face Wipes
Face Wash
Cleansers and Exfoliating Scrubs
Cream Cleansers
Cleansing Brushes
Olay Eyes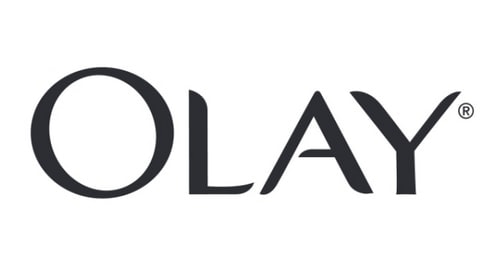 Place in the Marketing Mix Of Olay :
Olay started its operations from South Africa but spread quickly to international markets. It was introduced as Oil of Ulay in Ireland and the United Kingdom, Oil of Olaz in Germany, Netherlands, Italy and France and Oil of Ulan in Australia. A test market was opened by the company in Chicago in the United States. Later Company extended its reach to several global countries like Spain, India, China and Philippines.
Olay utilises the strong distribution network of Procter & Gamble and includes services of producing agents, distributors and retailers to reach consumers through an efficient logistic company DHL Carrier. Products are easily available at convenience stores, discount stores, hypermarket, supermarket, malls and beauty product shops.
Price in the Marketing Mix Of Olay :
Olay is a multi-billion dollar company and at the end of the fiscal year 2009 its personal revenues were estimated at 2.8 billion dollars compared to total revenues of its owner at 79 billion dollars. The company has targeted women as its potential customers belonging to age group of 14 to 45 from upper and upper-middle class of society. A pricing strategy to a very large extent depends on the perceived value of the product. Olay has been projected as a premium brand in the consumer market and hence has adopted a premium pricing policy. It has tasted success with its implementation as its users do not mind spending high amount for such a qualitative brand.
Promotions in the Marketing Mix Of Olay :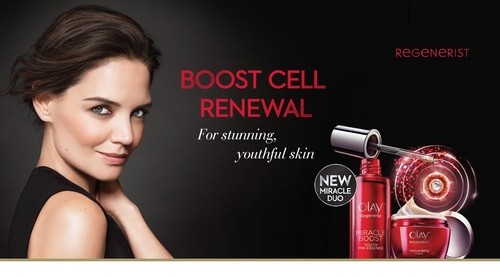 Olay started its marketing policy by projecting its product as unique with special properties. It was advertised by the help of print media with slogans like Share the secret of a younger looking you. Advertisements included personal messages from fictitious advice-columnist Margaret Merril to its readers and ran in newspapers and Reader's Digest. With time Olay started using several other advertising mediums to garner positive brand visibility. Its products are now advertised through descriptive and beautiful ad campaigns shown in television, radio, billboards, magazines, newspapers and social media portals.
Some of its current taglines are Ageless, Love the skin you're in, Challenge what's possible and Your best beautiful. Olay realises the powerful impact of star power and has roped in famous personalities for celebrity endorsements. In global market actor Katie Holmes is its brand ambassador and in India, actor Madhuri Dixit for Olay Regenerist, Karisma Kapoor for Olay Total Effects and Kajol and Katrina Kaif for Oil of Olay.
Liked this post? Check out the complete series on Marketing Mix