McCain Foods is a privately-owned company of Canadian origins. It was founded in the year 1957 by brothers and co-founders Wallace McCain, Andrew McCain, Robert McCain, and Harrison McCain. McCain Foods is associated with the food industry and deals in the manufacturing and marketing of frozen food items. It is one of the best-managed companies in Canada and has a platinum status to recognize its efforts and performances. Some of its competitors are as follows-
Conagra Brands, Inc
Blaine Larsen Farms, Inc
ANS Foods Ltd
Safal
About McCain Foods
Type: Food company
Industry: Frozen food
Founded: 1957
Founder: Wallace McCain and Harrison McCain
Headquarters: New Brunswick and Canada
Area served: Worldwide
Key people: Max Koeune, CEO and Sylvie Benoît, President and COO
Number of employees: Over 22,000
Product in the Marketing Mix Of McCain Foods :
McCain Foods is a multi-national organisation that is the largest manufacturer in the world of frozen food items and occupies nearly 33% of the market share. Its product kit includes several items like McCain Wedges, McCain Micro Pizza, McCain Sweet Potato, McCain Home Roasts, Frozen Vegetables, Desserts and Ready-to-eat meals.
Core ingredient used in McCain Foods is a potato that delivers iron, potassium, vitamin C, dietary fibre and energy and is virtually fat-free. Some of its most popular food products available in consumer market are as follows-
McCain Smiles
McCain Tasti Taters
McCain Classic Cut Fries
McCain Extra Crispy Classic Fries
McCain 5 Minute Fries
McCain Steak Fries
McCain Crinkle Cut French fries
McCain Extra Crispy Crinkle Fries
McCain Shredded Hash Browns
McCain BabyCakes
McCain Seasoned Curly Fries
McCain Seasoned Waffle Fries
McCain Seasoned Wedges
McCain Seasoned Crinkle Fries
McCain Sweet Potato Crinkle Fries
McCain Seasoned Wedges-Savory Herbs and Spices
McCain Sweet Potato Waffle Fries
McCain Sweet Potato Fries Sweet and Spicy
McCain Craft Beer Battered Potatoes Thin Cut
McCain Craft Beer Battered Ridge Cut Fries
McCain Craft Beer Battered Thin Cut Onion Rings
McCain Craft Beer Battered Waffle Cut Fries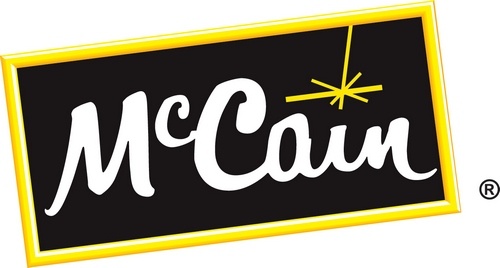 Place in the Marketing Mix Of McCain Foods :
McCain Foods has an international presence in several countries of the world and has its headquarters base at Florenceville in Canada. Currently, it has forty-seven production plants spread over six continents with products available in more than one hundred and sixty countries like Argentina, Australia, Belgium, Brazil, China, France, Germany, Mexico, India, Italy, United States, United Kingdom, Spain, Portugal and Korea.
McCain Foods is a B2B organisation and does not deal directly with consumers. Its distribution channel includes services of suppliers, wholesalers and retailers to reach consumers through supermarkets, hypermarkets, discount stores, food stores and convenience stores.
Price in the Marketing Mix Of McCain Foods :
McCain Foods offers convenient food items that are in tandem with present-day lifestyle and budget. It is tasty, nutritious and versatile and hence has become an all-time favourite of every age-group. McCain Foods has adopted value-added pricing policy to market its products. It has kept its prices reasonable so that consumers can easily make a purchase because of easy affordability.
Brand McCain has also maintained a promotional pricing policy and offers several incentives at periodic intervals like extra-fill packs offering up to 30% extra product and discounts on marked prices. This helps in reducing product prices and increasing sales volume by bringing in new and previous customers. It ultimately leads to garnering of further profits.
Promotions in the Marketing Mix Of McCain Foods :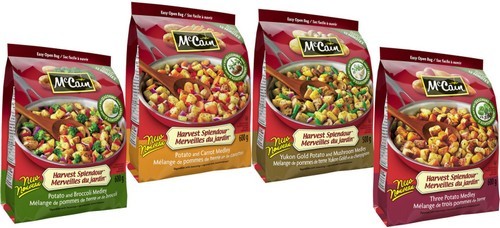 McCain Foods has adopted both above-the-line and below-the-line promotions to market its products. Its ad campaigns are advertised via traditional routes like television, radio, newspapers, magazines and hoardings. It also uses social media and its website to advertise its products. Brand drops leaflets or vouchers door-to-door and email newsletter to attract customers.  McCain Foods has participated in several events and deals to increase its brand awareness.
They were sponsors of All Star family Fortunes in years 2008-10 and of Emmerdale in the year 2014. It is aware of its responsibility towards both nature and society. It uses alternative energy for power in few factories. McCain commits its resources to national and local projects and supports local charities. It has been a part of a drive that encourages Eat Well, Move More, Live Longer and has launched healthier product options.
Liked this post? Check out the complete series on Marketing Mix