French Connection is popularly referred to as FCUK and is a global company that is based in the United Kingdom. It is a public company and a subsidiary of its parent company French Connection Group. It was established in the year 1972 by its founder Stephen Marks. FCUK is a wholesaler and retailer and is associated with apparels and accessories industry. Some of its rival brands are as follows-
About FCUK
Type: Clothing brand
Industry: Fashion
Founded: 1972
Founder: Stephen Marks
Headquarters: London, England
Area served: Worldwide
Key people: Stephen Marks (Chairman) and Toby Bateman (CEO)
Number of employees: 2,000
Product in the Marketing Mix Of FCUK :
Initially, FCUK started as a women's mid-market brand but later expanded to menswear in the year 1976. The company is known for creating fashionable clothing that has attitude and is stylish and well-designed. Over the years brand has expanded its portfolio to include diversified products that are driven by change and innovation. It includes the following-
For women, FCUK brand has both apparels and accessories that include swimwear, shorts, skirts, leggings, trousers, jackets, coats, cardigans, jumpers, playsuits, jumpsuits, tops, jeans, dresses, perfumes, bags, purses, shoes and boots in footwear, jewellery and watches
For men in apparel section, it includes swimwear, shirts, suits, shorts, polo shirts, t-shirts, trousers, cardigans, jumpers, sweatshirts, jeans, jackets and coats. Accessories include sunglasses, socks, underwear, watches, bags and footwear like trainers, boots and shoes
Home Furnishings include furniture like sofa, storage and shelving units, benches, chairs, tables and bar stools, kitchenware like accessories, server and tableware, textiles like blankets, cushions, runners and rugs, home accessories like mirrors, bowls, vase, candles and candle holder, Lighting like floor lamps, table lamps, wall lights and ceiling lights.

Place in the Marketing Mix Of FCUK :
FCUK is an international corporation with a network that has spread in countries like Canada and the United States besides the United Kingdom. It has its headquarters base in London. The company has a wide and intensive distribution channel that includes wholesale arrangements and franchise network in the global market. It distributes its branded products through multi-brand retailers and by providing concessions to several department stores.
In United States, United Kingdom and Canada Company has opened its own retail outlets so as to market its products under one single roof. By the end of the year 2014, the brand had nearly one hundred and thirty-one FCUK outlets in Europe and the United Kingdom. All the outlets have special windows that reflect the brand's irreverent attitude and imaginative designs. It is actually a showcase for the brand's collection that tempts and intrigues a customer to make purchases.
Price in the Marketing Mix Of FCUK :
FCUK offers qualitative products and pride itself on the fact that its premium products are sold at affordable prices. The company has adopted a reasonable and mid premium pricing policy so as to create a lot of sales. It recognises that huge sales will always lead to greater revenues in future although the profit margin may seem less at the initial stage. FCUK has tried to create a balance between quality of a product and its affordability so that the customer can recognise its policy of value-added pricing. FCUK is a distinctive brand that wants to be original as well as accessible to its customers and hence it has kept its pricing policies reasonable and within reach of its patrons.
Promotions in the Marketing Mix Of FCUK :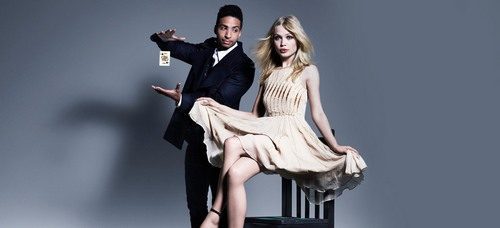 The fashion world is a non-stop world of change and evolvement. A dynamic marketing policy is necessary for survival and making a mark in this world. FCUK has the capability to implement a strong and powerful promotional plan for its products. It has always believed in the power of advertising and hence has created commercials that have led to discussion, debate and ultimately resulted in great public awareness. It believes in the aggressive promotion and hence is continuously pushing boundary lines and making clear-cut statements.
FCUK commercials can be described in three simple words- creative, innovative and impactful. The company has taken the help of several advertising tools at its disposal like billboards, fashion magazines, radio stations, moving projections and light-motion banners. FCUK have started its advertising campaigns through its displays on windows of all outlets. It sticks to a particular theme at a time and makes changes in the windows accordingly to create brand awareness.
Liked this post? Check out the complete series on Marketing Mix