Sharekhan is a commercial site of Indian origin. It deals in financial services and is associated with trading industry. Sharekhan was founded in the year 2000, February by its founder Shripal Morakhia. It was a subsidiary of its parent company SSKI Group but in the year 2016, 23rd November its ownership changed hands and company became a subsidiary of its owner company BNP Paribas SA. Sharekhan is a user-friendly facility for online trading that has been able to create a distinctive name for itself. It faces stiff competition from several companies and some of them are as follows-
Angel Broking
India Bulls
Reliance Capital
IIFL
Religare
ICICI Web Trade Ltd
Kotak Securities Ltd
MotilalOswal Securities Ltd
About Sharekhan
Type: Retail brokerage firm
Industry: Financial services
Founded: 2000
Founder: Shripal Morakhia
Headquarters: Mumbai, India
Area served: India
Key people:  Vinod Kumar Jatia (Chairman) and Jaideep Arora (CEO)
Number of employees: 4,800+
Product in the Marketing Mix Of Sharekhan 
Sharekhan is an online portal available in English and written in JavaScript. It is one of India's leading broking houses operating via online retail industry. Sharekhan offers a complete package of stock trading and investment solutions and secures high returns on securities and investments.
It is the retail arm of its parent company and offers trade execution facilities and depository services for commodities, derivatives and equities backed by its sound advice and experience. Sharekhan offers offline trading options, online NSE and BSE executions of both intra-day and delivery based transactions and online trading options.
Its additional investment products include Insurance, RBI Bonds and Mutual Funds. Sharekhan has started online IPO to offer application form of several companies' issues by filling an online form.  It has an analysis and research team that tracks performance trends and offers valuable advice. Sharekhan has implemented 3-in-1 concept and integrated Demat account, trading account and linked savings account. A customer can transfer funds directly from savings to trading account without any additional paperwork. Buying and selling of shares is an easy option via website and client can also view market prices of shares he wishes to trade on the terminal.
Place in the Marketing Mix Of Sharekhan 
Sharekhan has its presence in India with its headquarters base at Mumbai in Maharashtra. It has one of the strongest IT infrastructures that include a large network of branches spread across several parts of India. Its Pan-India presence consists of 1,500 outlets in nearly 450 cities that serve estimated, 950,000 customers. Sharekhan has a capable, trained and experienced workforce that enables the smooth running of its organisation. It has extended its presence to international markets in Oman and UAE also.
Price in the Marketing Mix Of Sharekhan 
Finance is an integral part of any business that has a direct impact on all its operations. Sharekhan has an accounts department for calculating payout and pay-in of funds and is dependent on profit/loss of client portfolio.  The company has targeted investors from both rural and urban sector as its potential customers. It offers maximum value to its clients so as to keep them happy.
Sharekhan faces stiff competition from several rival companies and has adopted a competitive pricing policy to gain a competitive advantage over its competitors. It has levied reasonable rates so as to increase its client base because affordable rates will gain larger volumes and will ultimately lead to greater gains. Brokerage on the delivery-based transaction is levied at .50% on both sides for selling and purchasing and .10% single side on intra-day transactions. Brokerage charges for commodities are .10% of its trade value and if carried forward then extra .02% on the total trade.
Promotion in the Marketing Mix Of Sharekhan :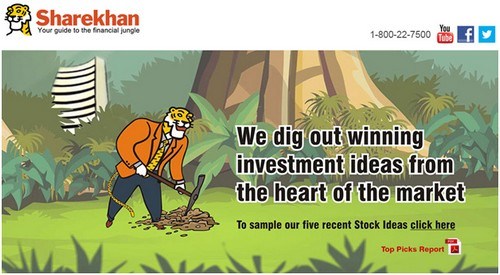 Sharekhan has adopted several promotional activities to increase its brand awareness. It is one of the most visible and recognised brands in the Indian market since its inception. The company emphasises on personal contact so that it can serve better by maintaining direct contact. Sharekhan has adopted several campaigns for advertising and it is mainly done through social media platforms like e-mails and web dealings. It has also taken help of print media via newspapers to gain further penetration in the market. In order to increase its brand visibility, it organises presentations and seminars that give it maximum exposure. Sharekhan has an apt tagline your guide to the financial jungle.
Liked this post? Check out the complete series on Marketing Mix