Puma Marketing Mix is the selling model of the Puma brand that helps the company to meet its marketing and business objectives successfully. The comprehensive framework and marketing mix strategy covers the product diversification strategy, product innovation, distribution strategy, pricing strategy, outdoor promotions and promotional strategy.
The German company Puma is a premium brand with strong brand equity in the shoe industry. The reliable brand Puma maintains strong relationships with main retail partners to gain a competitive advantage over rival companies and create a strong and diversified customer base.
Introduction of Puma
#Puma
Origin Country: Germany
Founder: Rudolf Dassler
Founded: 1948
Headquarters: Herzogenaurach, Germany
Employees in 2023: 14,606
Revenue in 2023: EUR 6.8 billion
Net Income in 2023: EUR 0.262 billion
Global Sportswear Sales in 2023: 6.2 billion USD
Market Cap in 2023: 8.25 billion USD
The multinational corporation Puma is the third-largest manufacturer of sportswear and one of the most renowned sneakers brands in the world. The company produces, manufactures and designs casual and athletic Puma shoes, apparel, accessories and sports equipment.
The company was originally founded in 1924 as Gebruder Dassler Schuhfabrik (Dassler Brothers Shoe Factory) but was split in 1948 to form two separate companies Puma and Adidas.
Puma's product mix, product innovation, the distinctive "Formstrip", Puma trademark and the exclusive Puma logo have helped the brand Puma to establish itself as an innovative designer of performance products and gain a huge share in the target market.
Target Market: Marketing Mix of Puma
The leading sports company Puma is renowned as a reliable brand in the shoe industry. At the onset, the sole produce of the German company was shoes and the target audience was professional athletes who were looking for good quality premium products. With time the company realized that it was important to sell products to the masses as well for driving sales volume.
The product strategy has helped the premium brand in creating a diversified customer base that includes professionals and the upper-middle class. The target audience is between 20 – 35 years who care about quality products and a healthy lifestyle.
Puma Marketing Strategy & Marketing Mix (4Ps)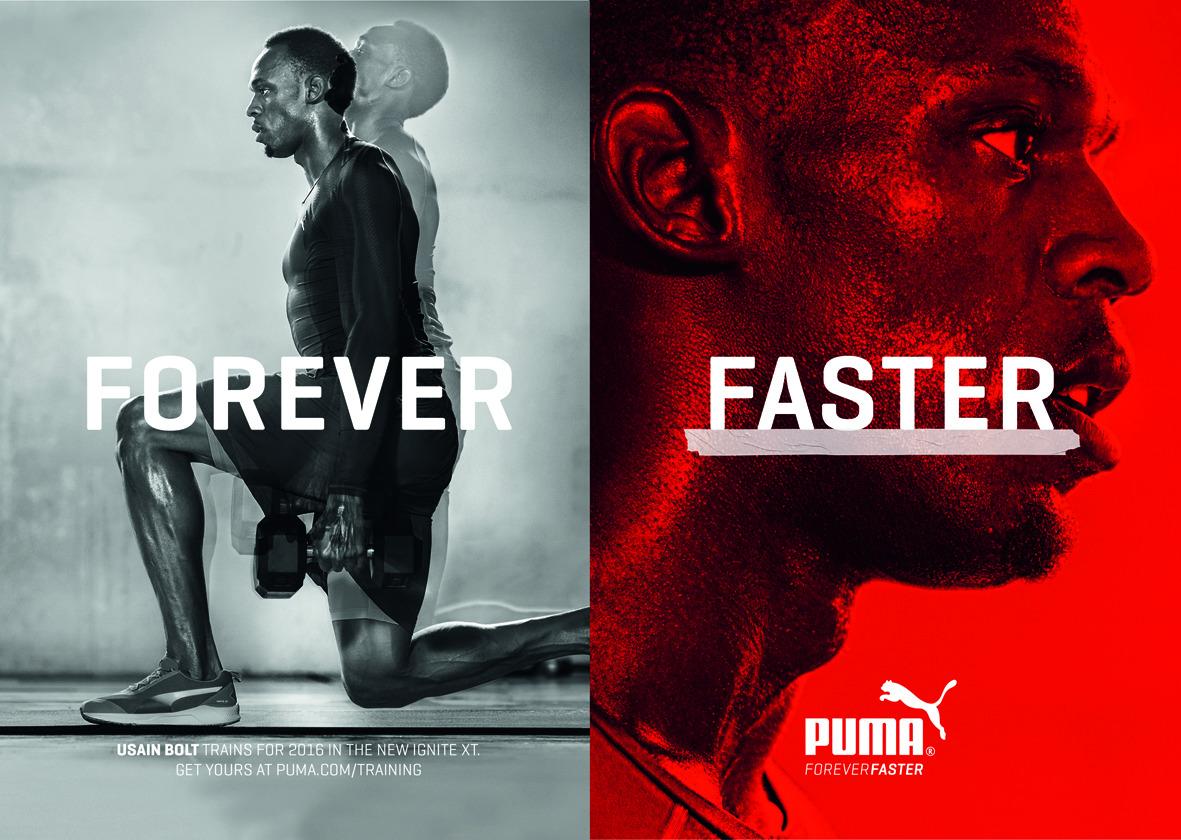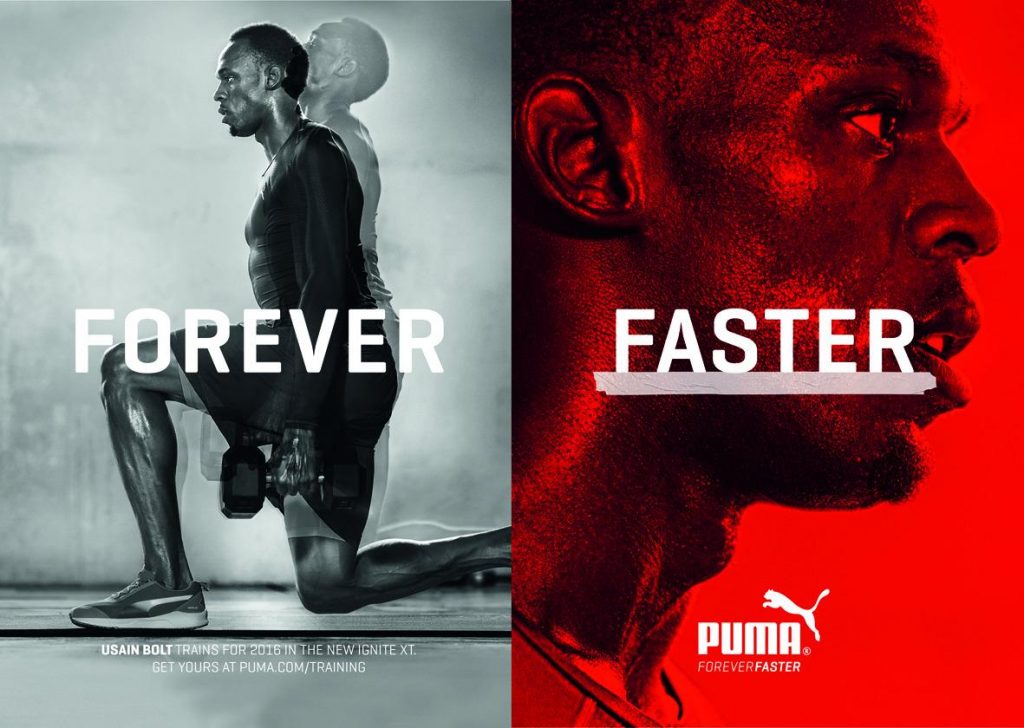 The marketing mix strategy of the Puma brand takes the help of demographic marketing strategies in the market to attract its target audience. The 4Ps cover the product line and strategy, place strategy, distribution channels, promotion strategy and Puma's pricing strategy to boost brand image and increase brand equity in the market.
Puma's marketing mix has laid the groundwork for establishing product diversification strategies that have helped the Puma brand in retail expansion across several countries especially the Middle East and Eastern Europe. It is the marketing strategies that have ensured that the brand Puma maintains strong relationships with main retail partners and customers alike so that it can sell Puma products in the market easily.
Product Strategy in Marketing Mix of Puma
The marketing mix of Puma revolves around its product strategy where the company offers premium-priced products to its target audience. There was a time when the sole produce of the brand was footwear but with time Puma's strategy for product mix has increased to include several product categories.
The Puma marketing strategy has established a strong brand image for the company in the shoe industry. The company produces and sells Puma products for basketball, football, motorsports, golf, athleisure, fitness, training and running.
Puma's Product Mix in the Puma Marketing Strategy
Puma's marketing strategy for product mix includes fitness equipment, Puma shoes (basketball and football shoes etc.), sportswear and fashion accessories, nutrition and fitness consultancy. The brand is a favourite of every sports enthusiast. Driving shoes, equipment and accessories are some of its products that drive total sales quite high.
Apparel
The marketing mix of Puma in the apparel category includes clothing for men, boys, girls and women like leggings, shorts, jackets, sports bras, sweatshirts, shorts, pants, maternity clothing, innerwear, polos, tracksuits, thermals and winterwear etc.
ESSENTIALS+ METALLIC WOMEN'S HOODIE
CR BAND COLLAR POLO
GRAPHIC MEN'S JACKET
Puma Shoes
People looking for the next Puma purchase must look at the Puma shoes like football shoes, sneakers, fitness enthusiast driving shoes, sports shoes, casual shoes and shoes for gym and training. These shoes are available for men, women and kids. Innovative technologies like Ignite, Arsenal, Bolt Collection and Netfit have made the footwear brand a favourite of every gender and age.
BMW M MOTORSPORT ELECTRON E PRO UNISEX SNEAKERS
VIKKY V3 WOMEN'S SNEAKERS
COURTFLEX V2 SLIP-ON KIDS' SNEAKERS
Accessories
Sportswear and fashion accessories include wallets, bags, face masks, backpacks, socks, gloves, water bottles, caps and beanies.
PUMA TRI-FOLD UNISEX WALLET
PRIME CLASSICS ARCHIVE GRIP BAG
PUMA BUZZ BACKPACK
Puma Men's Training Business
Puma men's training business category offers premium-priced products like gym wear, yoga, sports bras, maternity wear, gym accessories and shoes
TEAMGOAL MEN'S TRAINING JERSEY
PUMA FIT LOGO TRAINING WOMEN'S T-SHIRT
Fitness Equipment
Puma has a vast product line for training and running exercises. The next Puma purchase which is in high demand is the fitness equipment. The company offers nutrition and fitness consultancy to fitness enthusiasts.
Competitive Advantage of Puma's Distribution Strategies
Market segmentation has helped the brand Puma to gain a competitive advantage over rival companies.
Sourcing
Most of the manufacturing plants of the brand Puma are located in Asian markets where the labour and raw materials are comparatively cheaper. Puma has more than 200+ suppliers in 36+ countries which helps to create a strong supply chain and vast distribution network.
Extensive product line and a strong product diversification strategy
The product line of the brand Puma is quite extensive as it is associated with clothing, sports accessories, shoes and personal care etc. The product diversification strategies help the company to gain greater market share in the industry and increase its customer base significantly.
Place in the Puma Marketing Strategy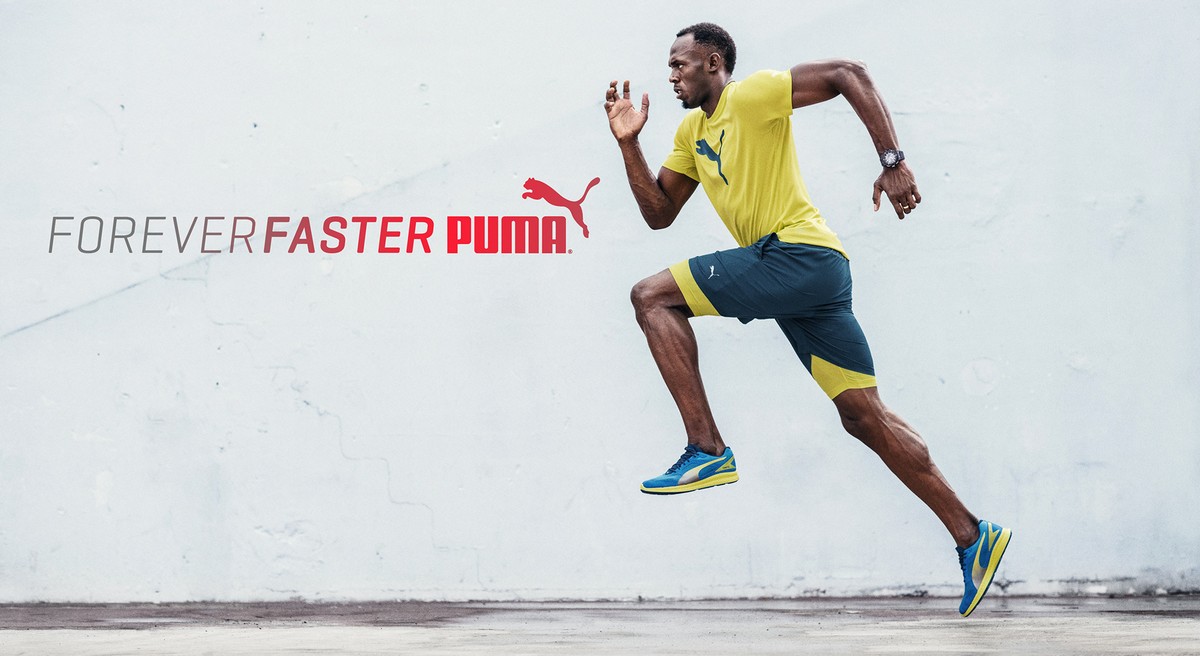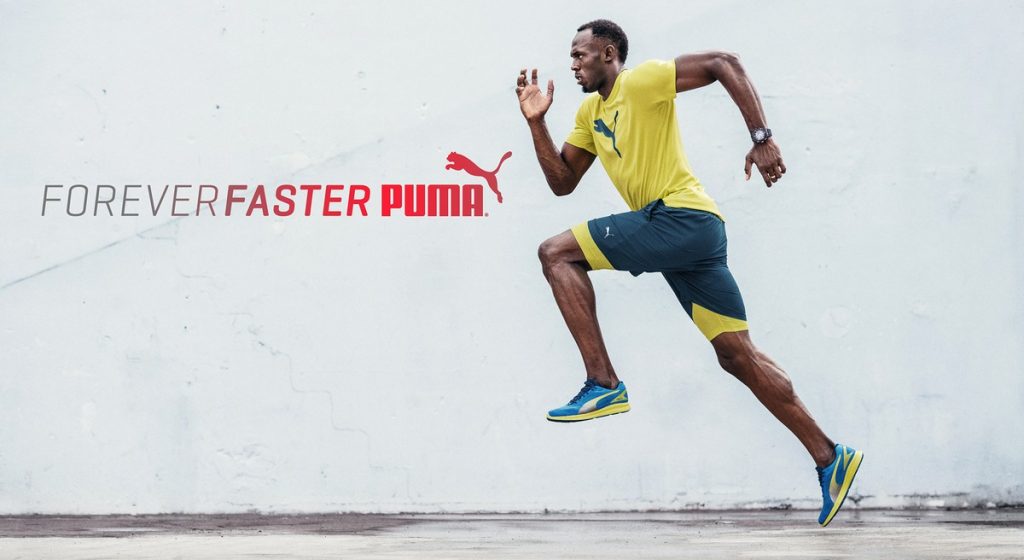 Puma has spread its product presence to more than 130+ countries across the world. It is a public company listed on the Frankfurt Stock Exchange since the year 1986. Puma operates with help of international hubs Vietnam, Hong Kong, Somerville and Assembly Row.
The marketing mix of Puma makes sure that products of the premium brand are sold on the company's official e-commerce sites, company-owned and operated exclusive retail stores as well as separate shopping websites.
The Puma marketing strategy focuses on retail expansion and has opened new stores all over the world in Europe, Latin America, North America, EEMEA (Eastern Europe, Middle-East and Africa) and APAC (Asia Pacific) region. The Middle East has proved to be one of the best locations for the company in terms of net sales.
Puma with its retail partner Foot Locker has developed "Puma Lab" in Europe and the US and "Shops in Shops" in North America.
Place and Distribution Strategy in Marketing Mix of Puma
The place and distribution strategy in the marketing mix of Puma focuses on its various distribution channels so that the offline and online sales of the company are at their highest. The target is to make sure that all the products reach the warehouses, fulfilment centres and retail outlets hassle-free. The retail partner Foot Lab and its concept of Puma Lab have been a great help to the company.
The vast distribution network in the Puma marketing strategy includes the following
Retail stores
The marketing mix of Puma focuses on selling its products through company-owned and operated retail stores. New stores are opened at strategic locations as these retail outlets help in direct sales and creating a strong brand image.
Company's official e-commerce sites
Online shopping especially after the pandemic era is the new norm because customers want to buy things from the safety and comfort of their homes. The marketing mix of Puma realizes the importance of online sales and has an official website from where buyers can view products and place their orders for door-to-door delivery. Customers can view the latest collection, know more about the special offers and enjoy free shipping on the online site.
Separate Shopping Websites
Puma has tied up with shopping platforms like Amazon, Flipkart and Myntra to increase its sales volume.
Pricing Strategy in Puma Marketing Mix
Puma's marketing strategy is to increase its net sales so that the company can generate profits. When it comes to product prices Puma is considered a premium brand with quality products but the innovative designs and style make it a worthy purchase.
The marketing mix of Puma targets customers all over the world and for that they have made sure that Puma's pricing strategy is up to the mark.
Price in the Marketing Mix of Puma
The company is part of an industry where competition is very fierce. One can survive and flourish only when it has a loyal customer base. Puma's marketing strategy makes sure that the potential and existing customers of the brand find it lucrative to visit the store regularly and repeatedly.
The price strategy in the marketing mix of Puma includes the following-
Competitive Pricing Strategy
Puma's marketing strategy has adopted a competitive pricing strategy so that it can deal with rival brands like Umbro and Adidas successfully. The affordable prices of its products are quite similar to those of the competitors and allow the company to keep its customers satisfied.
Affordable Pricing
Puma's marketing strategy has made sure that the products have affordable prices so that its target customers can purchase them without any deliberations. It offers periodic and seasonal discounts to make sure customers flock to its online and offline stores.
Promotion Strategy in Puma Marketing Mix
Puma's marketing strategy is the same for all the countries where it has a product presence. It has adopted an extensive promotion strategy to maintain its brand image and visibility in the industry and make sure that brand equity is at its highest.
The aggressive and extensive promotional strategy in the marketing mix of Puma takes the help of digital marketing, traditional advertising strategy via electronic and print media, social media, paid online advertising, seasonal discounts, Puma trademark and logo, national brand ambassadors and celebrity endorsements and collaborations.
Puma's marketing strategy includes
Traditional Advertising Strategy
Puma's marketing strategy takes the help of traditional advertising strategy to leave a mark on the audience. Eye-catching ad campaigns are created and shown through electronic and print media like television, radio, newspapers, sports magazines, hoardings and billboards to increase brand visibility in the market.
Collaborations
Puma has collaborated with clubs, teams and other athletes like Neymar Jr, A.C. Milan, Bengaluru FC and Manchester City FC and created signature products.
Sponsorship Deals
The company has entered into sponsorship deals with sportspersons like Diego Maradona, Golin Jackson, Martina Navratilova, Pele and Lexi Thompson and national teams like FCA, CBAt and GAA over the years to boost brand image in many countries.
National Brand Ambassadors
Puma's marketing strategy focuses on celebrity endorsements and has appointed a brand ambassador for every country to maintain visibility. Selena Gomez has been the brand ambassador since 2018 and has also launched a new venture called Phenom Lux.
Corporate Social Responsibility
Puma's marketing strategy is committed towards corporate social responsibility. It was amongst the first companies to focus on environmental impact and has committed to sustainable efforts by using sustainable materials for its products.
Social Media Platforms
Puma's marketing strategy utilizes social media platforms to its advantage and hence has many followers. It is quite active on Twitter, Facebook, YouTube and Instagram and thus can connect directly with the audiences through content, information and news feed. The company invests in paid online advertising to increase its sales volume.
Puma Digital Marketing Strategy – Memorable Digital Marketing Campaigns
Run the Streets (Peel off Sticker Campaign)
The "Peel-off Sticker Campaign" was a part of the "Run the Streets Campaign" and became a huge hit for the company. 2000 Puma logo stickers were placed in Bugis MRT station in Singapore offering a 30% discount on the next purchase.
Only See Great
The ad campaign "Only See Great" spreads the vision of self-belief and optimism in the minds of athletes
Run Puma
The ad campaign Run Puma was all about setting goals and being confident
Key Takeaways in Puma's Marketing Mix
The key takeaways from the Puma marketing mix are-
Focus on innovation, style and design
Maintaining affordable product prices
Keeping an effective supply chain
Creating a customer-friendly promotional mix
Liked this post? Check out the complete series on Marketing Mix