Imperial Blue is associated with the beverage industry and deals in manufacturing and marketing of whisky. It is of Indian origins and is owned and distributed by its parent company Pernod Ricard. The brand was launched by Seagram in the year 1997 but was later purchased by Pernod Ricard in the year 2002. Imperial Blue is ranked at the third position in the best-selling category for premium whisky. Some of its main competitors are as follows-
Officer's Choice
McDowell's Reserve
Bagpiper
Original Choice
Haywards Fine
About Imperial Blue
Type: Whisky
Industry: Beverage
Founded: 1997
Founders: Pernod Ricard
Headquarters: Gurgaon, India
Area served: India
Current CEO: Alok Srivastava
Number of employees: 1,000+
Major products: Imperial Blue Whisky
Product in the Marketing Mix Of Imperial Blue:
Imperial Blue is one of the most popular whisky brands in India. It is a blend of Scotch malts imported from Scotland and grain spirits from India intended for rounded flavour and smooth palate.  It is available in bottles of several sizes like 90ml, 180ml, 375ml and 750ml with a net alcohol content of 42.8% by volume.  
Imperial Blue is mainly served straight with required club soda or chilled water together with ice. It can be mixed up in coke, fruit juices or even in cocktails. Some people even prefer it neat without any add-on. It is available in one variant Imperial Blue Superior Grain Whisk. Sizes vary so that a person can buy according to his personal requirement.

Place in the Marketing Mix Of Imperial Blue:
Imperial Blue is one of the greatest and prime brands related to deluxe whiskies and has formed a large market base spread over most parts of India. Pernod Ricard acquired a bottling facility at Kolhapur in Maharashtra and another company UAL. It later overtook Indian operations of Seagram's and merged it with UAL to become a single entity.
Imperial Blue has a strong and wide-spread distribution network because of its merger of Seagram's resources with UAL Company. Its distribution Channel includes services of dealers so that its products are easily available to its customers. Imperial Blue has engaged top logistic service provider for timely and safe transportation of its products to warehouses and from there to various outlets. One can easily find a bottle of Imperial Blue in places like restaurants, hotel, bars or pubs, bottle shops, liquor stores and supermarkets.
Price in the Marketing Mix Of Imperial Blue:
Imperial Blue is a superior quality whisky brand that has sales worth 3.5 million units annually. Its owner company Pernod Ricard has adopted a mid-premium pricing policy for its product so that it is easy to purchase by consumers because of it's reasonable and pocket-friendly price range. The brand has maintained its quality because it realises that at the end of a day taste matters.
A person who acquires a taste for a particular brand and product will definitely try to buy it the next time also irrespective of its prices. Imperial Blue has also adopted a penetration strategy to capture a large part of market share. It faces competition from several rival brands and hence has to maintain competitive pricing so that it can deal with prices of its competitors.
Promotions in the Marketing Mix Of Imperial Blue: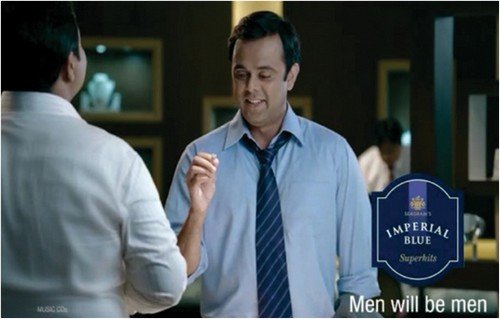 Imperial Blue has a strong marketing policy in place to promote its products on a large scale. It believes in aggressive marketing and has launched several advertisement campaigns to create brand visibility.  The company has taken help of several advertising mediums and tools like television, magazines, billboards and social media platforms. It has given special attention to its packaging with modern and advanced technology to provide it with ample protection in terms of maintaining quality and taste.
Imperial Blue has targeted the male section of society belonging to age-group 25-35 as its primary customer with an apt tagline "Men will be Men". As advertising of beverages with alcoholic content is banned in India, the brand has adopted the surrogate advertising strategy. It commissioned a feature film with same name Men will be Men in the year 2011 with stars like Rohit Khurana, Gaurav Chopra and Rajesh Kumar. Imperial Blue has been a part of several promotional events like musical concerts and sponsorship deals. It became an official sponsor in the year 2012 of World Series Hockey.
Liked this post? Check out the complete series on Marketing Mix