Federal Bank belongs to the private sector and is owned by Government of India. It is associated with finance and banking industry and provides customer-centric services. It is of Indian origin and one of the major commercial banks in the country. Federal Bank was established in the year 1945 and has its headquarters base in Kochi in Kerala. Some important banks that are its rivals in banking sector are as follows-
About Federal Bank
Type: Private sector bank
Industry: Banking
Founded: 1931
Founder: K. P. Hormis
Headquarters: Aluva, Kochi, Kerala, India
Area served: India, UAE, Qatar, Kuwait, Oman, Dubai
Key people: Shyam Srinivasan (Chairman) M. S. Sahoo (CEO)
Number of employees: 27,000
Product in the Marketing Mix Of Federal Bank :
Federal Bank is a full-fledged bank and provides complete Banking-Solutions to its customers through a wide variety of innovative products and several services in its kitty. In order to meet and even exceed the expectations of its consumers, it has adopted several schemes like 24*7 services and a capable and efficient branch infrastructure.
Federal Bank introduced several important services like Internet Banking-Services through FedNet and RTGS facility in all branches.  It also inter-connected every branch and made them automated. To pursue excellence in several facets of banking it has offered diversified services and product range in both Personal and Corporate banking sector.  Some of the vital ones are as follows-
Advances
Structured-Derivative products
Railway reservation through online system
Online payment of LIC Insurance
Online Kiosks
NRI Services
Merchant-Banking Services
Lock-Box Services in the United States for NRIs
Products related to Life Insurance
Products related to General Insurance
Export-Credit Insurance
Payment Gateway for e-shopping
Depository Services
Credit Cards
Cash Management Services
Bill Payments

Place in the Marketing Mix Of Federal Bank :
Federal Bank serves a semi-urban sector and has spread its distribution system in various parts of India. It believes in expansion plans and at the end of the financial year 2916, 31st March, it has its network in nearly twenty-four Indian states. It is served through one thousand five hundred and sixteen ATMs and one thousand two hundred and fifty-two branches for competent and resourceful workings. Federal Bank also has representative offices in several countries and its first overseas office was opened in the year 2008 in Abu Dhabi. Bank has an efficient and capable network of employees that helps in day-to-day transactions through its dealings with customers.
It's energised workforce and their personal attention give a sense of belonging to clients and this helps in creating brand loyalty. Federal Bank has an official website that provides relevant information to its customers through regular updates.
Price in the Marketing Mix Of Federal Bank :
Federal Bank is one of the most powerful banks in India with a strong financial presence. By the end of the financial year 2016, its balance sheet was at 1.37 trillion rupees and its net profit at 475 crore rupees for that fiscal year. Federal Bank has settled at a reasonable pricing policy for services and products that they offer to its customers. Price is a vital element as it is the source of income and survival of any organisation.
Federal Bank has tried to find a correct pricing policy that would please both its customers and its organisation. It has co-ordinated service package prices to make them more affordable. Nowadays competition in the banking sector has grown a lot and Federal Bank has tried to keep the rates of interest on several loans as minimum as possible to attract further clients.
Promotions in the Marketing Mix Of Federal Bank :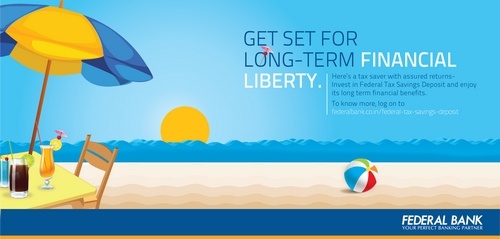 The federal bank has been a keen participant in several events and sports. It was the major sponsor for an IPL team Kochi Tuskers Kerala and tickets were sold through its branches and websites for home matches. It was a banking partner of a series played between Sri Lanka and India in the year 2012.
Federal Bank has a direct deal with Government of India, where welfare schemes are linked directly with Aadhaar card and bank account holder of Federal Bank for Direct-Cash-Transfer. Bank has been a recipient of numerous awards. It earned "MasterCard Innovation Awards 2016" for "Acquiring Business Initiatives" and "Debit Card Initiatives". It has also been a recipient of "ET Best Corporate Brand 2016 Award".
Liked this post? Check out the complete series on Marketing Mix