JSW Steel is a subsidiary of its parent company JSW Group. It is a public company of Indian origin and is associated with the iron and steel industry via its dealings in industrial products. The company was founded in the year 1982 by its founder Sajjan Jindal. JSW Steel is one of the leading Indian manufacturers of integrated steel with a production capacity of nearly 18 MTPA. Some of its main competitors are as follows-
SAIL
Essar Steel
Arcelor Mittal
About JSW Steel
Type: Steel producer
Industry: Steel
Founded: 1992
Founder: Sajjan Jindal
Headquarters: Vijayanagar, Karnataka, India
Area served: India and internationally
Key people: Sajjan Jindal (Chairman) and Seshagiri Rao (CEO)
Number of employees: 57,000
Product in the Marketing Mix Of JSW Steel :
JSW Steel is a fully-integrated steel plant that produces diversified and qualitative products from color-coated steel to pellets. It has one of the largest 3.3 MTPA capacity blast furnaces. JSW Steel has targeted sectors like construction, automotive, oil and infrastructure as its target customers. Its product portfolio includes-
Hot Rolled Coils
Wire Rods
Color Coated products- It has features like corrosion resistance and high strength
Cold Rolled Closed Annealed or simply CRCA sheets and coils are manufactured at modern facilities with latest operational technologies
Galvanised Steel manufactured by JSW Steels are of impeccable quality
Galvalume- JSW Steel is the first license holder in India to produce Galvalume via the help of technology from BIEC International Inc. This product is known for its excellent features like heat reflectivity and corrosion resistance.
TMT Bars- It has an absorption capacity for higher energy and are specially designed for zones that are prone to earthquakes
Special Alloy Steel- It has 1 MPTA installed capacity and its products are popular because of customised production, on-time delivery and consistent quality.

Place in the Marketing Mix Of JSW Steel :
JSW Steel serves a worldwide area as its products are exported to several countries in the world. Its headquarters base is at Mumbai in Maharashtra. After a merger with ISPAT Steel, JSW Steel was ranked at the second position as largest steel company in private sector. It has now footprint in more than 140 global countries and continents like India, Middle-East region, Europe, Asia, Africa, South America and the United States.
Its manufacturing units in India are in Vijayanagar in Karnataka, Salem in Tamil Nadu and Tarapur, Kalmeshwar, Dolvi and Vasind in Maharashtra. JSW Steel has a strong and focused R&D division that helps in producing the best quality product. JSW Steel has a robust and wide-spread distribution channel that helps in dispatching of its products to its customers on time with a retail network of 4,700 outlets spread over nearly 495 districts. It is served by a capable workforce that includes nearly 40,000 individuals.
Price in the Marketing Mix Of JSW Steel :
JSW Steel has entered into partnership with several global sector leading companies and its technological edge along with reduced costing of raw materials and labour has helped in the manufacturing of lowest-cost steel in the global market, thus providing it with a major competitive advantage over rival companies. JSW Steel has been able to manage a significant amount of sales growth and high volumes have resulted in garnering better revenues.
All this has been possible because of its reasonable and affordable pricing policy. Its low cost has helped in reducing the product prices without any effect on actual revenue figures. The company has put its strength behind penetrating further markets and hence has adopted a penetration policy to strengthen its market position and bring in new customers.
Promotions in the Marketing Mix Of JSW Steel :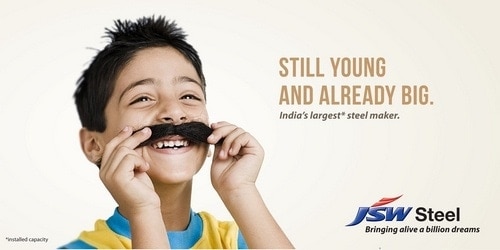 JSW Steel is a global company aware of its social responsibility towards nature and its employees. It has taken steps for reduction of carbon footprint. It has launched a relationship program titled Sahyog to celebrate and promote collaboration of company with partners like influencers, retailers and shoppers. JSW Steel has a capable and experienced marketing team to promote its wide range of products to different parts of the globe. It has adopted both direct and indirect strategy. Its ads are promoted in print media via industrial directories, trade publications and business magazines. It also has increased its efforts of direct marketing via data sheets, catalogs and direct mail.
Liked this post? Check out the complete series on Marketing Mix