Active Wheel is a subsidiary of its parent company HUL. It is associated with FMCG industry as it is a home care brand. It is an Indian origin brand and was introduced in the consumer market in the year 1988. In the year 2000, it was declared as the market leader in detergent section and is currently one of the topmost products used in South Asiatic region. It faces competition from the following-
About Active Wheel
Type: Laundry soap and detergent
Industry: Consumer goods
Founded: 1952
Founder: Unilever
Headquarters: Mumbai, India
Area served: India, Philippines, and other parts of Asia
Key people: Nitin Paranjpe (Chairman) and Sanjiv Mehta (CEO)
Number of employees: 50
Product in the Marketing mix of Active Wheel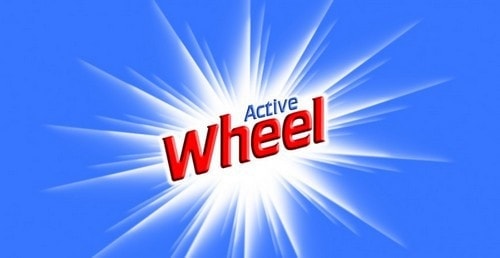 Active Wheel is one of the largest detergent brands in India in terms of sale volumes. It promises to offer fragrant freshness and deep cleaning to its users. The active wheel is available in twin formats detergent powder and detergent bar, both used for washing clothes. It is one of the most trustworthy and prestigious brands from its parent company.
All its products are formulated by progressive technology and qualitative chemical compounds. The product undergoes rigorous testing so that it can pass the specially defined parameters set by the quality auditors. This is the reason why the brand has been able to hold on to its position in spite of severe competition from rival brands. Some of the products in its product portfolio are as follows-
Active Wheel 2 in 1 Detergent Fresh – It has been projected as a super detergent with the power of a thousand It has been created with help of a new technology that easily washes away the tough dirt. The clothes are no longer squeaky clean but also fragrant fresh.
Active Wheel Lemon and Orange – It comes with a pleasing fragrance of orange and lemon and is very effective in removing dirt with minimum effort.
Active Wheel Blue Detergent Cake – It is available in bar form of 850 gm and has excellent cleansing properties. The bar has a refreshing fragrance and is gentle on hands.
Wheel Detergent Powder Lemon and Jasmine Green – It is one of the toughest powders that have the power to remove the toughest of stains without causing any harm to clothes. The detergent powder leaves a pleasant fragrance of jasmine and lemon
Active Wheel Lemon Detergent Powder – This is one of its oldest products and still a favorite amongst customers.
Active wheel detergent powder- It is available in packet packaging of half kg and one kg.
Place in the Marketing mix of Active Wheel
Active Wheel started its journey from India and with time has been able to spread its product presence successfully in South Asia. It is one of the most popular brands in several countries and occupies the position of market leader in places like Sri Lanka, Nepal, and Bangladesh.
Active Wheel has a Pan-India presence that has spread to every nook and corner of India. It is said to be part of nearly two hundred million households and this has been possible because of the strong and widespread distribution network of its parent company HUL.
Active Wheel has taken help of its parent company to create a strong presence in the consumer market. HUL had research centers in Mumbai and Bengaluru but later the company incorporated both the sites to its present destination in Bengaluru.
The company operates via its headquarters based at Andheri East in Mumbai. Its distribution channel includes the typical distributor, manufacturer, stockist, and retailers to reach the consumers in places like corner shops, grocery stores, malls, supermarkets, and hypermarkets.
Price in the Marketing mix of Active Wheel
Active Wheel has targeted mass consumers with its product. It wants to break the stereotype of associating only women with the detergent brand and hence has roped in a popular actor to take part in its commercial to include men who are concerned for their wife as part of its potential customers.
The brand has positioned itself as a caretaker brand that sympathizes with women, who have to take care of laundry on an everyday basis and hence has brought forward a magical detergent that will enable a wash experience by not harming their hands and bringing back the joy in their lives.
The detergent market is very price sensitive and competitive. Active Wheel has adopted a reasonable pricing policy and has kept its product prices affordable so that every household can easily make a purchase. As the detergent wanted to create a niche place for itself by capturing mass market it has also adopted a penetration pricing policy.
Active Wheel faces a lot of competition in the consumer market and has kept a competitive pricing strategy in place by maintaining its product prices on par with the prices adopted by rival brands. As the company's aim is to occupy the top position in the detergent market it has kept all its options open by offering the best value to its end customers.
Promotions in the Marketing mix of Active Wheel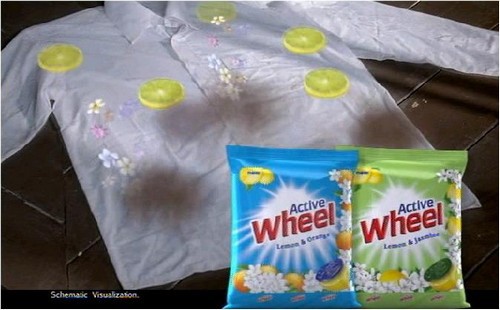 Active Wheel has adopted an aggressive marketing plan to create positive brand awareness in the consumer market. It has gone with no-holds-barred and has created some very good and innovative campaigns that have been a hit with its target audience.
The brand recognizes the power of celebrity endorsement and hence had roped in the superstar of Indian cinema Salman Khan and popular actress Prachi Desai to act in its ad campaign. The ad was a huge hit as it was the first time that people were looking at a male and that to a superstar male in a detergent advertisement concerned for his wife who had to undertake the daily core of laundry.
Active Wheel advertises via print, electronic and digital media in several television channels, radio, newspapers, magazines, and billboards. In December year 2011, Active Wheel started a unique marketing policy via digital media.
It asked its consumers to give a missed call on the number 1800-3000-1599. The people received an auto-generated call and heard snippets of conversation between a couple. This ad campaign proved to be a hit and the brand was successful in creating further visibility in the consumer market.
Some of its popular taglines are Mehangi wali dhulai budget mein samai, and Nimbu ki Shakti aur hazaro phoolo ki khushboo. The company has been the recipient of several awards and recognition. As per the report of ET Brand Equity 2016, Active Wheel occupies the fifth position in the Fabric Care Category as the Most Trusted Brand.
Liked this post? Check out the complete series on Marketing Mix