Captain Morgan is an international brand that deals in alcoholic beverages. It is manufactured and produced by multinational company Diageo, who is one of the largest producers of beer and spirits in the global market. Captain Morgan is a renowned brand of rum and has been named after Sir Henry Morgan, a Welsh Privateer.
The brand was first introduced in the year 1944 and its country of origin was United States Virgin Islands. Currently, in terms of volume, Captain Morgan occupies the second spot in the United States and seventh in the global market. Some of its competitors are as follows-
Havana Club
Tanduay Rum
Bacardi Rum
About Captain Morgan
Type: Rum
Industry: Alcoholic beverages
Founded: 1944
Founders: Seagrams
Headquarters: London, England
Area served: Worldwide
Current CEO: Ivan Menezes
Number of employees: 30,000+
Major products: Captain Morgan Original Spiced Rum, Captain Morgan Black Spiced Rum, Captain Morgan White Rum
Product in the Marketing Mix Of Captain Morgan :
Brand Captain Morgan specialises in rum and has various varieties in its product portfolio. Some of them are as follows-
Black- It is the original flavour from Captain Morgan and is a blend of still and pot rum from Barbados, Guyana and Jamaica. It has a rich taste and is available in dark colour

Black Spiced Rum-  It is a bold drink with flavours of clove, cinnamon and a hint of vanilla

Dark Rum

Lime Bite

Deluxe Dark

Long Island Iced Tea – is a cocktail that includes triple-sec liqueur, gin, whiskey, vodka and rum

Parrot Bay- Basically white rum in various flavours like passion fruit, orange, mango, coconut and strawberry

Original Spiced- Made with natural flavours and spices

Private Stock- Full-bodied drink with smooth texture

Tattoo

Silver Spiced

White Rum

100 Proof

White Rum Flavoured- Available in lots of flavourings like pineapple, grapefruit and coconut

Sherry Oak

Cannon Blast

1671

Place in the Marketing Mix Of Captain Morgan :
Captain Morgan is sold in numerous countries of the world like United States, Great Britain, Canada and South Africa. It has the backing of its parent company Diageo and thus is able to manufacture and sell its products on a large scale. The company has set up manufacturing plants in various countries. In St.Croix at the Virgin Islands, Diageo has built a plant for rum distillery. Most of the operations of Captain Morgan brand are held in the Virgin Islands and Puerto Rico.  
In order to make its products easily available to consumers, the brand has a well-defined distribution policy in place that includes distributors, retailers and dealers.  It sells most of its products through its own outlets. The company has also tie-ups with other brands and hence its products are available at other brand outlets also. Nowadays it is also possible to buy Captain Morgan products through various online stores. These are a bit cheaper as they tend to provide discounts and extra benefits to attract new customers.
Price in the Marketing Mix Of Captain Morgan :
Captain Morgan has decided to keep its pricing policy open as it has different variants in the market and it determines the prices of each product after a lot of research and valuation. The brand has projected its products as of premium quality and has set up a pricing policy that is a mixture of premium prices but with a reasonable tone. As it faces stiff competition in the market it tends to keep the prices at a competitive level so as to maintain the loyalty of its customers. Price differs for every product as its costing is also dissimilar.
Promotions in the Marketing Mix Of Captain Morgan :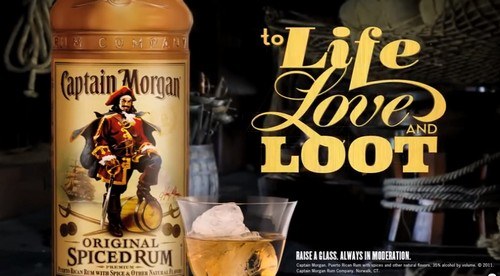 Since the year 2011, Captain Morgan has started using To Life, Love and Loot as its slogan. Before that one of its taglines was Drink Responsibly- Captain's Orders.  The brand has undertaken various measures to create and maintain awareness of its product through well-defined promotional activities. Captain Morgan mascot has been introduced in the market and it has increased its visibility. A company has taken help of most of the advertisement tools at its disposal.
Parties have been hosted and media campaigns have been run with the sole intention of making the brand popular amongst its customers. Its ads have been aired on television, shown on billboards and numerous magazines. The brand has taken help of online industry to air its ads. It has also been associated with lots of sports to gain recognition.
Liked this post? Check out the complete series on Marketing Mix