Johnnie Walker is a subsidiary brand of its parent company Diageo. It is of Scottish origin and was introduced in the year 1820. The brand is associated with Beverage industry and deals with manufacturing of blended whisky. The company has targeted urban people wanting a premium whisky as its target customer. It is ranked at number three position in the global market as best-selling whisky in terms of volume. Some of its rival companies are as follows-
Whyte and Mackay
Chivas Regal
Black Dog
About Johnnie Walker
Type: Whisky brand
Industry: Alcoholic beverages
Founded: 1820
Founder: John Walker
Headquarters: Edinburgh, Scotland
Area served: Worldwide
Key people: Alannah Weston (Chairman) Ivan Menezes (CEO)
Number of employees: 30,000+
Product in the Marketing Mix Of Johnnie Walker :
Johnnie Walker is a rare and premium quality scotch whisky with a high demand in the consumer market. Its product portfolio includes blends like-
Red Label- Is used mostly for mixed drinks
Double Black Label- Is matured in old oak casks, heavily charred
Black Label- Is aged a minimum of 12 years
Green Label- Is a blended malt and thus made from single-malt without any additional grain and is matured for at least 15 years
Platinum label- is a private blend which is aged 18 years
Gold Label – Is usually bottled at 18 or 15 years
Blue Label- Is one of the most expensive whiskies in the market and is accompanied with authenticity certificate.
Red and Cola- Is sold in bottles and cans and is a premix of Cola and Red Label
Johnnie Walker Swing- Is sweet in taste and includes Speyside malts
Some of its limited or special editions are
Johnnie Walker XR 21
Johnnie Walker Black Label
Collectors Edition
Odyssey
Island Green Label
Swing Superior
Blue Label 1805
Johnnie Walker Select Casks
Blue Label 200th Anniversary
Old Harmony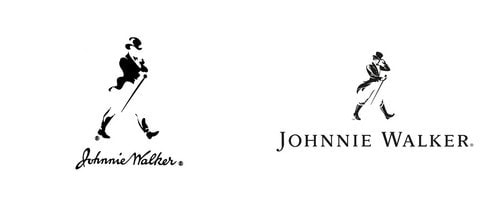 Place in the Marketing Mix Of Johnnie Walker :
Johnnie Walker started its operations from Kilmarnock in Scotland and in the year 2009, an announcement was made that the company would be ceasing its productions in Kilmarnock and it would be shifted to Shieldhall, Fife and Leven in Glasgow.  Johnnie Walker has a strong presence in almost every country of the world like in Israel, United Kingdom, India, Malaysia, Indonesia, Japan, France, Germany, Russia, United States, South Africa, Poland, Canada, Brazil and Australia. The company has a strong distribution channel that makes its product available in nearly two hundred countries via pubs, clubs, hotel, restaurant, airport terminal's duty-free shops and liquor shops.
Price in the Marketing Mix Of Johnnie Walker :
Pricing strategy is a lot dependent upon local duties, levies and customs duty of a particular place beside its own production, distribution and marketing cost. Johnnie Walker is projected as a luxury brand with the premium product. The company has adopted a premium pricing strategy for its high-quality product. It faces competition from several brands but it has been able to maintain its unique position in the market without changing its pricing policy. Brand does not make any adjustments towards its prices as it is not bothered by the pricing policy of its competitors. It has stuck to higher price range because it has confidence in its product quality as well as on customer loyalty.
Promotions in the Marketing Mix Of Johnnie Walker :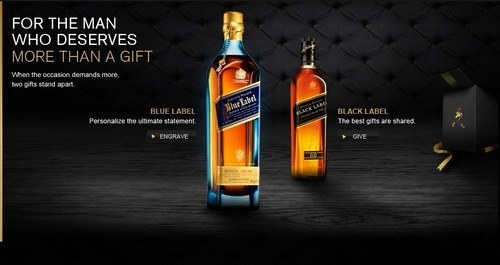 Johnnie Walker is a recognised brand and has adopted several promotional policies for marketing its product and increasing brand awareness. The company has a strong brand recall because of loyal customers. In the year 2009, a short film was released outlining history of this brand. In the year 2013, Diageo launched an ad campaign ahead of Mad Men, sixth season, featuring Christina Hendricks. John Walker and Sons Voyager Tour was launched to promote Odyssey blend in consumer world market.
The brand has been the recipient of several awards and recognition because of its quality products. Johnnie Walker has a logo of a striding man in upscale and traditional attire depicting brand's pursuit towards excellence and forward thinking. Its parent company Diageo has started a member club titled The Striding Man Society for loyal drinkers of Johnnie Walker. The brand is the official whisky sponsor of Formula 1 and golf tournaments like Johnnie Walker Championship at Gleneagles and Johnnie Walker Classic.
Liked this post? Check out the complete series on Marketing Mix