Hot Wheels is a manufacturing company that deals in die-cast toys. It is of American origins and is owned by its parent company Mattel. Production line of toy cars from brand Hot Wheels was first introduced in the consumer market in the year 1968 and since then the company has been making scale models for various automobile manufacturers. Although its target customers were children but over the years the brand has found a successful place amongst adult collectors through limited edition and several other models. It faces stiff competition from other toy manufacturers like
Durham Classics
Enchantment Land
Western Models
Brooklin Models
About Hot Wheels
Type: Toys model car brand
Industry: Toys
Founded: 1968
Founder: Elliot Handler
Headquarters: El Segundo, California, United States
Area served: Worldwide
Key people: Ynon Kreiz (Chairman and Chief executive officer)
Number of employees: Over 1,000+
Product in the Marketing Mix Of Hot Wheels :
Hot Wheels is a world recognised brand with an extensive product range. It is a toy manufacturer of 1:50, 1:18, 1:43 and 1:64 scale cars. Its latest mainline offerings include nearly two hundred and fifty releases with the toy cars being divided into further thirty segments. Product kitty of Hot Wheels include some of the following items-
HW Race Team Cars inspired from Hot Wheels-
DHP37 toy car belonging to model Corvette C7.R
DHP40 of model Bull Whip
DNH87 of model Bone Speeder
Super Fast X-Raycers toy cars with fast wheels and clear bodies-
DHP43 belonging to model Stockar
DHP45 of model Clear Speeder
DHP50 of Pharodox model
HW Digital-Circuit toy cars that have special features and are suitable track cars-
DHR03 belonging to model Subaru WRX STI
DHP59 of model Epic Fast
DHP56 of Honda Racer model
Tool-in-one toy cars
DHR69 of Fast Cash model
DHP62 belonging to model Carbonator
DHP52 from Night Burner
Super Chromes toy cars
DHP64 from model Teegray
DHP69 from Two Timer
Glow Wheels
DHP75 from model name Voltage Spike
Dino Riders
DHT33 of Dragon Blaster model
Batman toy cars

Place in the Marketing Mix Of Hot Wheels :
Hot Wheels is an international brand with a vivid presence in global market. Its products are easily accessible in various parts of the world. The company has adopted an intensive distribution channel that includes manufacturing plants, distributors, retailers and lastly customers through several outlets like super markets, toy shops, malls, discount stores and hypermarkets.
It has a strong distribution policy that is heavily dependent on its retailers. Mattel has teamed up with retail organisations like McDonald's, Avon, Full Grid, Getty, General Mills, Malt-O-Meal, Shell, Tony's Pizza, Walmart and Valvoline so that its products are easily accessible in every nook and corner of the world.
Price in the Marketing Mix Of Hot Wheels :
Brand Hot Wheels is a household name because of its popularity amongst children. Company realises that a distinctive pricing policy is necessary for survival and success of every organisation. In order to maintain its position brand has adopted a reasonable pricing policy so that its products are easily on hand to its customers.
It has implemented competitive and penetration pricing strategies to deal successfully with its competitors. Hot Wheels products are sold through online channels at very reasonable prices because the company is able to save on distribution costs. Affordable rates have helped this brand in achieving higher volumes and ultimately larger revenues.
Promotions in the Marketing Mix Of Hot Wheels :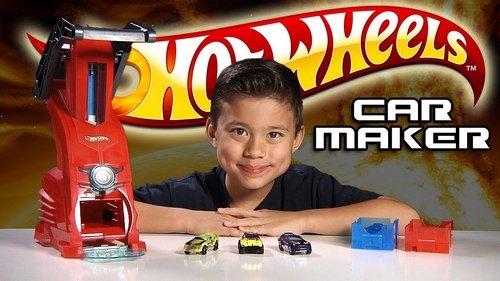 Hot Wheels is a well-liked company with the high brand recall. It relies heavily on its marketing team to maintain brand awareness amongst its customers. Hot Wheels has an apt tagline Go with the Winner. In order to retain its positive influence brand periodically organises several contests for enthusiasts all over the world.
It has developed an excellent promotional campaign that has helped in leaving a lasting impression through successful advertisements. Its commercials are catchy with both fun and vow factor and are advertised through electronic, print and social media. Ads belonging to Hot Wheel brand are displayed on several television channels, magazines, billboards and newspapers.
The Company has released video games as part of its promotional strategy. It has also introduced various schemes, for instance, a bonus car was provided on purchase of four car-sets. Hot Wheels signed a sponsorship deal with McDonald's so that several toys were part of Happy Meals.
Liked this post? Check out the complete series on Marketing Mix