Lays is a popular brand associated with snack-food industry. It was founded in the year 1932 by an American Herman Lay. Over the years ownership of the company has changed several hands. Years 1961-65 saw the merger of Lays with Frito Company to become Frito-Lay and in 1965 it once again merged with Pepsi-Cola company to become PepsiCo, Inc. Some of its competitors in consumer market are as follows-
About Lays
Type: Potato chip brand
Industry: Snack food
Founded: 1932
Founders: Herman Lay
Headquarters: Purchase, New York, USA
Area served: Worldwide
Current CEO: Ramon Laguarta
Number of employees: 23,000
Major products: Potato chips, tortilla chips, and other snacks
Product in the Marketing Mix Of Lays :
Lays is a popular brand that offers several variants of potato chips in the consumer market. It believes in introducing variants at regular intervals to attract its customers at the habitual basis. In the 1990s it offered its consumers a fat-free variety with low-calorie version.
Additional flavours were also added to its products to increase its customer share. Some of the variants in Lays product portfolio are as follows-
Lays Barbecue Flavored Potato Chips
Lays Chile Limon Flavored Potato Chips
Lays Deli style original Potato Chips
Lays Classic Potato chips
Lays Cheddar & Sour Cream Flavored Potato Chips
Lays Wavy milk Chocolate Covered Potato Chips
Lays Wavy Ranch Flavored Potato Chips
Lays Wavy Cheddar Flavored Potato Chips
Lays STAX Xtra Flamin'Hot Flavored Potato Chips
Lays STAX Sour Cream & Onion Flavored Potato Chips
Lays STAX Salt & Vinegar Flavored Potato Chips
Lays Dill Pickle Flavored Potato Chips
Lays Flamin'Hot Flavored Potato Chips
Lays Honey Barbecue Flavoured Potato Chips
Lays Lightly Salted Potato Chips
Lays Limon Flavored Potato Chips
Lays Pico de Gallo Flavoured Potato Chips
Lays Salt and Vinegar Flavored Potato Chips
Lays Southern Biscuits and Gravy Flavored Potato Chips
Lays Kettle Cooked jalapeno Flavored Potato Chips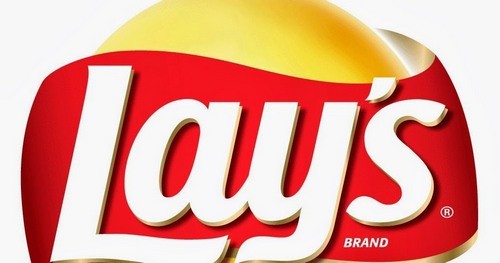 Place in the Marketing Mix Of Lays :
Lays have gained international recognition and its products are easily available in most countries of the world. Its founder started snack-food operations from Dorset in the United States and with time expanded to include most global countries like Australia, Argentina, Brazil, Colombia, Egypt, India, Indonesia, Italy, Mexico, Pakistan, UAE, Canada, United Kingdom and South Africa. Lays have a strong distribution network that includes services of manufacturers, distributors, retailers to reach consumers via corner shops, discount stores, convenience stores, hypermarket and supermarket.
Price in the Marketing Mix Of Lays :
Lays have adopted several pricing strategies to satisfy its price-conscious customers. Company's value-based prices are the reflection of its position as a brand with distinctive features like effortless accessibility, easy affordability, great taste and high quality.
Lays remain wary of its competitors and have reserved competitive pricing plan to keep its product prices at par with rival companies to maintain customer loyalty. It also uses a promotional pricing plan at regular periods to increase its short-term sales volume. The company offers several incentives like bulk deals, discounts and price packs. This helps in maximum sales in minimum time and garners extra profits.
Promotions in the Marketing Mix Of Lays :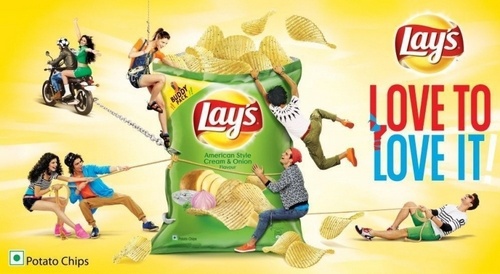 Lays are one on of the companies who realised the importance of advertising at its onset. In the year 1944, it bought television commercials and appointed Bert Lahr as its celebrity spokesman and became the first manufacturer of snack-food items to do so. Currently, it has utilised every possible advertising tool to create brand visibility. Its ads are funny and attractive with catchy taglines. Ads are shown in popular television channels, radio, magazines, newspapers, hoardings at popular places and on sides of several vehicles like bus, tram and auto-rickshaws.
In order to move with changing times, it has started campaigning in social media portals via Twitter, Facebook, Blogs and YouTube. Lays have realised the importance of celebrity endorsement and have roped in several famous personalities to act in its ad campaigns. In India actors Ranbir Kapoor and Saif Ali Khan along with cricketer Mahendra Singh Dhoni endorse Lays. In Pakistan, the product is endorsed by Ali Zafar, pop star. Several popular taglines are associated with lays like betcha can't eat just one and be a little dialogical.
Liked this post? Check out the complete series on Marketing Mix