Accenture is a public ltd company that deals with technological services, management consulting and outsourcing. This multinational corporation has the distinction of being the largest consultancy firm in the world in terms of revenues collected.
Accenture was founded in the year 1989 and has its headquarters in Dublin, Ireland. The client list of the company is a testimony to the fact that it has become the obvious choice in the matters of consultancy and technological services. Out of the first hundred people in Fortune Global, ninety of them are the clients of this global corporation. Its chief competitor in today's market is IBM.About Accenture
Type: Multinational professional services company
Industry: Information technology (IT) consulting
Founded: 1 September 1989
Founder: Arthur Andersen
Headquarters: Dublin, Ireland
Area served: Worldwide
Key people: Julie Sweet (Chairman) and Julie Sweet (CEO)
Number of employees: 713,000
Product in the Marketing mix of Accenture
Accenture is committed in providing the best possible services and products with its efficient team that consists of specialists, experts related to the industry and professionals who are knowledgeable about the current market trends. The company's aim is to help the client in achieving his goals and vision. The clients are served with expert services in the area of technology, consulting and outsourcing. Accenture has become the largest service provider with a record of accomplishment that is proven. The various products and services of Accenture are as follows-
Consulting– The company puts its onus on management consultancy. It focuses on processing of design works and proper technological applications in business. Accenture is also responsible for delivery, sales and its project-based work.
Services– Accenture focuses primarily on outsourcing engagements in relation to HR, help-desk services, business operations, maintenance, development and IT applications. The company also works on consulting projects.
Solutions– Accenture puts emphasis on the special and distinct technological skills that are needed in order to deliver projects.
Enterprise– The Company supports and manages all the business activities related to security, legal aspects, marketing, facilities and financial management of the clients.
Place in the Marketing mix of Accenture
Accenture is a global company that serves its clients in more than fifty-six countries and two hundred cities of the world. In India, it has a record number of employees, more than any other country. In US alone, it has more than 40.000 employees and in Philippines nearly 35,000. The corporate policy of Accenture is unique and elite.
The company is determined in providing a value based superior experience in order to maintain its loyal brand of customers. Accenture believes in maintaining direct relationship with its customers. In order to do so they have put up a network of efficient team members who have been groomed to learn, grow and develop their own potential in order to serve the company in a much better way.
As a part of direct dealing program, the team members respond to clients' needs and queries in a reasonable manner and time. It results in open communication and effective relations with suppliers, partners, customers and even each other. The company's distribution channel consists of innovating, operating, collaborating and delivering its value based products to all its clients all over the world.
Price in the Marketing mix of Accenture
Quality does not come cheap and hence Accenture has always kept a premium / value based pricing policy along with superior services. Their premium range of services allows then the latitude to develop a premium based pricing policy. As their services cover the global market place and international client, it also determines their pricing policies to a certain extent. The varieties of clients help them to maintain a somewhat flexible policy for pricing also. Sometimes they also change certain policy rules to satisfy and maintain their loyal customers.
Promotions in the Marketing mix of Accenture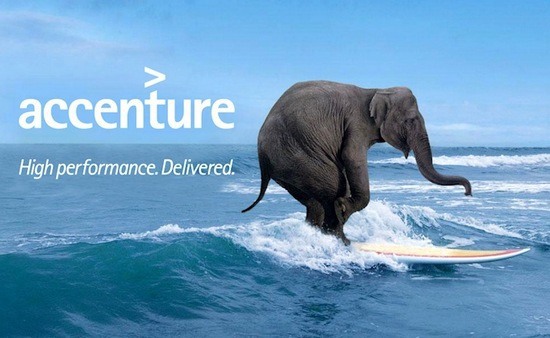 Accenture has a proper, strong and effective advertising policy that includes advertising in the visual and print media such as television, newspapers and public frequenting places like airports all around the world. The company has also sponsored many events in the international arena such as "Accenture Match Play Championship" and in the "World Golf Championships". Accenture was also imitated in "Bigtime Consulting", a webcomic.
From the year 2005 to 2009, the company signed the famous golfer "Tiger Woods" as its brand ambassador and spokesperson and released many slogans for a dramatic effect. The slogans "Go-on, be a Tiger" and "We know what it takes to be a Tiger" were used to cash in the celebrity status of the golfer. Presently the company uses the slogan "High performance. Delivered" and the campaign for the advertisements include the successful stories of the clients.Their advertising campaign has a global feel and has helped the company in moving forward.
Also read – SWOT of Accenture | Seven characteristics of Services
Liked this post? Check out the complete series on Marketing Mix