Amway is a private company of American origins that is associated with multi-level marketing. It was founded in year 1959 by Richard DeVos and Jay Van Andel and has its headquarters in Ada in Michigan. In year 2012, according to Forbes magazine, it was ranked at position 26 as largest company belonging to private sector.  Some of the main competitors are-
Avon Products
The Procter & Gamble Company
Mary Kay Inc
COSWAY
Product in the Marketing mix of Amway
Amway believes in delivering high-quality products and all its products are of premium quality. Company offers nearly four hundred and fifty products in varied categories (not possible to list here) including personal care, nutrition, home care, jewellery, air purifiers, water purifier, dietary supplements, insurance and cosmetics. Amway became popular for the first time because of its multi-purpose LOC and later SA8, cleaning product and detergent that is still one of the most in-demand products even today. Its other popular products are antioxidants, weight management, supplements, wellness pack and fortified beverages.
Amway uses demographic segmentation to tell that its products are for every age-group. Most of its products are suitable for adult, children and older generation. Its important brands are Artistry, Body Works, Nutrilite, Atmosphere and Peter England. At the end of year 2015, its weight management and vitamin products were most in-demand products occupying 46% of its sales figures. Amway offers its customers maintenance services to preserve home products like air purifier and water treatment machines.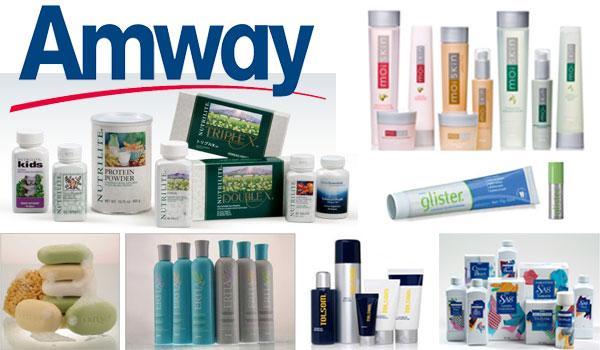 Place in the Marketing mix of Amway
Amway is the largest global company that has direct selling operations. In its early years its operations were limited to America but it started its overseas expansion in year 1971 through Australia and later to parts of Europe and Asia. Its network is spread over 97 countries like India, Malaysia and China. It also has business association through various affiliated companies.
Amway operates on a unique concept of marketing and sales known as pyramid scheme. It involves forming a chain of its employees from one to another.  It pursues the concept of multi-level marketing and has a strong distribution channel that includes employees, distributors and founding families. Amway believes in market segmentation and hence it has divided market into small segments of buyers with varied characteristics and needs. Amway has manufacturing plants in India, China, United States and its organic farms in Mexico and Brazil.
Due to Amway being a pyramid scheme, the responsibility of finding more distributors and dealers is dependent on the customer themselves. Due to this unique concept, Amway has spread far and wide across the world and has fantastic market penetration. Luckily, it is one multi level marketing company which did not go bust, due to its control over the multi level channel as well as pricing strategy.
Price in the Marketing mix of Amway
Products of Amway are most suited to middle and upper class of people with good incomes. They are marginally expensive than its competitors as they are of better quality. Amway follows a premium pricing policy for its premium products to cover back its premium cost-prices. As customers are willing to pay them, company has decided to follow through its pricing strategy. Amway has a different pricing policy for few of its products as they have been created especially for mid-income group.
Prices of these products are still high if compared to product prices of its competitors, but if compared with its own brand prices, it looks reasonable. Amway generates hefty revenues through its different pricing policies as its customers are loyal and still buy its products irrespective of its price range. The premium pricing policy of Amway is the reason that the company has not gone bust till date. This is because the customers and the dealers both get enough margins and there is margin left for the company too.
Promotions in the Marketing mix of Amway
Amway's vision is to provide better life and its mission is to facilitate best opportunities of business. Its logo has three interlinked-circles displaying three vital factors like nutrition, beauty and home. It has earned numerous awards and they are a testimony to its potential. Awards and achievements have enhanced reputation and brand value of company in its customer's eyes.
For regular customers company offers special discounts as rewards for customer loyalty. It also provides schemes and discounts on various products at different periods to attract new customers and keep the present ones happy and satisfied. Amway uses its brand image, services and products as useful tools to gain competitive advantages. It also provides warranty for every product for a definite time period.
In year 2006, naming rights were earned by Alticor for Orlando Magic's home arena in basketball and the arena in Orlando was renamed Amway Arena. In year 2009 it became jersey sponsor of San Jose Earthquakes Major League Soccer Team and in same year they became presenting partner of women's professional Soccer Team of Los Angeles Sol. In year 2012, the company became title sponsor of annual soccer tournament titled Canadian Championship.
Liked this post? Check out these detailed articles on
Topic of Marketing Mix of Brands
Alternatively, check out the Marketing91 Academy, which provides you access to 10+ marketing courses and 100s of Case studies.