PayPal Holdings, Inc. was founded in 1998 in the United States of America and was known with the name Confinity. Today PayPal happens to be among one of the largest payment system used by individuals and enterprises for processing cross-border transactions.
PayPal Holdings, Inc. has changed the way people sell and acquire services from people living in varied countries and continents; a small fee on every transaction is charged by PayPal but the power it provides people with incomparable. One can send and receive money in real-time with PayPal payment system.
PayPal Holdings, Inc. is a Public Company that had its IPO in 2002 and later became a subsidiary of eBay.
PayPal generated impressive revenue of 7.9 Billion USD in 2014, which accounted up to 44% profit earned by eBay in 2014. PayPal processed 228 Billion USD across 26 currencies in 2014 in more than 192 nations.
About Paypal
Type: Online payment system, FinTech company
Industry: Financial Technology
Founded: December 1998
Founder: Max Levchin, Peter Thiel, Luke Nosek, Ken Howery, Elon Musk
Headquarters: San Jose, California, United States
Area served: Worldwide
Key people: John Donahoe (Chairman) and Daniel Schulman (CEO)
Number of employees: 29000
Products in the marketing mix of PayPal Holdings, Inc.
PayPal in one term is a Payment System that allows enterprises, online businesses and individuals to send and receive money for work or services from around the world.
PayPal lately has started providing people with liberty to get a lot more done. One can use varied options provided by PayPal for managing their transactions, taxes and work certificates really efficiently.
Here're all the services that PayPal has been providing to people and enterprises from around the world:
Payment processor for Online Vendors
Payment Gateway for auction sites and other commercial enterprises
Payment Bank for Individual users
Easier money transfers facility cross-border
PayPal may be providing a lot of services to individuals and enterprises on whole but all these services are being monitored by varied agencies in varied countries. A lot of countries like Pakistan has imposed a complete ban on the use of such payment system.


Places in the marketing mix of PayPal Holdings, Inc.
PayPal empowers businesses and individual artists in more than 200 countries and has more than 179 million active accounts. PayPal breaks the currency barrier by holding funds in around 26 currencies, which makes it easier for people from around the world to make International Transactions.
PayPal has turned out to be the backbone for cross-border sales of products and services. Be it e-commerce costumers or a freelance developer, each one of them can make use of PayPal payment system for sending bills and receiving payments. PayPal has changed the way people deal at the international level; it has added the much-required safety and has made the world a better place to live.
With its payment system being used in more than 200 countries, PayPal has been a subject of criticism every now and then. Customers, critics and governments, each one of them has criticised PayPal for the openness it has brought to the international market; here's a set of restrictions it is facing in varied countries:
PayPal is completely banned in Pakistan
Indian government does not allow people to hold funds for more than 24 hours in PayPal account.
Governments of many countries require a certificate of service attached to every transaction made through
PayPal; this is said to prevent money laundering.
Pricing in the marketing mix of PayPal Holdings, Inc.
The revenue model PayPal Holdings, Inc. follows is very clear and precise. Every user and enterprise need to pay a fee of 1.9-2.2% on every transaction they make. The fee varies according to the amount of transaction made through a particular account; the more transactions (in value) you make the lower the fees you pay.
In the year 2014, PayPal processed 228 Billion USD in 26 countries through 192 countries and generated impressive revenue of 7.9 Billion USD; which helped eBay survive in the competitive environment. PayPal has helped eBay acquire the lost hold over the market again.
Promotions in the marketing mix of PayPal Holdings, Inc.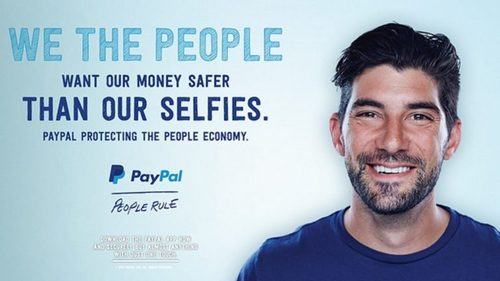 PayPal need not go to enterprises and people and coax them to use it because it is something that the contemporary world is in desperate need of. The world needs PayPal more than PayPal needs the world. PayPal has solved one of the most innocuous problems in the international market. It has leveraged users and enterprises with the power to sell products and services cross-border with great ease.
PayPal has been quite active on varied social media platforms and has always tried to help people use PayPal better. Their marketing campaigns are designed to educate people about "how they can use PayPal and make their small business grow?". Paypal majorly has its presence and promotions in the digital space. Accordingly, it promotes itself in the internet space and internet conferences and uses varied Digital marketing strategies.
Liked this post? Check out the complete series on Marketing Mix